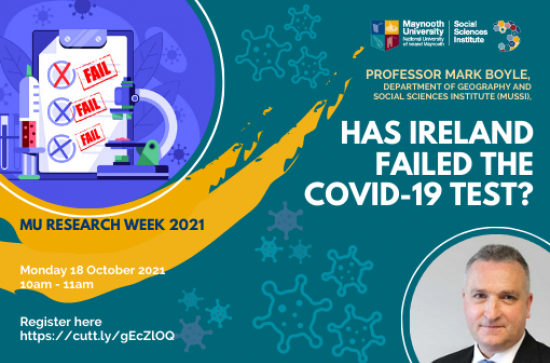 Monday, October 18, 2021 -

10:00

to

11:00
Online
Has Ireland Failed the Covid-19 Test?
On September 1st 2021, Taoiseach Micheál Martin confirmed that he would NOT be convening an independent public inquiry with statutory powers to investigate the government's response to the COVID-19 global pandemic but intimated that an evaluation of this response would take place at some point in the future. This is regrettable.
Amidst a deluge of manifestos claiming to know how afflicted countries might 'reimagine, rebuild, and recover' and 'build back better', we would do well to heed Amaryta Sen's sage advice that when it comes to people living in precarity and poverty, 'a misconceived theory can kill'. In our case, this is true, literally.
Infact for most of 2020, the Irish Government enjoyed at best mixed fortunes in its mission to suppress the SARS-nCoV-2 2019 virus and stop COVID-19 from becoming a national disaster. A cornucopian 'miracle' – an effective vaccine developed at 'warp speed' – has pulled us back from the brink. But recent success cannot and must not erase or obfuscate prior difficulties; history instructs that countries which rely on technological fixes to engineer themselves out of trouble rarely fail forward.
If we are to emerge from the pandemic stronger, it is imperative that we get to the bottom of why Ireland toiled so much with the COVID-19 test and what its struggles tell us about what the government needs to fix if it is to strengthen the resilience of the country in preparation for future pandemic events.
This event is part of MU Research Week 2021