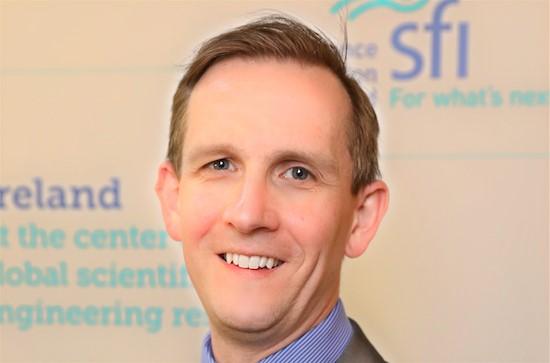 Andrew Parnell is Hamilton Professor in the Hamilton Institute at Maynooth University. His research is in statistics and machine learning for large structured data sets in a variety of application areas. He has co-authored over 75 peer-reviewed papers in journals such as Science, Nature Communications, and Proceedings of the National Academy of Sciences, and has methodological publications in journals such as Statistics and Computing, Knowledge-Based Systems, The Annals of Applied Statistics, and Journal of the Royal Statistical Society: Series C. He has been awarded over €3 million to date in direct funding as PI or Co-PI, and has been involved in grants totalling over €65 million as PI/collaborator. He has been heavily involved in the commercialisation of research through the start-up companies Prolego Scientific (CSO) and Atturos (Scientific Advisor). He is currently a principal investigator in the SFI I-Form Advanced Manufacturing Centre, and a funded investigator in the SFI Insight Centre for Data Analytics.
His main theoretical research interests include:
- Tree-based machine learning methods such as Bayesian Additive Regression Trees (BART) and Random Forests
- Extreme Value Theory
- Spatial statistics
- Bayesian hierarchical modelling using JAGS and Stan
- Compositional data
- Zero-inflation modelling
- Missing data analysis
His current list of application areas includes:
• Climatology, including sea level rise, extremes, and measuring rapid past climate changes

• Manufacturing, including anomaly detection, real-time tool wear analytics, and additive manufacturing

• Bioinformatics, including genotype by environment interaction modelling, and high dimensional *omics analysis

• Learning analytics for monitoring student progress and engagement

• Quantitative ecology especially mixing models for estimating animal diets and sediment tracing

• Radiocarbon dating and chronology modelling for archaeological and palynological applications

He enjoys collaborating with other scientists and writing non-specialist software via the open-source statistical language R.
|   | Project | Role | Funding Body / Program | Description | Start Date | End Date | Award (€) |
| --- | --- | --- | --- | --- | --- | --- | --- |
| | MaREI TP: Nature + Energy | PI | Industry / multiple unspecified industry co-fund | | 01-MAR-21 | 28-FEB-25 | 133970 |
| | Maternity Cover Allowance, I-Form | PI | Science Foundation Ireland / SFI Maternity/Adoptive Policy Allowance | | 05-JAN-21 | 04-JUL-21 | 31763.88 |
| | Novartis training course | PI | Novartis / consultancy | | 03-JUL-20 | 09-JUL-20 | |
| | INSIGHT Phase 2 Andrew Parnell Platform | PI | Science Foundation Ireland / Research Centres | Due to the vast amounts of co-pi's and funded investigators this info has not been added to the RIS record. Instead, please see attached list of co-pi's and funded investigators. See page 17-43 of submitted proposal for details of budget breakdown per of co-pi and funded investigators. | 01-JAN-20 | 31-DEC-24 | 410206.7 |
| | Computational tools for medium-term impact and recovery forecasting from COVID-19 | PI | Science Foundation Ireland / COVID-19 Rapid Response | | 03-JUN-20 | 02-DEC-20 | 90717 |
| | Novartis support for Covid app | PI | Novartis / Research | | 15-MAY-20 | 31-OCT-20 | |
| | InnoVar: Next generation variety testing for improved cropping on European farmland | PI | EU Horizon 2020 / Societal Challenge 2 Food security, sustainable agriculture and forestry, marine and maritime and inland water research | | 01-OCT-19 | 31-MAR-24 | 513225 |
| | Industrial supervised learning | PI | Science Foundation Ireland / Career Development Award (CDA) | | 01-APR-18 | 31-MAR-22 | 530160 |
| | iFORM research centre (Transfer) | PI | Science Foundation Ireland / Research Centres | | 01-NOV-17 | 31-OCT-23 | 491929.5 |
 
Year
Publication
2022
'Towards an instant structure-property prediction quality control tool for additive manufactured steel using a crystal plasticity trained deep learning surrogate'
Tu Y.;Liu Z.;Carneiro L.;Ryan C.M.;Parnell A.C.;Leen S.B.;Harrison N.M. (2022) 'Towards an instant structure-property prediction quality control tool for additive manufactured steel using a crystal plasticity trained deep learning surrogate'. Materials and Design, 213 [DOI] [full-text] [Details]
2022
'Identification and Evaluation of Serum Protein Biomarkers That Differentiate Psoriatic Arthritis From Rheumatoid Arthritis'
Mc Ardle A;Kwasnik A;Szentpetery A;Hernandez B;Parnell A;de Jager W;de Roock S;FitzGerald O;Pennington SR; (2022) 'Identification and Evaluation of Serum Protein Biomarkers That Differentiate Psoriatic Arthritis From Rheumatoid Arthritis'. Arthritis & Rheumatology (Hoboken, N.J.), 74 (1) [DOI] [Details]
2021
'Fecal steroids as a potential tool for conservation paleobiology in East Africa'
Kemp A.C.;Vane C.H.;Kim A.W.;Dutton C.L.;Subalusky A.L.;Kemp S.K.;Parnell A.C. (2021) 'Fecal steroids as a potential tool for conservation paleobiology in East Africa'. Biodiversity and Conservation, [DOI] [full-text] [Details]
2021
'Early Sasanian landscape modification: New geoarchaeological evidence from the Ardashir Pond in southwest Iran (Palace of Ardashir, third century CE)'
Djamali M.;Rashidian E.;Askari-Chaverdi A.;Aubert C.;Brisset E.;Demory F.;Faucherre N.;Gandouin E.;Lahijani H.;Marriner N.;Naderi-Beni A.;Parnell A. (2021) 'Early Sasanian landscape modification: New geoarchaeological evidence from the Ardashir Pond in southwest Iran (Palace of Ardashir, third century CE)'. Geoarchaeology - An International Journal, [DOI] [full-text] [Details]
2021
'The challenge of estimating wildlife populations at scale: the case of the European badger (Meles meles) in Ireland'
Byrne A.W.;Parnell A.;O'Keeffe J.;Madden J.M. (2021) 'The challenge of estimating wildlife populations at scale: the case of the European badger (Meles meles) in Ireland'. European Journal of Wildlife Research, 67 (5) [DOI] [full-text] [Details]
2021
'Using in-situ process monitoring data to identify defective layers in Ti-6Al-4V additively manufactured porous biomaterials'
Egan D.S.;Ryan C.M.;Parnell A.C.;Dowling D.P. (2021) 'Using in-situ process monitoring data to identify defective layers in Ti-6Al-4V additively manufactured porous biomaterials'. Journal of Manufacturing Processes, 64 :1248-1254 [DOI] [full-text] [Details]
2021
'Estimating the conditional probability of developing human papilloma virus related oropharyngeal cancer by combining machine learning and inverse Bayesian modelling'
Tewari P.;Kashdan E.;Walsh C.;Martin C.M.;Parnell A.C.;O'Leary J.J. (2021) 'Estimating the conditional probability of developing human papilloma virus related oropharyngeal cancer by combining machine learning and inverse Bayesian modelling'. PLoS Computational Biology, 17 (8) [DOI] [Details]
2021
'Genome-wide association analyses of carcass traits using copy number variants and raw intensity values of single nucleotide polymorphisms in cattle'
Rafter P.;Gormley I.C.;Purfield D.;Parnell A.C.;Naderi S.;Berry D.P. (2021) 'Genome-wide association analyses of carcass traits using copy number variants and raw intensity values of single nucleotide polymorphisms in cattle'. BMC Genomics, 22 (1) [DOI] [Details]
2021
'Modelling Excess Zeros in Count Data: A New Perspective on Modelling Approaches'
Haslett J.;Parnell A.C.;Hinde J.;de Andrade Moral R. (2021) 'Modelling Excess Zeros in Count Data: A New Perspective on Modelling Approaches'. International Statistical Review, [DOI] [full-text] [Details]
2021
'A palaeoclimate proxy database for water security planning in Queensland Australia'
Croke J.;Vítkovský J.;Hughes K.;Campbell M.;Amirnezhad-Mozhdehi S.;Parnell A.;Cahill N.;Dalla Pozza R. (2021) 'A palaeoclimate proxy database for water security planning in Queensland Australia'. Scientific Data, 8 (1) [DOI] [Details]
2021
'The Contribution of Copy Number Variants and Single Nucleotide Polymorphisms to the Additive Genetic Variance of Carcass Traits in Cattle'
Rafter P.;Gormley I.C.;Parnell A.C.;Naderi S.;Berry D.P. (2021) 'The Contribution of Copy Number Variants and Single Nucleotide Polymorphisms to the Additive Genetic Variance of Carcass Traits in Cattle'. Frontiers in Genetics, 12 [DOI] [Details]
2021
'Bayesian additive regression trees with model trees'
Prado E.B.;Moral R.A.;Parnell A.C. (2021) 'Bayesian additive regression trees with model trees'. Statistics and Computing, 31 (3) [DOI] [full-text] [Details]
2021
'A further source of Tokyo earthquakes and Pacific Ocean tsunamis'
Pilarczyk J.E.;Sawai Y.;Namegaya Y.;Tamura T.;Tanigawa K.;Matsumoto D.;Shinozaki T.;Fujiwara O.;Shishikura M.;Shimada Y.;Dura T.;Horton B.P.;Parnell A.C.;Vane C.H. (2021) 'A further source of Tokyo earthquakes and Pacific Ocean tsunamis'. Nature Geoscience, [DOI] [Details]
2021
'Early Sasanian landscape modification: New geoarchaeological evidence from the Ardashir Pond in southwest Iran (Palace of Ardashir, third century CE)\'
Djamali, Morteza and Rashidian, Elnaz and Askari-Chaverdi, Alireza and Aubert, Cyril and Brisset, Elodie and Demory, Fran\\cc\\ois and Faucherre, Nicolas and Gandouin, Emmanuel and Lahijani, Hamid and Marriner, Nick and others\ (2021) 'Early Sasanian landscape modification: New geoarchaeological evidence from the Ardashir Pond in southwest Iran (Palace of Ardashir, third century CE)\'. Geoarchaeology - An International Journal, [full-text] [Details]
2021
'Pollen Geochronology from the Atlantic Coast of the United States during the Last 500 Years'
Christie, Margaret A; Bernhardt, Christopher E; Parnell, Andrew C; Shaw, Timothy A; Khan, Nicole S; Corbett, D Reide; Garcia-Artola, Ane; Clear, Jennifer; Walker, Jennifer S; Donnelly, Jeffrey P (2021) 'Pollen Geochronology from the Atlantic Coast of the United States during the Last 500 Years'. Air, Soil and Water Research, [Details]
2021
'Application of the STRAY statistical learning algorithm for the evaluation of in-situ process monitoring data during L-PBF additive manufacturing'
Doyle, Aoife C and Egan, Darragh S and Ryan, Caitr\'\iona M and Parnell, Andrew C and Dowling, Denis P (2021) 'Application of the STRAY statistical learning algorithm for the evaluation of in-situ process monitoring data during L-PBF additive manufacturing'. Procedia Manufacturing, 54 :250-256 [Details]
2021
'Excess Mortality in Dublin during the Covid-19 Pandemic: Using RIP. ie as a geographical source'
Dempsey, Rebecca; Parnell, Andrew; McCarron, Pádraig; McCarthy, Gerard; E (2021) 'Excess Mortality in Dublin during the Covid-19 Pandemic: Using RIP. ie as a geographical source'. Irish Geography, [Details]
2020
'Excess mortality in dublin during the covid-19 pandemic: Using rip.ie as a geographical source'
Dempsey R.;Parnell A.;Maccarron P.;McCarthy G.D. (2020) 'Excess mortality in dublin during the covid-19 pandemic: Using rip.ie as a geographical source'. Irish Geography, 53 (2):163-172 [DOI] [Details]
2020
'Machine learning techniques for the detection of inappropriate erotic content in text'
Barrientos G.M.;Alaiz-Rodríguez R.;González-Castro V.;Parnell A.C. (2020) 'Machine learning techniques for the detection of inappropriate erotic content in text'. International Journal of Computational Intelligence Systems, 13 (1):591-603 [DOI] [full-text] [Details]
2020
'Exploring source differences on diet-tissue discrimination factors in the analysis of stable isotope mixing models'
Kadye, WT;Redelinghuys, S;Parnell, AC;Booth, AJ (2020) 'Exploring source differences on diet-tissue discrimination factors in the analysis of stable isotope mixing models'. Scientific Reports, 10 [DOI] [full-text] [Details]
2020
'Tracing the sources of sediment and associated particulate nitrogen from different land uses in the Johnstone River catchment, Wet Tropics, north-eastern Australia'
Bahadori M.;Chen C.;Lewis S.;Rashti M.R.;Cook F.;Parnell A.;Esfandbod M.;Stevens T. (2020) 'Tracing the sources of sediment and associated particulate nitrogen from different land uses in the Johnstone River catchment, Wet Tropics, north-eastern Australia'. Marine Pollution Bulletin, 157 [DOI] [full-text] [Details]
2020
'Bayesian spatial extreme value analysis of maximum temperatures in County Dublin, Ireland'
O'Sullivan J.;Sweeney C.;Parnell A. (2020) 'Bayesian spatial extreme value analysis of maximum temperatures in County Dublin, Ireland'. Environmetrics, [DOI] [full-text] [Details]
2020
'A 2,000-year Bayesian NAO reconstruction from the Iberian Peninsula'
Hernández A.;Sánchez-López G.;Pla-Rabes S.;Comas-Bru L.;Parnell A.;Cahill N.;Geyer A.;Trigo R.M.;Giralt S. (2020) 'A 2,000-year Bayesian NAO reconstruction from the Iberian Peninsula'. Scientific Reports, 10 (1) [DOI] [full-text] [Details]
2020
'Generalizing Gain Penalization for Feature Selection in Tree-based Models'
Bruna Wundervald, Andrew Parnell, Katarina Domijan (2020) 'Generalizing Gain Penalization for Feature Selection in Tree-based Models'. Ieee Access, 8 [DOI] [full-text] [Details]
2020
'Discussion of: Bayesian Regression Tree Models for Causal Inference: Regularization, Confounding, and Heterogeneous Effects'
Prado, Estevao and O'Neill, Eoghan and Hernandez, Belinda and Parnell, Andrew C. and Moral, Rafael A (2020) 'Discussion of: Bayesian Regression Tree Models for Causal Inference: Regularization, Confounding, and Heterogeneous Effects'. Bayesian Analysis, 15 :1029-1031 [full-text] [Details]
2020
'Modes of climate variability: Synthesis and review of proxy-based reconstructions through the Holocene'
Hern\'andez, Armand and Martin-Puertas, Celia and Moffa-S\'anchez, Paola and Moreno-Chamarro, Eduardo and Ortega, Pablo and Blockley, Simon and Cobb, Kim M and Comas-Bru, Laia and Giralt, Santiago and Goosse, Hugues and others (2020) 'Modes of climate variability: Synthesis and review of proxy-based reconstructions through the Holocene'. Earth-Science Reviews, [Details]
2020
'A Machine Learning Approach for Lamb Meat Quality Assessment Using FTIR Spectra'
Alaiz-Rodriguez R.;Parnell A.C. (2020) 'A Machine Learning Approach for Lamb Meat Quality Assessment Using FTIR Spectra'. Ieee Access, 8 :52385-52394 [DOI] [full-text] [Details]
2020
'The impact of Ming and Qing dynasty maritime bans on trade ceramics recovered from coastal settlements in northern Sumatra, Indonesia'
Tai Y.;Daly P.;Mckinnon E.;Parnell A.;Feener R.;Majewski J.;Ismail N.;Sieh K. (2020) 'The impact of Ming and Qing dynasty maritime bans on trade ceramics recovered from coastal settlements in northern Sumatra, Indonesia'. Archaeological Research In Asia, 21 [DOI] [Details]
2020
'Concordance rate between copy number variants detected using either high- or medium-density single nucleotide polymorphism genotype panels and the potential of imputing copy number variants from flanking high density single nucleotide polymorphism haplotypes in cattle'
Rafter P.;Gormley I.C.;Parnell A.C.;Kearney J.F.;Berry D.P. (2020) 'Concordance rate between copy number variants detected using either high- or medium-density single nucleotide polymorphism genotype panels and the potential of imputing copy number variants from flanking high density single nucleotide polymorphism haplotypes in cattle'. BMC Genomics, 21 (1) [DOI] [Details]
2020
'An information theoretic approach to quantify the stability of feature selection and ranking algorithms'
Alaiz-Rodríguez R.;Parnell A.C. (2020) 'An information theoretic approach to quantify the stability of feature selection and ranking algorithms'. Knowledge-Based Systems, [DOI] [full-text] [Details]
2019
'Rising CO2 drives divergence in water use efficiency of evergreen and deciduous plants'
Soh W.;Yiotis C.;Murray M.;Parnell A.;Wright I.;Spicer R.;Lawson T.;Caballero R.;McElwain J. (2019) 'Rising CO2 drives divergence in water use efficiency of evergreen and deciduous plants'. Science Advances, 5 (12) [DOI] [Details]
2019
'Convergence in maximum stomatal conductance of C3 woody angiosperms in natural ecosystems across bioclimatic zones'
Murray M.;Soh W.;Yiotis C.;Batke S.;Parnell A.;Spicer R.;Lawson T.;Caballero R.;Wright I.;Purcell C.;McElwain J. (2019) 'Convergence in maximum stomatal conductance of C3 woody angiosperms in natural ecosystems across bioclimatic zones'. Frontiers in Plant Science, 10 [DOI] [full-text] [Details]
2019
'The contribution of myostatin (MSTN) and additional modifying genetic loci to race distance aptitude in Thoroughbred horses racing in different geographic regions'
Hill, EW and McGivney, BA and Rooney, M and Katz, LM and Parnell, A and MacHugh, DE (2019) 'The contribution of myostatin (MSTN) and additional modifying genetic loci to race distance aptitude in Thoroughbred horses racing in different geographic regions'. Equine Veterinary Journal, [full-text] [Details]
2019
'Archaeological evidence that a late 14th-century tsunami devastated the coast of northern Sumatra and redirected history'
Daly P.;Sieh K.;Seng T.;McKinnon E.;Parnell A.;Ardiansyah;Feener R.;Ismail N.;Nizamuddin;Majewski J. (2019) 'Archaeological evidence that a late 14th-century tsunami devastated the coast of northern Sumatra and redirected history'. Proceedings of the National Academy of Sciences of the United States of America, 116 (24):11679-11686 [DOI] [full-text] [Details]
2019
'Estimating contributions of pelagic and benthic pathways to consumer production in coupled marine food webs'
Duffill Telsnig J.;Jennings S.;Mill A.;Walker N.;Parnell A.;Polunin N. (2019) 'Estimating contributions of pelagic and benthic pathways to consumer production in coupled marine food webs'. Journal of Animal Ecology, 88 (3):405-415 [DOI] [Details]
2019
'Convergence in Maximum Stomatal Conductance of C3 Woody Angiosperms in Natural Ecosystems Across Bioclimatic Zones'
Murray, Michelle and Soh, Wuu Kuang and Yiotis, Charilaos and Batke, Sven and Parnell, Andrew and Spicer, Robert A and Lawson, Tracy and Caballero, Rodrigo and Wright, Ian J and Purcell, Conor and others (2019) 'Convergence in Maximum Stomatal Conductance of C3 Woody Angiosperms in Natural Ecosystems Across Bioclimatic Zones'. Frontiers in plant science, 10 [full-text] [Details]
2019
'Bayesian spatial extreme value analysis of maximum temperatures in County Dublin, Ireland'
O'Sullivan, John and Sweeney, Conor and Parnell, Andrew C (2019) 'Bayesian spatial extreme value analysis of maximum temperatures in County Dublin, Ireland'. Environmetrics, [full-text] [Details]
2019
'A genomic prediction model for racecourse starts in the Thoroughbred horse'
McGivney, BA and Hernandez, B and Katz, LM and MacHugh, DE and McGovern, SP and Parnell, AC and Wiencko, HL and Hill, EW (2019) 'A genomic prediction model for racecourse starts in the Thoroughbred horse'. Animal genetics, 50 (4):347-357 [full-text] [Details]
2019
'Archaeological evidence that a late 14th-century tsunami devastated the coast of northern Sumatra and redirected history'
Daly, Patrick and Sieh, Kerry and Seng, Tai Yew and McKinnon, Edmund Edwards and Parnell, Andrew C and Feener, R Michael and Ismail, Nazli and Majewski, Jedrzej and others (2019) 'Archaeological evidence that a late 14th-century tsunami devastated the coast of northern Sumatra and redirected history'. Proceedings of the National Academy of Sciences, 116 (24):11679-11686 [full-text] [Details]
2019
'A novel approach of combining isotopic and geochemical signatures to differentiate the sources of sediments and particulate nutrients from different land uses'
Bahadori M.;Chen C.;Lewis S.;Rezaei Rashti M.;Cook F.;Parnell A.;Esfandbod M.;Boyd S. (2019) 'A novel approach of combining isotopic and geochemical signatures to differentiate the sources of sediments and particulate nutrients from different land uses'. Science of the Total Environment, 655 :129-140 [DOI] [full-text] [Details]
2019
'Analysis of genetic variation contributing to measured speed in Thoroughbreds identifies genomic regions involved in the transcriptional response to exercise'
Farries G.;Gough K.;Parnell A.;McGivney B.;McGivney C.;McGettigan P.;MacHugh D.;Katz L.;Hill E. (2019) 'Analysis of genetic variation contributing to measured speed in Thoroughbreds identifies genomic regions involved in the transcriptional response to exercise'. Animal Genetics, 50 (6):670-685 [DOI] [full-text] [Details]
2018
'Effect of the Irish Civil War 1922-1923 on suicide rates in Ireland: A retrospective investigation of the archives of the registrar-general for Saorstát Éireann'
Osman M.;Parnell A.;McCauley M. (2018) 'Effect of the Irish Civil War 1922-1923 on suicide rates in Ireland: A retrospective investigation of the archives of the registrar-general for Saorstát Éireann'. Epidemiology Biostatistics and Public Health, 15 (3) [DOI] [full-text] [Details]
2019
'Rising CO2 drives divergence in water use efficiency of evergreen and deciduous plants'
Soh, Wuu Kuang and Yiotis, Charilaos and Murray, Michelle and Parnell, Andrew and Wright, Ian J and Spicer, Robert A and Lawson, Tracy and Caballero, Rodrigo and McElwain, Jennifer C (2019) 'Rising CO2 drives divergence in water use efficiency of evergreen and deciduous plants'. Science Advances, 5 (12) [full-text] [Details]
2019
'Statistical modeling of rates and trends in Holocene relative sea level'
Ashe E.;Cahill N.;Hay C.;Khan N.;Kemp A.;Engelhart S.;Horton B.;Parnell A.;Kopp R. (2019) 'Statistical modeling of rates and trends in Holocene relative sea level'. QUATERNARY SCIENCE REVIEWS, 204 :58-77 [DOI] [full-text] [Details]
2019
'Quantifying participation in, and the effectiveness of, remediating assessment in a university mathematics module'
Howard, Emma and Meehan, Maria and Parnell, Andrew (2019) 'Quantifying participation in, and the effectiveness of, remediating assessment in a university mathematics module'. Assessment \& Evaluation in Higher Education, 44 (1):97-110 [full-text] [Details]
2018
'Effect of the Irish Civil War 1922-1923 on suicide rates in Ireland: a retrospective investigation of the archives of the registrar-general for Saorst\'at \'Eireann'
Osman, Mugtaba and Parnell, Andrew C and McCauley, MacDara (2018) 'Effect of the Irish Civil War 1922-1923 on suicide rates in Ireland: a retrospective investigation of the archives of the registrar-general for Saorst\'at \'Eireann'. Epidemiology, Biostatistics and Public Health, 15 (3) [full-text] [Details]
2018
'Characterization of copy number variants in a large multibreed population of beef and dairy cattle using high-density single nucleotide polymorphism genotype data'
Rafter, Pierce and Purfield, Deirdre C and Berry, Donagh P and Parnell, Andrew C and Gormley, I Claire and Kearney, J Francis and Coffey, Mike P and Carthy, Tara R (2018) 'Characterization of copy number variants in a large multibreed population of beef and dairy cattle using high-density single nucleotide polymorphism genotype data'. Journal of animal science, 96 (10):4112-4124 [full-text] [Details]
2018
'Contrasting prediction methods for early warning systems at undergraduate level'
Howard, Emma and Meehan, Maria and Parnell, Andrew (2018) 'Contrasting prediction methods for early warning systems at undergraduate level'. The Internet and Higher Education, 37 :66-75 [full-text] [Details]
2018
'Live lectures or online videos: students' resource choices in a first-year university mathematics module'
Howard, Emma and Meehan, Maria and Parnell, Andrew (2018) 'Live lectures or online videos: students' resource choices in a first-year university mathematics module'. International Journal of Mathematical Education in Science and Technology, 49 (4):530-553 [Details]
2018
'Estimating contributions of pelagic and benthic pathways to consumer production in coupled marine food webs'
Duffill Telsnig, Jessica I and Jennings, Simon and Mill, Aileen C and Walker, Nicola D and Parnell, Andrew C and Polunin, Nicholas VC (2018) 'Estimating contributions of pelagic and benthic pathways to consumer production in coupled marine food webs'. Journal of Animal Ecology, [full-text] [Details]
2018
'Frequency selection in paleoclimate time series: A model-based approach incorporating possible time uncertainty'
Franke, Peter M and Huntley, Brian and Parnell, Andrew C (2018) 'Frequency selection in paleoclimate time series: A model-based approach incorporating possible time uncertainty'. Environmetrics, [full-text] [Details]
2018
'Identification and evaluation of serum protein biomarkers for organ confined prostate cancer'
Mc Ardle, A and Tonry, C and Fan, Y and Inzitari, R and Rooney, R and Brian, B and Parnell, A and Finn, S and Pennington, S (2018) 'Identification and evaluation of serum protein biomarkers for organ confined prostate cancer'. European Urology Supplements, 17 (2) [Details]
2018
'Statistical challenges in estimating past climate changes'
Sweeney, James and Salter-Townshend, Michael and Edwards, Tamsin and Buck, Caitlin E and Parnell, Andrew C (2018) 'Statistical challenges in estimating past climate changes'. Wiley Interdisciplinary Reviews: Computational Statistics, [full-text] [Details]
2018
'Extraordinary biomass-burning episode and impact winter triggered by the Younger Dryas cosmic impact~ 12,800 years ago. 2. Lake, marine, and terrestrial sediments'
Wolbach, Wendy S and Ballard, Joanne P and Mayewski, Paul A and Parnell, Andrew C and Cahill, Niamh and Adedeji, Victor and Bunch, Ted E and Dom\'\inguez-V\'azquez, Gabriela and Erlandson, Jon M and Firestone, Richard B and others (2018) 'Extraordinary biomass-burning episode and impact winter triggered by the Younger Dryas cosmic impact~ 12,800 years ago. 2. Lake, marine, and terrestrial sediments'. The Journal of Geology, 126 (2):185-205 [full-text] [Details]
2017
'Relative sea-level trends in New York City during the past 1500 years'
Kemp A.;Hill T.;Vane C.;Cahill N.;Orton P.;Talke S.;Parnell A.;Sanborn K.;Hartig E. (2017) 'Relative sea-level trends in New York City during the past 1500 years'. Holocene, 27 (8):1169-1186 [DOI] [full-text] [Details]
2017
'A new paleo-leaf economic proxy reveals a shift in ecosystem function in response to global warming at the onset of the Triassic period'
Soh, WK and Wright, IJ and Bacon, KL and Lenz, TI and Steinthorsdottir, Margret and Parnell, AC and McElwain, JC (2017) 'A new paleo-leaf economic proxy reveals a shift in ecosystem function in response to global warming at the onset of the Triassic period'. Nature Plants, 3 [Details]
2017
'Relative sea-level trends in New York City during the past 1500 years'
Kemp, Andrew C and Hill, Troy D and Vane, Christopher H and Cahill, Niamh and Orton, Philip M and Talke, Stefan A and Parnell, Andrew C and Sanborn, Kelsey and Hartig, Ellen K (2017) 'Relative sea-level trends in New York City during the past 1500 years'. The Holocene, 27 (8):1169-1186 [full-text] [Details]
2017
'A novel method for quantifying overdispersion in count data and its application to farmland birds'
Mcmahon, Barry J and Purvis, Gordon and Sheridan, Helen and Siriwardena, Gavin M and Parnell, Andrew C (2017) 'A novel method for quantifying overdispersion in count data and its application to farmland birds'. Ibis, 159 (2):406-414 [Details]
2017
'Palaeo leaf economics reveal a shift in ecosystem function associated with the end-Triassic mass extinction event'
Soh, WK and Wright, IJ and Bacon, KL and Lenz, TI and Steinthorsdottir, Margret and Parnell, AC and McElwain, JC (2017) 'Palaeo leaf economics reveal a shift in ecosystem function associated with the end-Triassic mass extinction event'. Nature plants, 3 (8) [full-text] [Details]
2017
'Increased non-melanoma skin cancer risk in young patients with inflammatory bowel disease on immunomodulatory therapy: a retrospective single-centre cohort study'
Clowry, J and Sheridan, J and Healy, R and Deady, S and Keegan, D and Byrne, K and Cullen, G and Mulcahy, H and Comber, H and Parnell, AC and others (2017) 'Increased non-melanoma skin cancer risk in young patients with inflammatory bowel disease on immunomodulatory therapy: a retrospective single-centre cohort study'. Journal of the European Academy of Dermatology and Venereology, 31 (6):978-985 [Details]
2017
'Subduction zone slip variability during the last millennium, south-central Chile'
Dura, Tina and Horton, Benjamin P and Cisternas, Marco and Ely, Lisa L and Hong, Isabel and Nelson, Alan R and Wesson, Robert L and Pilarczyk, Jessica E and Parnell, Andrew C and Nikitina, Daria (2017) 'Subduction zone slip variability during the last millennium, south-central Chile'. Quaternary Science Reviews, 175 :112-137 [full-text] [Details]
2017
'Regional and global sea-surface temperatures during the last interglaciation'
Hoffman, Jeremy S and Clark, Peter U and Parnell, Andrew C and He, Feng (2017) 'Regional and global sea-surface temperatures during the last interglaciation'. Science, 355 (6322):276-279 [full-text] [Details]
2017
'Repeatability analysis of airborne electromagnetic surveys'
Hegarty, Avril and Stanley, Gerry and Kashdan, Eugene and Hodgson, Jim and Parnell, Andrew C (2017) 'Repeatability analysis of airborne electromagnetic surveys'. Mathematics-in-industry case studies, 7 (1) [full-text] [Details]
2017
'Corrigendum: Palaeo leaf economics reveal a shift in ecosystem function associated with the end-Triassic mass extinction event'
Soh, WK and Wright, IJ and Bacon, KL and Lenz, TI and Steinthorsdottir, M and Parnell, AC and McElwain, JC (2017) 'Corrigendum: Palaeo leaf economics reveal a shift in ecosystem function associated with the end-Triassic mass extinction event'. Nature plants, 3 :17126-17126 [full-text] [Details]
2017
'Prediction of tool-wear in turning of medical grade cobalt chromium molybdenum alloy (ASTM F75) using non-parametric Bayesian models'
McParland, Damien and Baron, Szymon and O'Rourke, Sarah, Dowling, Denis and Ahearne, Eamonn and Parnell, Andrew C (2017) 'Prediction of tool-wear in turning of medical grade cobalt chromium molybdenum alloy (ASTM F75) using non-parametric Bayesian models'. Journal of Intelligent Manufacturing, :1-12 [full-text] [Details]
2017
'Highly variable recurrence of tsunamis in the 7,400 years before the 2004 Indian Ocean tsunami'
Rubin, Charles M and Horton, Benjamin P and Sieh, Kerry and Pilarczyk, Jessica E and Daly, Patrick and Ismail, Nazli and Parnell, Andrew C (2017) 'Highly variable recurrence of tsunamis in the 7,400 years before the 2004 Indian Ocean tsunami'. Nature communications, 8 [full-text] [Details]
2017
'Bayesian Additive Regression Trees using Bayesian model averaging'
Hernandez, Belinda and Raftery, Adrian E and Pennington, Stephen R. and Parnell, Andrew C. (2017) 'Bayesian Additive Regression Trees using Bayesian model averaging'. Statistics and Computing, :1-22 [full-text] [Details]
2017
'Reconstructing the accumulation history of a saltmarsh sediment core: Which age-depth model is best?'
Wright, Alexander J and Edwards, Robin J and van de Plassche, Orson and Blaauw, Maarten and Parnell, Andrew C and van der Borg, Klaas and de Jong, Arie FM and Roe, Helen M and Selby, Katherine and Black, Stuart (2017) 'Reconstructing the accumulation history of a saltmarsh sediment core: Which age-depth model is best?'. Quaternary Geochronology, 39 :35-67 [full-text] [Details]
2017
'"Suicide shall cease to be a crime": suicide and undetermined death trends 1970--2000 before and after the decriminalization of suicide in Ireland 1993'
Osman, Mugtaba and Parnell, Andrew C and Haley, Clifford (2017) '"Suicide shall cease to be a crime": suicide and undetermined death trends 1970--2000 before and after the decriminalization of suicide in Ireland 1993'. Irish Journal of Medical Science (1971-), 186 (1):201-205 [full-text] [Details]
2016
'Discussion Paper: A Bayesian multinomial regression model for paleoclimate reconstruction with time uncertainty'
Parnell, Andrew C (2016) 'Discussion Paper: A Bayesian multinomial regression model for paleoclimate reconstruction with time uncertainty'. Environmetrics, 27 (7):431-433 [Details]
2016
'A Bayesian hierarchical model for reconstructing relative sea level: From raw data to rates of change'
Cahill N.;Kemp A.;Horton B.;Parnell A. (2016) 'A Bayesian hierarchical model for reconstructing relative sea level: From raw data to rates of change'. Climate of the Past, 12 (2):525-542 [DOI] [full-text] [Details]
2016
'A Bayesian multinomial regression model for paleoclimate reconstruction with time uncertainty'
Parnell, Andrew C (2016) 'A Bayesian multinomial regression model for paleoclimate reconstruction with time uncertainty'. Environmetrics, 27 (7):431-433 [Details]
2016
'Spatial Bayesian hierarchical modelling of extreme sea states'
Clancy, Colm and O'Sullivan, John and Sweeney, Conor and Dias, Fr\'ed\'eric and Parnell, Andrew C (2016) 'Spatial Bayesian hierarchical modelling of extreme sea states'. Ocean Modelling, 107 :1-13 [full-text] [Details]
2016
'GOexpress: an R/Bioconductor package for the identification and visualisation of robust gene ontology signatures through supervised learning of gene expression data'
Rue-Albrecht, K\'evin and McGettigan, Paul A and Hern\'andez, Belinda and Nalpas, Nicolas C and Magee, David A and Parnell, Andrew C and Gordon, Stephen V and MacHugh, David E (2016) 'GOexpress: an R/Bioconductor package for the identification and visualisation of robust gene ontology signatures through supervised learning of gene expression data'. BMC bioinformatics, 17 (1) [Details]
2016
'Joint palaeoclimate reconstruction from pollen data via forward models and climate histories'
Parnell, Andrew C and Haslett, John and Sweeney, James and Doan, Thinh K and Allen, Judy RM and Huntley, Brian (2016) 'Joint palaeoclimate reconstruction from pollen data via forward models and climate histories'. Quaternary Science Reviews, 151 :111-126 [Details]
2015
'Change points of global temperature'
Cahill N.;Rahmstorf S.;Parnell A. (2015) 'Change points of global temperature'. Environmental Research Letters, 10 (8) [DOI] [full-text] [Details]
2015
'Quantifying the contribution of sediment compaction to late Holocene salt-marsh sea-level reconstructions, North Carolina, USA'
Brain, MJ;Kemp, AC;Horton, BP;Culver, SJ;Parnell, AC;Cahill, N (2015) 'Quantifying the contribution of sediment compaction to late Holocene salt-marsh sea-level reconstructions, North Carolina, USA'. Quaternary Research, 83 :41-51 [DOI] [full-text] [Details]
2015
'Relative sea-level change in Connecticut (USA) during the last 2200 yrs'
Kemp A.;Hawkes A.;Donnelly J.;Vane C.;Horton B.;Hill T.;Anisfeld S.;Parnell A.;Cahill N. (2015) 'Relative sea-level change in Connecticut (USA) during the last 2200 yrs'. Earth and Planetary Sciences Letters, 428 :217-229 [DOI] [full-text] [Details]
2015
'Modeling sea-level change using errors-in-variables integrated gaussian processes'
Cahill N.;Kemp A.;Horton B.;Parnell A. (2015) 'Modeling sea-level change using errors-in-variables integrated gaussian processes'. Annals of Applied Statistics, 9 (2):547-571 [DOI] [full-text] [Details]
2015
'Bayesian inference for palaeoclimate with time uncertainty and stochastic volatility'
Parnell, Andrew C and Sweeney, James and Doan, Thinh K and Salter-Townshend, Michael and Allen, Judy RM and Huntley, Brian and Haslett, John (2015) 'Bayesian inference for palaeoclimate with time uncertainty and stochastic volatility'. Journal of the Royal Statistical Society: Series C (Applied Statistics), 64 (1):115-138 [Details]
2015
'Bayesian methods for proteomic biomarker development'
Hern\'andez, Belinda and Pennington, Stephen R and Parnell, Andrew C (2015) 'Bayesian methods for proteomic biomarker development'. EuPA Open Proteomics, 9 :54-64 [Details]
2015
'Relative sea-level change in Connecticut (USA) during the last 2200 yrs'
Kemp, Andrew C and Hawkes, Andrea D and Donnelly, Jeffrey P and Vane, Christopher H and Horton, Benjamin P and Hill, Troy D and Anisfeld, Shimon C and Parnell, Andrew C and Cahill, Niamh (2015) 'Relative sea-level change in Connecticut (USA) during the last 2200 yrs'. Earth and Planetary Science Letters, 428 :217-229 [full-text] [Details]
2015
'Joint inference of misaligned irregular time series with application to Greenland ice core data'
Doan, Thinh K. and Haslett, J and Parnell, A.C. (2015) 'Joint inference of misaligned irregular time series with application to Greenland ice core data'. Advances in Statistical Climatology, Meteorology and Oceanography, 1 (1):15-27 [Details]
2015
'A Bayesian hierarchical model for reconstructing relative sea level: from raw data to rates of change'
Cahill, N and Kemp, AC and Horton, BP and Parnell, AC (2015) 'A Bayesian hierarchical model for reconstructing relative sea level: from raw data to rates of change'. Climate of the Past Discussions, 11 :4851-4893 [full-text] [Details]
2015
'Effect of the First World War on suicide rates in Ireland: an investigation of the 1864--1921 suicide trends'
Osman, Mugtaba and Parnell, Andrew C (2015) 'Effect of the First World War on suicide rates in Ireland: an investigation of the 1864--1921 suicide trends'. British Journal of Psychiatry Open, 1 (2):164-165 [Details]
2014
'70 Early diagnostic yield of mycobacterial testing in patients at risk of lung cancer'
O'Connell, C and Parnell, A and Hannan, M and Keogh, B and O'Callaghan, DS (2014) '70 Early diagnostic yield of mycobacterial testing in patients at risk of lung cancer'. Lung Cancer, 83 [Details]
2014
'Late Holocene sea- and land-level change on the U.S. southeastern Atlantic coast'
Kemp A.;Bernhardt C.;Horton B.;Kopp R.;Vane C.;Peltier W.;Hawkes A.;Donnelly J.;Parnell A.;Cahill N. (2014) 'Late Holocene sea- and land-level change on the U.S. southeastern Atlantic coast'. Marine Geology, 357 :90-100 [DOI] [full-text] [Details]
2014
'Why have so few proteomic biomarkers "survived" validation?(Sample size and independent validation considerations)'
Hern\'andez, Belinda and Parnell, Andrew and Pennington, Stephen R (2014) 'Why have so few proteomic biomarkers "survived" validation?(Sample size and independent validation considerations)'. Proteomics, 14 (13-14):1587-1592 [Details]
2014
'Reducing time-scale uncertainty for the Devonian by integrating astrochronology and Bayesian statistics'
De Vleeschouwer, David and Parnell, Andrew C (2014) 'Reducing time-scale uncertainty for the Devonian by integrating astrochronology and Bayesian statistics'. Geology, 42 (6):491-494 [Details]
2014
'C40 PIERCING THE DARK: ILLUMINATING THE CLINICAL AND BIOLOGICAL CHARACTERISTICS OF LUNG CANCER: Early Diagnostic Yield Of Mycobacterial Testing In Patients At Risk Of Lung Cancer'
O'Connell, C and Parnell, A and Hannan, M and Keogh, B and O'Callaghan, D (2014) 'C40 PIERCING THE DARK: ILLUMINATING THE CLINICAL AND BIOLOGICAL CHARACTERISTICS OF LUNG CANCER: Early Diagnostic Yield Of Mycobacterial Testing In Patients At Risk Of Lung Cancer'. American Journal of Respiratory and Critical Care Medicine, 189 [Details]
2014
'Best practices for use of stable isotope mixing models in food-web studies'
Phillips, Donald L and Inger, Richard and Bearhop, Stuart and Jackson, Andrew L and Moore, Jonathan W and Parnell, Andrew C and Semmens, Brice X and Ward, Eric J (2014) 'Best practices for use of stable isotope mixing models in food-web studies'. Canadian Journal of Zoology, 92 (10):823-835 [Details]
2013
'Sea-level change during the last 2500 years in New Jersey, USA'
Kemp A.;Horton B.;Vane C.;Bernhardt C.;Corbett D.;Engelhart S.;Anisfeld S.;Parnell A.;Cahill N. (2013) 'Sea-level change during the last 2500 years in New Jersey, USA'. QUATERNARY SCIENCE REVIEWS, 81 :90-104 [DOI] [full-text] [Details]
2013
'Statistical basis and outputs of stable isotope mixing models: comment on Fry (2013)'
Semmens, Brice X and Ward, Eric J and Parnell, Andrew C and Phillips, Donald L and Bearhop, Stuart and Inger, Richard and Jackson, Andrew and Moore, Jonathan W (2013) 'Statistical basis and outputs of stable isotope mixing models: comment on Fry (2013)'. Marine Ecology Progress Series, 490 :285-289 [Details]
2013
'MixSIAR: A Bayesian stable isotope mixing model for characterizing intrapopulation niche variation'
Semmens, B and Stock, B and Ward, Eric and Moore, Jonathan W and Parnell, Andrew and Jackson, Andrew L and Phillips, Donald L and Bearhop, Stuart and Inger, Richard (2013) 'MixSIAR: A Bayesian stable isotope mixing model for characterizing intrapopulation niche variation'. Ecological Society of America, Minneapolis, MN, :04-09 [Details]
2013
'Bias in diet determination: incorporating traditional methods in Bayesian mixing models'
Franco-Trecu, Valentina and Drago, Massimiliano and Riet-Sapriza, Federico G and Parnell, Andrew and Frau, Rosina and Inchausti, Pablo (2013) 'Bias in diet determination: incorporating traditional methods in Bayesian mixing models'. PLoS One, 8 (11) [Details]
2013
'Bayesian stable isotope mixing models'
Parnell, Andrew C and Phillips, Donald L and Bearhop, Stuart and Semmens, Brice X and Ward, Eric J and Moore, Jonathan W and Jackson, Andrew L and Grey, Jonathan and Kelly, David J and Inger, Richard (2013) 'Bayesian stable isotope mixing models'. Environmetrics, 24 (6):387-399 [Details]
2012
'Modelling the effects of sediment compaction on salt marsh reconstructions of recent sea-level rise'
Brain, Matthew J and Long, Antony J and Woodroffe, Sarah A and Petley, David N and Milledge, David G and Parnell, Andrew C (2012) 'Modelling the effects of sediment compaction on salt marsh reconstructions of recent sea-level rise'. Earth and Planetary Science Letters, 345 :180-193 [Details]
2012
'Disentangling spatio-temporal processes in a hierarchical system: a case study in fisheries discards'
Viana, Mafalda and Jackson, Andrew L and Graham, Norman and Parnell, Andrew C (2012) 'Disentangling spatio-temporal processes in a hierarchical system: a case study in fisheries discards'. Ecography, [Details]
2011
'Comparing isotopic niche widths among and within communities: SIBER--Stable Isotope Bayesian Ellipses in R'
Jackson, Andrew L and Inger, Richard and Parnell, Andrew C and Bearhop, Stuart (2011) 'Comparing isotopic niche widths among and within communities: SIBER--Stable Isotope Bayesian Ellipses in R'. Journal of Animal Ecology, 80 (3):595-602 [Details]
2011
'A review of statistical chronology models for high-resolution, proxy-based Holocene palaeoenvironmental reconstruction'
Parnell, Andrew C and Buck, Caitlin E and Doan, Thinh K (2011) 'A review of statistical chronology models for high-resolution, proxy-based Holocene palaeoenvironmental reconstruction'. Quaternary Science Reviews, 30 (21-22):2948-2960 [Details]
2010
'Do non-native invasive fish support elevated lamprey populations?'
Inger, Richard and McDonald, Robbie A and Rogowski, David and Jackson, Andrew L and Parnell, Andrew and Jane Preston, S and Harrod, Chris and Goodwin, Claire and Griffiths, David and Dick, Jaimie TA and others (2010) 'Do non-native invasive fish support elevated lamprey populations?'. Journal of Applied Ecology, 47 (1):121-129 [Details]
2010
'Source partitioning using stable isotopes: coping with too much variation'
Parnell, Andrew C and Inger, Richard and Bearhop, Stuart and Jackson, Andrew L (2010) 'Source partitioning using stable isotopes: coping with too much variation'. PloS one, 5 (3) [Details]
2009
'Timing and magnitude of recent accelerated sea-level rise (North Carolina, United States)'
Kemp, Andrew C and Horton, Benjamin P and Culver, Stephen J and Corbett, D Reide and van de Plassche, Orson and Gehrels, W Roland and Douglas, Bruce C and Parnell, Andrew C (2009) 'Timing and magnitude of recent accelerated sea-level rise (North Carolina, United States)'. Geology, 37 (11):1035-1038 [Details]
2008
'A simple monotone process with application to radiocarbon-dated depth chronologies'
Haslett, John and Parnell, Andrew (2008) 'A simple monotone process with application to radiocarbon-dated depth chronologies'. Journal of the Royal Statistical Society: Series C (Applied Statistics), 57 (4):399-418 [Details]
2008
'A flexible approach to assessing synchroneity of past events using Bayesian reconstructions of sedimentation history'
Parnell, Andrew C and Haslett, John and Allen, Judy RM and Buck, Caitlin E and Huntley, Brian (2008) 'A flexible approach to assessing synchroneity of past events using Bayesian reconstructions of sedimentation history'. Quaternary Science Reviews, 27 (19-20):1872-1885 [Details]
2008
'Comment on article by Blackwell and Buck'
Haslett, John and Parnell, Andrew (2008) 'Comment on article by Blackwell and Buck'. Bayesian Analysis, 3 (2):249-254 [Details]
 
Year
Publication
2015
'Using chronological models in late Holocene sea-level reconstructions from salt marsh sediments'
Parnell, Andrew C and Gehrels, W Roland (2015) 'Using chronological models in late Holocene sea-level reconstructions from salt marsh sediments' In: Shennan, I., Long, AJ, and Horton, BP (eds). Handbook of Sea-Level Research. Narnia: Wiley. [Details]
2013
'Protein Quantification by MRM for Biomarker Validation'
L. Staunton, T. Clancy, C. Tonry, S. Ademowo, M. Dharsee, B. Hernandez, K. Evans, Parnell A, R.W. Watson, S.R. Pennington (2013) 'Protein Quantification by MRM for Biomarker Validation' In: Royal Society of Chemistry. [Details]
Year
Publication
2020
Application of the STRAY statistical learning algorithm for the evaluation of in-situ process monitoring data during L-PBF additive manufacturing
Doyle A.C.;Egan D.S.;Ryan C.M.;Parnell A.C.;Dowling D.P. (2020) Application of the STRAY statistical learning algorithm for the evaluation of in-situ process monitoring data during L-PBF additive manufacturing Procedia Manufacturing , pp.250-256 [DOI] [Details]
2018
Engaging with feedback: How do students remediate errors on their weekly quiz
Copeland, Cillian and Howard, Emma and Meehan, Maria and Parnell, Andrew (2018) Engaging with feedback: How do students remediate errors on their weekly quiz INDRUM 2018 [Details]
2017
Interaction of Geohazards and Settlements through the Past Millennium, Banda Aceh, Indonesia
Sieh, K and Daly, P and Tai, YS and McKinnon, EE and Feener, RM and Parnell, AC and Ismail, N (2017) Interaction of Geohazards and Settlements through the Past Millennium, Banda Aceh, Indonesia AGU Fall Meeting Abstracts [Details]
2017
Identifying the reasons behind students' engagement patterns
Howard, Emma and Meehan, Maria and Parnell, Andrew (2017) Identifying the reasons behind students' engagement patterns CERME 10 [full-text] [Details]
2017
Highly variable recurrence of tsunamis in the 7,400 years before the 2004 Indian Ocean tsunami
Horton, B and Rubin, CM and Sieh, K and Jessica, P and Daly, P and Ismail, N and Parnell, AC (2017) Highly variable recurrence of tsunamis in the 7,400 years before the 2004 Indian Ocean tsunami AGU Fall Meeting Abstracts [Details]
2016
A global synthesis of Holocene sea-level data to determine its rates, mechanisms and geographic variability
Khan, N and Horton, B and Ashe, E and Kopp, RE and Austermann, J and Baranskaya, A and Barlow, N and Bentley, M and Bradley, SL and Carlson, AE and others (2016) A global synthesis of Holocene sea-level data to determine its rates, mechanisms and geographic variability AGU Fall Meeting Abstracts [Details]
2015
Reconstructing Variations of Global Sea-Surface Temperature during the Last Interglaciation
Hoffman, JS and Clark, PU and He, F and Parnell, AC (2015) Reconstructing Variations of Global Sea-Surface Temperature during the Last Interglaciation AGU Fall Meeting Abstracts [Details]
2015
A Bayesian Hierarchical Model for Reconstructing Sea Level from the Common Era: From Raw Data to Rates of Change
Cahill, N and Kemp, A and Horton, B and Parnell, AC (2015) A Bayesian Hierarchical Model for Reconstructing Sea Level from the Common Era: From Raw Data to Rates of Change AGU Fall Meeting Abstracts [Details]
2014
Accounting for Multiple Sources of Uncertainty in the Statistical Analysis of Holocene Sea Levels
Cahill, N and Parnell, AC and Kemp, A and Horton, B (2014) Accounting for Multiple Sources of Uncertainty in the Statistical Analysis of Holocene Sea Levels AGU Fall Meeting Abstracts [Details]
2014
Bayesian Statistical Analysis of Historical and Late Holocene Rates of Sea-Level Change
Cahill, Niamh and Parnell, Andrew and Kemp, Andrew and Horton, Benjamin (2014) Bayesian Statistical Analysis of Historical and Late Holocene Rates of Sea-Level Change EGU General Assembly Conference Abstracts [Details]
2013
Statistical modelling of sea level rates ensuring the appropriate inclusion of uncertainties
Cahill, N and Parnell, AC and Horton, B and Kemp, A (2013) Statistical modelling of sea level rates ensuring the appropriate inclusion of uncertainties AGU Fall Meeting Abstracts [Details]
2011
Compression of low energy intertidal sediments: controls, effects and solutions
Brain, MJ and Long, AJ and Woodroffe, S and Petley, DN and Parnell, AC (2011) Compression of low energy intertidal sediments: controls, effects and solutions AGU Fall Meeting Abstracts [Details]
2011
Bayesian Palaeoclimate Reconstruction with Marginal Mixture Posteriors and Predictive Processes
Parnell, AC and Haslett, J and Sweeney, J and Buck, CE and Doan, TK and Huntley, B and Allen, JR (2011) Bayesian Palaeoclimate Reconstruction with Marginal Mixture Posteriors and Predictive Processes AGU Fall Meeting Abstracts [Details]
2009
Quantifying uncertainty in palaeoclimate reconstructions
Parnell, AC and Haslett, J and Salter-Townshend, M and Huntley, B and Allen, JRM (2009) Quantifying uncertainty in palaeoclimate reconstructions EGU General Assembly 2009, held 19-24 April, 2009 in Vienna, Austria http://meetings. copernicus. org/egu2009, p. 785 [Details]
2006
Modelling temporal uncertainty in palaeoclimate reconstructions
Haslett, John and Parnell, Andrew and Salter-Townsend, M (2006) Modelling temporal uncertainty in palaeoclimate reconstructions Proceedings of the 21st International Workshop on Statistical Modelling , pp.26-37 [Details]
2003
STATISTICAL RECONSTRUCTIONS OF FORMER SEA-LEVEL AROUND THE HUMBER ESTUARY, UK
PARNELL, Andrew C (2003) STATISTICAL RECONSTRUCTIONS OF FORMER SEA-LEVEL AROUND THE HUMBER ESTUARY, UK XVI INQUA Congress [Details]
Year
Publication
2019
Sea Level Rise in Ireland.
Gerard McCarthy, Robin Edwards, Niamh Cahill, Andrew Parnell (2019) Sea Level Rise in Ireland. [Invited Oral Presentation], Geoscience for Climate Action, Dublin [Details]
Year
Publication
2020
Modes of climate variability: Synthesis and review of proxy-based reconstructions through the Holocene.
Hernández A.;Martin-Puertas C.;Moffa-Sánchez P.;Moreno-Chamarro E.;Ortega P.;Blockley S.;Cobb K.M.;Comas-Bru L.;Giralt S.;Goosse H.;Luterbacher J.;Martrat B.;Muscheler R.;Parnell A.;Pla-Rabes S.;Sjolte J.;Scaife A.A.;Swingedouw D.;Wise E.;Xu G. (2020) Modes of climate variability: Synthesis and review of proxy-based reconstructions through the Holocene. Reviews [DOI] [full-text] [Details]
Year
Publication
2018
An Evaluation of Methods for Real-Time Anomaly Detection using Force Measurements from the Turning Process.
Huang, Yuanzhi and Ahearne, Eamonn and Baron, Szymon and Parnell, Andrew (2018) An Evaluation of Methods for Real-Time Anomaly Detection using Force Measurements from the Turning Process. Technical Publication [Details]
2018
A general framework for modelling zero inflation.
Haslett, John and Parnell, Andrew and Sweeney, James (2018) A general framework for modelling zero inflation. Technical Publication [full-text] [Details]
2016
Developing accurate early warning systems via data analytics.
Howard, E and Meehan, M and Parnell, A (2016) Developing accurate early warning systems via data analytics. Technical Publication [Details]
2016
Contrasting Prediction Methods for Early Warning Systems at Undergraduate Level.
Howard, Emma and Meehan, Maria and Parnell, Andrew (2016) Contrasting Prediction Methods for Early Warning Systems at Undergraduate Level. Technical Publication [Details]
2014
Simulation-free Bayesian Analysis for Temporally Misaligned Data with Application to Ice Cores.
Doan, Thinh K and Parnell, Andrew C and Haslett, John (2014) Simulation-free Bayesian Analysis for Temporally Misaligned Data with Application to Ice Cores. Technical Publication [Details]
2014
Frequency behaviour for multinomial counts of fisheries discards via a nested wavelet zero and N inflated binomial model.
Parnell, Andrew C and Graham, Norman and Jackson, Andrew L and Viana, Mafalda (2014) Frequency behaviour for multinomial counts of fisheries discards via a nested wavelet zero and N inflated binomial model. Technical Publication [Details]
2014
The zero \& $ N $-inflated binomial distribution with applications.
Sweeney, James and Haslett, John and Parnell, Andrew C (2014) The zero \& $ N $-inflated binomial distribution with applications. Technical Publication [Details]
| | Year | Title | Awarding Body |
| --- | --- | --- | --- |
| | 2017 | NovaUCD Innovation Award | NovaUCD |
| | 2021 | Faculty of Science and Engineering Research Achievement Award | Maynooth University |
| | 2021 | Research Achievement Award | Maynooth University |
Professional Associations
| | Association | Function | From / To |
| --- | --- | --- | --- |
| | Royal Statistical Society | Chartered Statistician | 17-FEB-14 / |