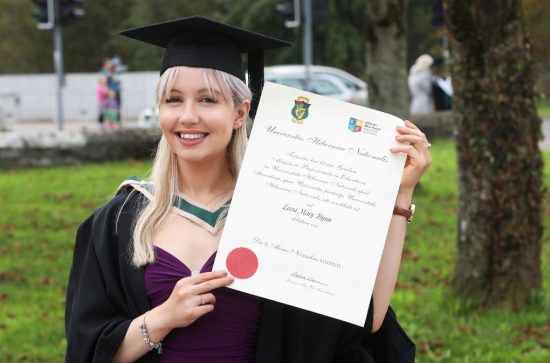 Thursday, November 2, 2023 - 15:00
Disability advocate, Leesa Flynn, has become the first wheelchair user to receive a Master of Education degree from Maynooth University. She was among more than 900 graduates who received their degrees and diplomas at the November conferring ceremony.
Leesa, who was born with spina bifida and uses a wheelchair and walking frame, received her Professional Master of Education (Primary) to add to her primary degree in English and History from MU.
The disability advocate says that she always wanted to become a primary school teacher but her journey was not without its challenges.
"Maynooth campus became a home away from home from me in a lot of respects, it was such a comfortable environment, such a comfort zone to me," Leesa says of her undergraduate experience. "But when you do a Masters like the PME, it's so placement focused, it took me out of that comfort zone. It was the first time I thought to myself, am I going to be able for this?"

"It was the Gaeltacht placement that hit home to me that this isn't something that has been looked at through a wheelchair lens and it was through that I found out that I'm the first wheelchair user to do this."

But she persevered and now hopes that her experience might be used to make such courses more accessible and encourage other disabled students to register for them.

"Growing up, I didn't have any disabled person of authority in my life, a role model figure to look up to who was disabled, someone I could say, well if she did it, I can do it."

Leesa has already started her primary school teaching career, as a substitute teacher in primary schools in her native Co Leitrim. She believes it's important to normalise disability for children at an early stage.

"If I come into a classroom and I'm the first person they have ever seen in a wheelchair, if they can have a positive impression of it, that will make it much less of a taboo subject down the line for them," she says, noting that nobody is born ableist or discriminatory.

Leesa was one of 285 students conferred with master's degrees at events hosted in the TSI Building on MU's North Campus while a further 19 students were conferred with PhDs. A total of 956 students received their parchments over two days, across a range of disciplines from education to the social sciences.

"Maynooth University proudly celebrates the achievements of all of our graduates, highlighting Leesa Flynn as an inspiring example," Maynooth University President, Professor Eeva Leinonen, said. "Her journey, becoming the first wheelchair user to earn a Professional Master of Education degree from Maynooth University, showcases the power of determination and the transformative potential of education. We congratulate all our graduates and we are excited to see the positive contributions they will make in our world."
The ceremony also saw a 119-strong cohort from the Army graduate from a range of diploma, higher diploma and master's degree programmes for the Defence Forces.
Leesa and her parents, Tommy and Patsy Flynn, pictured at her graduation on November 2