Welcome New Alumni!
Congratulations - you've graduated!
As a new graduate, we are delighted to welcome you to the Maynooth University Community. Once you graduate from Maynooth University, you become a member of our Alumni Community for life.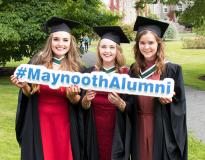 Don't Miss Out!
There are a wide variety of benefits and services available to Maynooth Alumni and we're constantly adding to the list. After all, you did earn them! The Maynooth Development and Alumni Relations Office host numerous alumni activities and events throughout the year as well as assisting with post-graduation queries.
As a new graduate, don't forget to check out the photos from your conferring!
If you have any queries for our office that is not addressed below, please do not hesitate to contact us at alumni.office@mu.ie

Maynooth Alumni - Thousands of Graduates, One Community