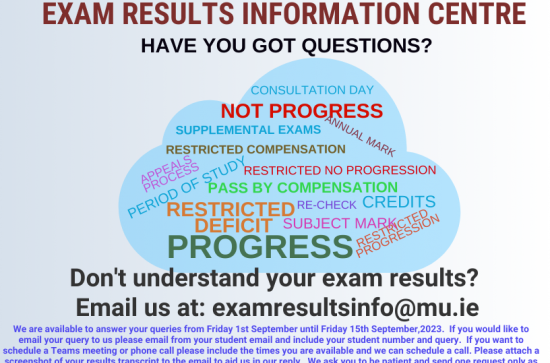 Monday, September 4, 2023 - 10:45
The Exam Results Information Centre, also known as ERIC, will be open Friday, 1st September to help any student with questions about their exam results. It will remain open until September 15th. ERIC can assist students understand their exam results and can provide answers to all student questions in relation to their progression routes, the options they have and encourage students to register for the August Supplemental Exams. ERIC is jointly funded by the Academic Advisory Office, Student Skills and Success and the Exams Office. Email you query to examresultsinfo@mu.ie with MU's Programme Advisory Office.
Classics students with queries about their module results, such as how the marks have been awarded for individual modules & assignments, can contact the department on classics@mu.ie for further information.
We wish all our students the very best with their results!