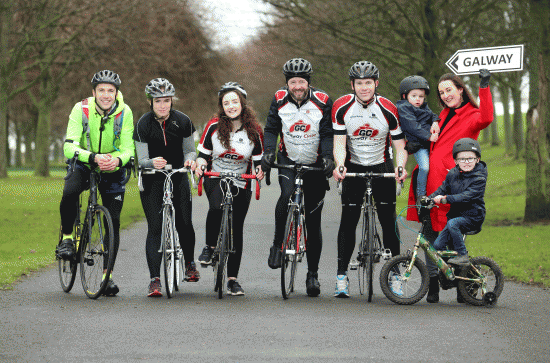 Wednesday, February 7, 2018 - 13:00
31st Annual Galway Cycle to take place as a tribute to the compassionate care given to bereaved parents and families.
Up to 300 cyclists will take to the road on Friday, 6 April 2018 to pedal from Maynooth University to Galway in a bid to raise €120,000 for the charity Friends of the Coombe. The goal: help the Coombe Women & Infants University Hospital develop hospice-style bereavement suites designed to create a family-friendly home away from home for bereaved parents.
Since it was first established in 1987 by a group of students at Maynooth, the annual Galway Cycle has covered more than 12,000 kms of road and raised in excess of €1.5 million for a host of children's charities.
This year's charity partnership was inspired by the story of baby Tom Fahey, who died of an uncommon chromosomal abnormality when he was just 11 days old. It was the compassionate care that baby Tom and his family received from the Coombe Women & Infants University Hospital that moved Maynooth-based mum and dad Sarah and Terry Fahey to nominate the charity for this year's Galway Cycle partnership.
President of the Galway Cycle, sociology and geography student at Maynooth University, Ciara Keogh said that this year's cycle promises to be the biggest yet. "We are delighted to partner this year with Friends of the Coombe. Theirs is a project with a national reach that really touched the hearts of past cyclists, all of whom play a part in the annual charity nomination and voting process," she said.
"This year we are hoping to recruit up to 300 cyclists, 150 collectors and 100 additional volunteers who will form a support crew.
"The Galway Cycle is completely volunteer led and managed to ensure that costs are kept to an absolute minimum. We have set ourselves an ambitious fundraising target of €120,000 and hope that with the support of cyclists, friends, corporate sponsors and members of the general public we will be able to reach that goal by the time we leave Galway on Sunday 8th April."
Baby Tom's parents, Sarah and Terry Fahey, said it was an honour to be able to support Friends of the Coombe.
"We will never forget the care Tom and we, as a family, received from the staff at The Coombe. They played such an important role in Tom's life. They cared for us and supported us. They shared our journey," she said.
"It is wonderful that we are able to come together again to share another journey, this time as a family of cyclists, in remembrance of all bereaved parents and families, and as a tribute to the compassionate care The Coombe provides to all families who experience the loss of a baby."
Ailbhe Gilvarry, chairperson of Friends of the Coombe, said that the charity is indebted to the Fahey family for nominating Friends of the Coombe for this partnership.
"This is an incredibly important project for Friends of the Coombe. The Coombe Women & Infants University Hospital was the first maternity hospital in Ireland to adopt the 'Hospice Friendly Hospitals' programme and we hope that the creation of a family-friendly home away from home will not only benefit bereaved families at The Coombe, but will also showcase nationally the highest possible standard of bereavement care."
The Galway Cycle will take place between Friday, 6 April and Sunday, 8 April and is open to anyone who would like to take part. Full information, including a pre-Galway Cycle training schedule and online registration, is available at www.galwaycycle.ie. As well as cyclists, the Galway Cycle also encourages people to register to help with a street collection in Galway on Saturday, 7 April and to volunteer for a variety of roles throughout the Galway Cycle weekend. Those who would like to make a donation should visit www.galwaycycle.ie for more details.