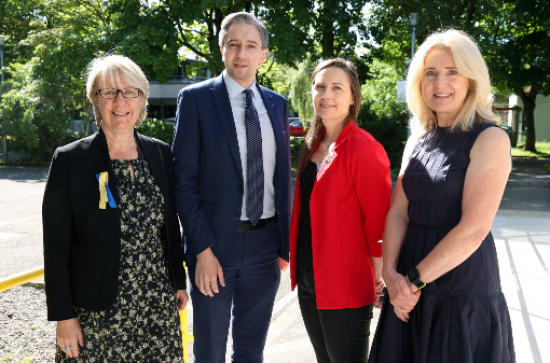 Monday, June 20, 2022 - 12:45
Minister for Further and Higher Education, Research, Innovation and Science, Simon Harris, TD, today met with staff of a national Helpdesk for displaced Ukrainian people seeking access to third level education in Ireland at Maynooth University.
Funded by the Department of Further and Higher Education, Research, Innovation and Science (DFHERIS), the National Student and Researcher (NSR) Helpdesk is hosted by Maynooth University on behalf of the sector, and has seconded people from across the university sector to work on the initiative.
Minister Harris was greeted by the President of Maynooth University, Professor Eeva Leinonen, and spoke with staff seconded from across the university sector to the NSR Helpdesk.
Hosted to mark World Refugee Day, the Minister met with Ukrainian students and researchers, and also with Afghan agriculture and environmental engineering scholar Dr Abdul Aziz Mohibbi, who was the former Chancellor of Bamyan University.
Dr Mohibbi and his family have been granted programme refugee status, and the right to stay as part of Ireland's support and solidarity with the Afghan people who have had to flee their home country.
Maynooth University (MU) partnered with Trinity College Dublin (TCD) and the Institute of International Education's Scholar Rescue Fund (IIE-SRF) to bring Dr Abdul Aziz Mohibbi to Ireland from Afghanistan.
Minister Simon Harris said: "The Government has been unequivocal in its welcome for people fleeing Ukraine, and we are determined to deliver on our obligations to support access to education.

"Of course, this is challenging, but we are not just legally obliged to respond – more importantly, we are morally required to do the right thing.

"I am proud of the leadership the Higher Education Institutions have shown on this matter and this helpdesk is an important example of collaboration across the sector to assist the people of Ukraine.

"Tomorrow, I will bring proposals to Government to assist people fleeing from Ukraine to access the the third level but I wanted to be here today to thank Maynooth for hosting the helpdesk and ensuring there is a single point of contact for people who need our help and assistance."

Professor Eeva Leinonen, President of Maynooth University, said: "On World Refugee Day, we are thinking of the Ukrainian people, and all members of our community who have experienced war, other forms of violence, or those who have been forced to leave their country for asylum elsewhere.
"The invasion of Ukraine reminds us that whether they occur in Europe or anywhere in the world, violent acts that threaten democracy, trample free will and block access to essential goods and services are an affront to human rights and must be confronted. As a University of Sanctuary, Maynooth is committed to promote a culture of welcome for refugees, asylum seekers, and other migrants into our university community. Maynooth University is very involved with Scholars at Risk (SAR) internationally and hosts the Europe Office. SAR is an international network of higher education institutions and individuals working to protect threatened scholars and to promote academic freedom and we're proud to be at the heart of this initiative in Europe."
Dr Gemma Irvine, Vice-President, Equality and Diversity at Maynooth University, said: "The Maynooth University partnership with Trinity College Dublin (TCD) and the Institute of International Education's Scholar Rescue Fund (IIE-SRF) to bring Dr Mohibbi (MU-TCD SAR/IIE-SRF Fellow) to Ireland from Afghanistan is an exemplar of good practice with structured supports in place to ensure success of the Fellow relocating. Ireland is one of the first countries internationally who have managed to successfully relocate and employ a scholar at risk from Afghanistan after the recent change of regime. We are delighted to welcome such a prestigious scholar as Dr Mohibbi, into our community."
Photography by Maxwell.
Picture 2 (Left to Right): Zoryana Pshyk, Oksana Krachkovska, Prof. Eeva Leinonen, Minister Simon Harris, Ukranian Ambassador Larysa Gerasko, Oleg Chupyna, Dr Abdul Aziz Mohibbi, Dr Gemma Irvine and Dr Rose Ryan