College Connect is a collaborative initiative from the MEND (Midlands, East, North Dublin) higher education cluster, which comprises Athlone Institute of Technology (AIT), Dundalk Institute of Technology (DkIT), Dublin City University (DCU), and Maynooth University (MU).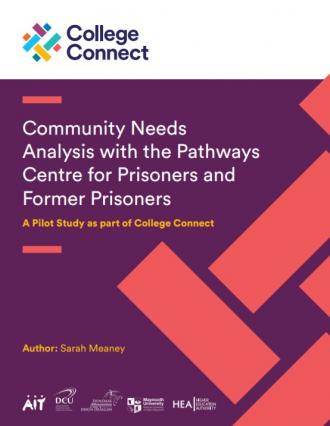 This report was carried out from April to October 2019 by College Connect in collaboration with the Pathways Centre, an education centre based in Dublin. Participative, experiential, and creative methods were used to explore the views and insights of 34 participants on the factors that may either encourage or discourage participation or progression in higher education. The research generates key insights on the barriers experienced by this group as well as highlighting areas where action is required. The report will also be available shortly on collegeconnect.ie.
College Connect is a HEA-funded three-year PATH 3 (Programme for Access to Higher Education) project which aims to admit 400 additional students from specific target groups (e.g. Irish Travellers, one parent families, care experienced young people, people with disabilities, refugees, etc.,) who are under-represented in higher education. College Connect marks a departure from the traditional 'singular' approach to widening participation toward a collaborative regional approach which prioritises people in MEND experiencing multiple marginalisation.
College Connect will use community needs analysis as a basis to co-design imaginative and creative interventions with our target groups and stakeholders, which include community organisations, local authorities and industry. The interventions will support aspiration raising, bolster educational attainment and promote college awareness. They will also assist participants to develop skills critical to higher education participation and employability.
Drawing on existing national (e.g. the census, Pobal HP Deprivation Index) and institutional (student profiles) datasets, AIRO (the All-Ireland Research Observatory) will develop a detailed spatial analysis of the MEND region to support the project team to identify untapped higher education 'cold spots', track barriers to higher education at local levels, evaluate the impact of the project and monitor higher education progression and employment outcomes over time.

Project Vision and Mission
Our vision is a student population that reflects and respects the diversity of the community in our region.
Our mission is to change who goes to college by working together as education providers and communities. This new partnership will empower future students to make informed choices and fulfil their potential.

Project Values
We believe in the transformative power of education and embrace diversity as a resource to the MEND HEIs which drives organisational and academic excellence. This project is informed by the community development principles of participation, empowerment and sustainable development. Community partners will be located at the heart of this project and our actions will be guided by the educational needs of people in our region who typically do not progress to higher education. This project aims to make a meaningful contribution to the advancement of social justice and cohesion in our region.

College Connect Team
The College Connect Team, the Programme Director and four regional Community Connectors, all from a community and youth background, have been newly recruited for the duration of the project. The team have extensive experience working with and engaging with people in various community settings, building and maintaining effective relationships for sustainable intervention outcomes.

​
Melanie Crabbe
Programme Manager, based in
Maynooth University
Melanie's journey to education restarted in 2008 when she returned to complete a Community Care Course and it was through this that she began to volunteer with Kildare Youth Services. She had never considered youth work as a career but loved working alongside young people and in the communityand decided to return to college. Melanie went back and completed her BA in Community and Youth Work as a mature student. She found I particularly enjoyed working with people with disabilities and went on to complete her Higher.Diploma in Further Education and her Master of Education in Adult and Community Education. During this time Melanie was working in Disability Education and passion for this area has led her to where she is now which is a Doctoral Student with the Institute of Education in Dublin City University specialising in Inclusive Education.

For the past six years Melanie has worked in many different jobs in Disability Education including key worker, facilitator, employment and education. She have developed, designed and led a range of educational and employment focused initiatives aimed at seeking new and creative ways to place the learner at the heart of this very personal process. Melanie is passionate about supporting people to unlock their own aspirations and ensuring education is accessible and equitable for all.

Imelda Rea
Regional Community Connector, based in Athlone Institute of Technology
Imelda is passionate about empowering people to achieve their potential. Imelda has activated and contributed to a range of community and State sponsored projects involving; Age Action, Community Childcare, Refugee and Asylum Seekers, Foróige and Community Radio. Leading by example while supporting others in their educational pursuits, Imelda returned to education as a mature student, qualifying with a B.A. (Hons.) in Applied Social Studies in Social Care, a B.A. in Business, Enterprise and Community Development and an M.A. in Child and Youth Care. Imelda has worked with people of all ages, cultures, gender and abilities; in Further Education and Training as a Tutor, as an Assistant Co-ordinator with a Local Training Initiative and currently as a part time lecturer in Athlone Institute of Technology.

Carmel Hennessy

Regional Community Connector, based in Athlone Institute of Technology

Carmel holds a B.A. in Economic and Social Studies and an M.A. in Community Development, completing a thesis on Community Education as an approach to counteracting the effects of educational disadvantage. In 2009, she moved to Vancouver BC and worked with diverse teams and communities, particularly refugees and aboriginal youth and their families, in wraparound support models. Her most recent role as the Supervisor of a National Programme in Canada - Pathways to Education (2014-2018) - provided a comprehensive set of academic, financial, social and one-to-one supports for youth living in communities experiencing disadvantage, to overcome barriers to education. Throughout her career, Carmel has been privileged to be involved in programmes that prioritise peoples' access to educational opportunities through community development principles.

Joanne Griffin
Regional Community Connector, based in Dundalk Institute of Technology
Joanne began her career as a hairdresser and progressed to working as a trainer with global hair product companies, where she designed and delivered training programmes, including soft skills business training. She then attended college as a mature student and holds a BA in Applied Social Studies and an MSc in Children and Youth Studies. Joanne has worked with young people in various settings, including a youth diversion project, and her most recent role as acting Co-ordinator of a Youthreach Special Educational Needs Initiative (SENI) Centre, afforded her the opportunity to work with young people following a multi-disciplinary approach. Joanne is committed to, and passionate about working with and empowering young people to fulfil their full potential, encouraging them to have a voice and make informed decisions in matters concerning themselves and their peers.

Declan Markey
Regional Community Connector, based in Maynooth University
Since completing his studies in Social Science and Social Research, Declan has been designing and delivering educational programmes and coordinating educational services specifically aimed at widening participation amongst groups under-represented in higher education. After Declan co-coordinated the BA in Housing and Community Studies for Respond Housing Association and UCD, he became the education coordinator with the Ballyfermot Chapelizod Partnership. Developing educational supports that are experiential, participatory and inclusive are fundamental principles underlining Declan's approach and as a member of the board of Partners: Training for Transformation these principles are inherently applied to all areas of his work. Declan is a certified mediator and recently completed the Level 8 Certificate in Restorative Practice. Declan has also been involved in other community inspired art projects such as HEED FM (part of the Arts Council Art 2016 programme).