The 'Primary' stream is for those who are focused on becoming a primary school teacher.
Students studying on this track of the programme will attend an Irish language competency module (Cumas na Gaeilge) that meets the requirement for entry into Initial Primary Teacher Education.
Students will also participate in Maths and English competency classes, as well as a programme of supportive, academic development classes aimed at supporting students to integrate into the academic and social life within the university.
Students will develop practical knowledge and experience of teaching throughout the course and in partnership with school partners.
If you are applying for the primary track, you must have had some Irish language experience prior to application which will be individually assessed upon application.
Click here for more detail on the course and the primary stream
Possible progression routes on successful completion of the primary stream: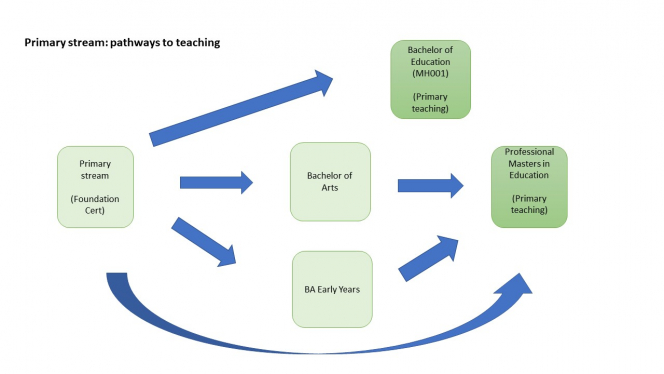 MH001 Bachelor of Education (Primary Teaching)
Professional Masters of Education (Primary Teaching) [post-graduate option for a small number of students on the course who already have a Level 8 qualification]
MH801 Bachelor of Arts in Early Childhood Teaching and Learning (part time)
MH003 Bachelor of Arts in Early Childhood Teaching and Learning (full time)