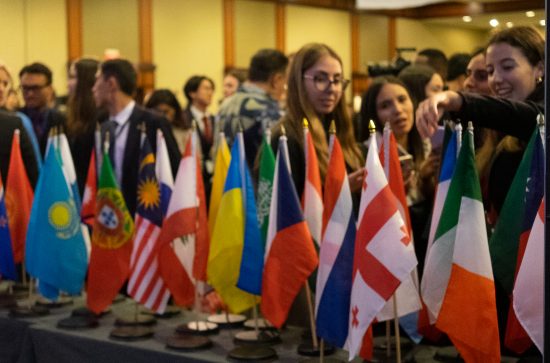 Wednesday, May 3, 2023 - 09:30
A team of Maynooth University students undertaking the International Mooting module offered on our LLM programmes competed in the finals of the Jessup Moot Competition, held in Washington DC in April. The Team consisting of Jaya Duignan, Eimear McCaffrey and Jobitha Prince travelled to Washingtion DC to complete in this highly prestigious competition.
The Opening Ceremony took place on Saturday 8 April, where all teams took part in the Parade of Nations, before orientation commenced, and team schedules and opponent memorials were distributed.The preliminary rounds began on Sunday 9 April, and the Maynooth Team's first match took place on Monday 10 April, against the National University of Mongolia. They then took part in three more matches across the next few days, against Universiteit van Amsterdam and Universidad de Buenos Aires, before concluding with a match against the University of Hong Kong on 12 April. Of the 135 teams in the international rounds, only 48 progressed to the next round. Unfortunately, the Maynooth Team did not progress to this next round of eliminations, and their time in the competition came to an end.
On Friday 14 April, the team were kindly invited to visit the Irish Embassy in Washington D.C., where they met with Simon Nix, the Counsellor for Justice and Home Affairs, Lorcan Ryan, Second Secretary to the Ambassador, and Caroline Doran, Research and Administrative Assistant. Later, the Team attended the Go National Ball, where they dressed up in traditional national costume or creative attire to represent their countries. The next day they attended a discussion panel with the authors of the 2023 Jessup Problem, who discussed the inspirations behind the legal issues and answered questions. Following that, the team watched the Grand Final between Universiteit van Amsterdam and Peking University of China, where the Netherlands took home the trophy for the first time. That evening, the Maynooth Team attended the Final Gala, before returning home.
The Maynooth University Jessup Team of 2023 would like to thank Dr Bríd Ní Ghráinne and David Donohue BL for all their guidance and mentorship throughout the year. We would also like to thank Dr Mary Dobbs for so generously giving her time, and Prof Michael Doherty and Dr Fergus Ryan and all the staff at the School of Law and Criminology for their continuous encouragement and support. Many thanks also to Muriel Walls and the Legal Division of the Department of Foreign Affairs for their generous sponsorship.