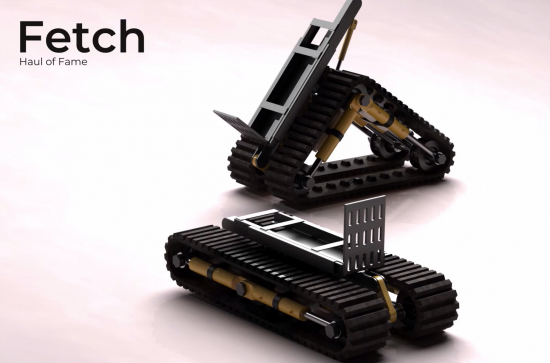 Wednesday, November 24, 2021 - 15:15
Combilift is an Irish exporting success story, now selling to 85 countries, with over 55,000 machines in operation around the world and more than 650 employees. As part of a collaboration with the Design Innovation programme at Maynooth University, the company sponsored a competition, inviting teams of product design students to work on industry-led projects, tackling product development challenges.
"This is a real-world commercial setting," explains Dr Joe Coleman, autonomous systems manager at Combilift. "The students get exposure to the top engineers and the managing director. In return, we get to see the blue-sky thinking that these guys come up with."
A missions team from Maynooth University worked closely with Combilift management to develop the brief so that it would closely match strategic areas for the business. The Monaghan-based company is always looking for new opportunities, having branched out from originally manufacturing forklifts to developing bespoke machines for materials handling. In 2020, the company produced 6,830 vehicles: close to 140 per week on average. All told, 20 teams of two or three students competed against each other.

E-commerce challenge
The Maynooth team proposed using the concept of last mile logistics as the basis for the competition, because it's an area that has grown in importance as e-commerce sales have increased. This trend accelerated rapidly during Covid-19 as people's movements were restricted and so they shopped online in greater numbers.
The size and volumes of products being ordered through e-commerce also grew. These days, it's not uncommon for people to order bulky items like furniture and white goods appliances. In many cases, these products now need to get directly from a warehouse to a customer's home. That's where Combilift comes in.
"We're heavily involved in warehouse logistics and we saw this project as an interesting exploration of possibilities from the truck to the doorstep. If we continue down the path of-ever increasing e-commerce, there's going to be more need for specialist material handling," Joe explains.
Freedom to explore
The team at Combilift deliberately left the problem definition loose enough to allow the Maynooth Design Innovation students freedom to explore the topic from different angles. Some tackled moving appliances, others looked at drinks and beverage delivery. Some proposed materials handling units that would be carried inside delivery vans, others looked at systems mounted on the outside of vehicles. After choosing a shortlist of five finalists, Combilift announced the winner.
Picking a winner was difficult, and Joe pays tribute to all of the projects. "We had a great range of diverse ideas. It's a huge amount of brainpower thrown at the problem, and we had some very interesting concepts coming back. The calibre of the projects was exceptional. In addition to product design, they considered the market impact of the proposed product and the addressable market for it. That's important: it has to be grounded with a solid business case, and that was present throughout the projects."
Creativity combined with technical know-how
The value of working with students is in the fresh perspective and diverse points of view they bring to problem-solving, Joe says. "They have a nice mix between the creative and novel exploration of new ideas, coupled with the technical know-how to make sure it's feasible."
One characteristic that stood out was the students' process of thinking about design from many different perspectives. "They consider all these stories and articulate them directly and imaginatively. They might interview delivery personnel and find out their pain points in an existing process and think about what could be done to improve that user experience – or, they might interview a business owner and find their pain points and use that to converge on an optimal solution," Joe says.
Always adapting, producing every vehicle to order, Combilift's culture is well matched to working with the students, says the company's founder and managing director Martin McVicar. "In many ways, Combilift still has an innovative, lean startup culture even though we're now a large company addressing a global market. We still maintain a creative spark. We don't decide what the next product should be: we know from our customer pain points. The Maynooth students really resonate with how we design and operate. We would always attend warehouses in person and understand those user stories. We were using that methodology without knowing it."
Martin believes many types of companies can get value from working with product design students. "I would highly recommend the Maynooth students for their innovative, novel approaches, and blue sky thinking. That methodology really works and brings new, fresh perspectives to problems which may be long standing."

Video link here: