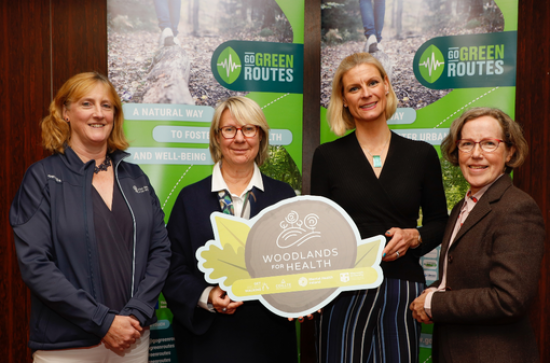 Tuesday, October 25, 2022 - 11:30
Maynooth University hosted a two-day 'Woodlands for Health' autumn school, attended by invited experts from more than 14 organisations, including representatives from Nordic countries.
Extending sustainable forestry and forest management for recreation, health and well-being, were among the topics discussed at the event, which was hosted under the €10.5million GoGreenRoutes project.
Led by Dr Tadgh MacIntyre at Maynooth University, the GoGreenRoutes initiative, funded under Horizon 2020, aims to develop nature-connectedness across Europe, Latin America and China.
Minister of State for Land Use and Biodiversity, Pippa Hackett TD, who opened the event, outlined the work of the Department of Agriculture, Food and the Marine on 'Project Woodland'.
Minister Hackett said: "Through Project Woodland, my Department has been engaged in extensive consultation over the past 18 months or so to find out what we in Ireland want as a nation from our trees, woods and forests."
Minister Hackett explained that that a Deliberative Dialogue took place last May, together with surveys across all sectors of society and bilateral meetings with stakeholders from across the forestry sector and environmental NGOs.
She said this initiative "provided a platform for a diverse group of 100 citizens to learn about the values associated with trees and forests, the challenges we face, and to discuss and deliberate on the future of Irish forests".
"We have found that there is almost unanimous support in Ireland for the establishment of more forests, and this aligns with commitments in our Programme for Government and in our Climate Action Plan to urgently expand the area of forests in Ireland."
Sharing a Nordic perspective, Finnish Ambassador to Ireland, H.E. Raili Lahnalampi, and President of Maynooth University, Professor Eeva Leinonen, also from Finland, discussed their country's deeply held cultural connections to forests, and its world-leading position in sustainable forest management.
Professor Leinonen said: "I am heartened to hear of the Nordic dimension of this important collaborative project. My ancestors come from the Finnish forests, quite literally, and I personally have a deep relationship with nature and forests which cannot be put into words. I believe that Ambassador Lahnalampi would concur with the sentiment that the Finnish forest is imprinted in our DNA, it is in our cultural understanding of the world around us; the past, the present and the future."
Attendees also heard from policy makers and researchers on forest ownership initiatives, policy frameworks and research policy.