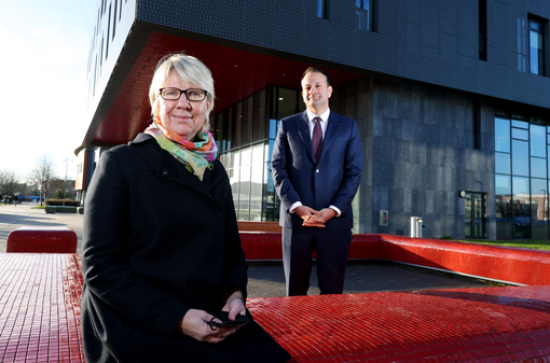 Friday, January 14, 2022 - 11:45
The Tánaiste and Minister for Enterprise, Trade and Employment, Leo Varadkar, TD, today visited Maynooth University and met with President of Maynooth University, Professor Eeva Leinonen, for a campus walk and introductory meeting.
The Tánaiste and Prof Leinonen toured the campus, and spoke with students, staff as well as researchers and academic innovators at the business incubation centre, MaynoothWorks, also stopping to view progress on the €57 million Technology Society and Innovation Project on North Campus, due for completion this spring.
Maynooth University received a capital grant of €25 million from Government in 2019 for this major new building development project, to support the University's rapidly growing student population. This is the largest capital grant awarded to Maynooth University. The total €57 million project comprises the new academic building, and also the modernisation and expansion of the existing Arts and Sciences buildings.
Speaking at his visit to Maynooth University, Tánaiste Leo Varadkar said: It's great to be in Maynooth this afternoon and see first-hand the progress being made on the North Campus. Government has backed this project, recognising the huge potential of Maynooth University to cater for the rapidly growing student population in the surrounding area. I really enjoyed visiting MaynoothWorks too and meeting with entrepreneurs working on some really exciting projects. Maynooth University is going from strength to strength."
Prof Leinonen said: "I am delighted to welcome Tánaiste and Minister for Enterprise, Trade and Employment to our campus today. Maynooth University has a global reputation for impactful, research across the sciences, arts and humanities. Our pioneering work in bio-sciences and health; digital transformation and artificial intelligence, and in the field of environmental sustainability, through the work of ICARUS Climate Research Centre, will help meet future aspirations and challenges of society.
"Maynooth is located in one of the fastest growing demographic regions in Ireland. Our rapid enrolment growth and the diversity of our student population, combined with academic excellence and impactful research innovation, are strengths that are critical to Ireland's future. Maynooth University will continue to play a significant role in preparing for next-generation Ireland."
Formally established as an autonomous university in 1997, Maynooth, has tripled its enrolment to over 14,000 students from at least 90 countries. It is the only university in Ireland ranked in the top 100 global universities under 50 years old in the Times Higher Education (THE) Young University Rankings.