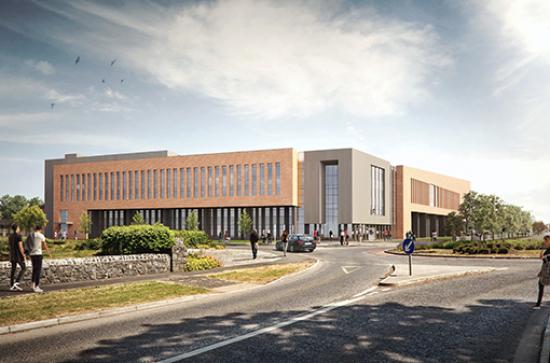 Monday, June 17, 2019 - 15:00
Campus ring-road reverts to two-way traffic system to accommodate future development
Phase 1 construction works on new academic building to start at early July
Bus parking facilities for 16 buses and 261 additional car parking spaces
Tree planting scheme increasing biodiversity on campus
Monday 17 June: Maynooth University will start construction work on a new academic building on the North end of the campus later this month, with readying works related to utilities and traffic already underway.
The initial phase of the new academic building, to open in late 2020, forms part of a wider plan to modernise and expand the Arts and Science buildings on the Maynooth University campus. The building is needed to accommodate the rapidly growing student population at MU, which at nearly 13,000 students today represents the fastest growing university in Ireland. Since the recession began in 2008, Ireland's university sector grew by 21,000, and MU accounted for 22% of that growth.
As part of the campus expansion plan, the campus ring-road will revert to a two-way traffic system from late June to facilitate construction works and future development. The North Campus will still be accessible from the Moyglare Road entrance and Kilcock Road entrance, though brief disruptions to the Kilcock road entrance will be necessary.
New bus parking facilities for up to 16 buses and 261 new car parking spaces will be located on North Campus, west of the university restaurant, the Phoenix. These related works are scheduled to start by early July and to be completed in September 2019.
Already underway is an upgrade of campus utilities along the Kilcock Road campus boundary, which, along with road realignment works, will restrict traffic access for periods during this time. However, pedestrian and traffic control measures will be in place and every effort will be made to minimise disruption.
As part of the University's commitment to a sustainable environment, a major tree planting and biodiversity scheme is being planned in collaboration with the Maynooth Green Campus Committee (a partnership among MU, St. Patrick's College Maynooth and Trócaire that was awarded a Green Flag in 2018).
The tree planting, which is scheduled to take place over the coming 20 months, has a native Irish tree focus. Planting will include over 400 trees ranging from saplings to semi-mature trees as part of a new wild flower meadow and planting surrounding new buildings.
Prior to 2005, there were fewer than 5,000 trees on the campus, which the University shares with St Patrick's College Maynooth. Today, there are more than 15,000 trees, added over time as part of an active tree management plan. The University's aim is to create a safer, healthier tree population, to reinforce the diversity of trees on campus, to add character and a sense of place, while also contributing to a healthy campus environment.
Additional plans are in place to prioritise pedestrian and cyclist movement with the design of new 'public realm' initiatives to strengthen the links between the south and north ends of the campus.
Further information on Maynooth University construction plans are available on: https://www.maynoothuniversity.ie/campus-planning-development