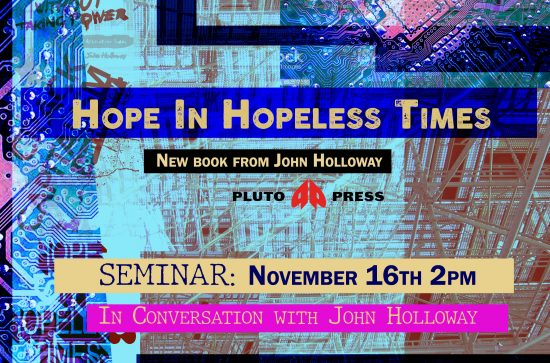 Wednesday, November 16, 2022 -

14:00

to

15:30
Room 1.26, 1st Floor, TSI Building, North Campus, Maynooth University
"Hope in Hopeless Times" Seminar with Professor John Holloway on his new book.
Location: TSI Building, Room 1.26
Time: 2:00pm–3:30pm
John Holloway teaches sociology in the Benemérita Universidad Autónoma de Puebla. He has written on Marxist theory and on movements of resistance-and-rebellion. His books, Change the World without taking Power and Crack Capitalism stirred international debate. His new book, Hope in Hopeless Times is the third in the trilogy.
How do we stop the train of destruction that is capitalism? How can we find radical hope when it seems that there is no longer any hope? Hope in Hopeless Times explores this through an analysis of what hope means and a discussion of the fragility of its enemy, Money.