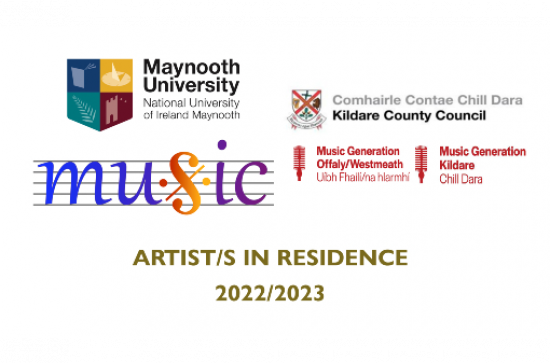 Wednesday, May 4, 2022 - 15:00
We are delighted to announce a new position of Artist/s in Residence for 2022/23, to be hosted by the Department of Music.
Applications are invited by musician/s of established reputation to this position, which is co-funded by Maynooth University, Kildare County Council Arts Service, Music Generation Kildare and Music Generation Offaly/Westmeath. This is open but not limited to performers (as soloist or as an ensemble), composers (any medium), sound designers, music producers, music/stage directors, song writers, or combinations thereof. This is an innovative pilot project; we are very keen to hear how enthusiastic candidates, as the driving force behind it, will define and animate the role through their own project/s.
The residency will run from October 2022 – September 2023, with exact duties to be defined according to the project/s. The role is designed to provide students and the broader communities in Kildare, Offaly and Westmeath with the opportunity to engage with artist/s, as well as providing the artist/s with time to advance their current project(s).
Entries close on Friday 3 June.
Further details are available via our Online Recruitment Portal at the following link (follow external applicants): https://www.maynoothuniversity.ie/human-resources/vacancies