Friday, November 18, 2022 - 16:30
Maynooth University today hosted a unique livestream address by President Volodymyr Zelenskyy of Ukraine to third-level students across Ireland. Her Excellency, the Polish Ambassador to Ireland Anna Sochańska, addressed the Maynooth event.

The video communication to Irish students by President Zelenskyy was facilitated by the Department of Foreign Affairs (DFA) and the Department of Higher and Further Education, Research, Innovation and Science (DFHERIS).

Some 250 students and staff attended the event at the TSI Building, with seats reserved for Ukrainian students (pictured) studying at Maynooth University this year.

In total, 24 Ukrainian students, including 17 undergraduates and seven postgraduates are studying at Maynooth across a broad range of degree programmes including Arts, Computer Science and Software Engineering, Business, Media Studies, Robotics and Product Design.

The National Student and Research (NSR) Helpdesk, hosted by Maynooth University, supported the Ukrainian students in their applications process.

Speaking to by video link to Irish students, President Zelenskyy said that over the past nine months, 2,719 educational institutions were shelled, and 322 were completely destroyed by Russian missiles.

"Russia does not stop for a single day, therefore international pressure on Russia should not stop for a single day," he said. "The more collective efforts we make, the sooner we will force Russia to leave the territory of Ukraine."

Following President Zelenskyy's address, Her Excellency Anna Sochańska, Poland's Ambassador to Ireland, shared her thoughts and insights on the invasion of Ukraine, and on the recent missile that struck Polish territory, which killed two Polish citizens.

The Ambassador said: "There is no doubt that this tragic event is the consequence of Russia's massive rocket attack on Ukraine, even if it were a rocket used by Ukraine to defend itself."

The Ambassador described the missile strike on Ukraine by Russia on 15th November as "the most powerful attack since Russia unleashed its criminal invasion in February this year".

"Polish history is marked by repeated Russian invasions and our struggles to defend our country – we therefore go above and beyond to help and support Ukraine in their fight for its sovereignty. I appeal to all states that respect international law to take all necessary steps to push Russia into stopping its aggression and withdrawing from Ukrainian territory."

The President of Maynooth University, Professor Eeva Leinonen, confirmed the University's solidarity and commitment to support the people of Ukraine at this time. "As a University community, we condemn violent acts that threaten democracy, trample free will and block access to essential goods and services as they are an affront to human rights. We will continue to support the Ukrainian people who are seeking assistance and refuge."

The satellite event at Maynooth University was organised and moderated by Professor Hana Cervinkova, of the Department of Anthropology and the Maynooth University's Centre of European and Eurasian Studies. Other experts from the Centre addressed the event, including Professor John O'Brennan of the Department of Sociology, Dr Paul Newman of the Department of History, and Oleg Chupryna, a doctoral student of the Department of Sociology at Maynooth University, who detailed the first-hand experience of his family and friends who live close to the border of Ukraine and Belarus.

The Helix in DCU hosted the national event, which was livestreamed to third level institutions across the country.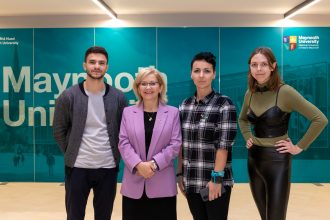 From left to right: Ukrainian student, Danylo Verbovenko, Her Excellency Anna Sochańska, Poland's Ambassador to Ireland, staff member Nina Dinaleva and Ukrainian student Anna Zakharchenko, at Maynooth University's livestream address by Ukrainian President Zelenskyy to Irish students