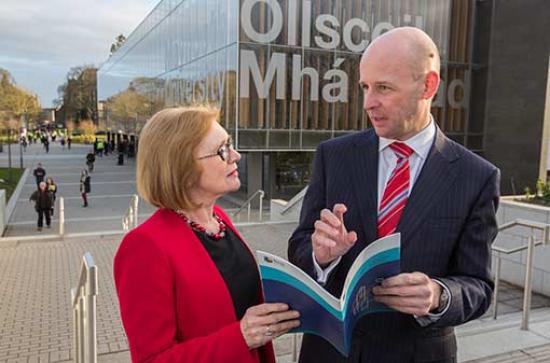 Thursday, March 5, 2015 - 00:00
Minister for Education and Skills Jan O'Sullivan TD joined Maynooth University President, Professor Philip Nolan, today, to launch the University's new undergraduate curriculum, a model unlike any other in the Irish university sector.
The university-wide initiative builds on Maynooth University's strengths as an institution equally committed to both excellent teaching and top level research and scholarship. The goal is to ensure its next generation of graduates is equipped with the critical thinking and working skills to succeed in a world changing so quickly that it's difficult to imagine the challenges and opportunities they will face in their varied careers and lives.
The new Maynooth curriculum will focus on preparing students to adapt to that rapidly changing world:
by allowing much greater flexibility, choice and breadth in its degree programmes
by expanding opportunities to study across disciplines
by ensuring that teaching and assessment emphasize the necessary intellectual and communication skills required in today's workplaces
by enhancing work-based and experiential learning to better prepare graduates for their futures.
"This is a transformative development in Irish university education. We have completely re-imagined our undergraduate learning experience to develop a radically different Maynooth model of undergraduate education which is distinctive and challenging. Building on our strengths, we are adapting what we teach and how we teach to ensure our students graduate with the skills and qualities they need to thrive in a world where change is a given and adaptability is essential," said Maynooth University President, Professor Philip Nolan.
The new curriculum model features greatly increased flexibility, giving students the ability to specialise immediately or explore options in first year and specialise later. The University also is making it easier for students to combine subjects across the arts and sciences; broaden their perspective by taking a 10-credit elective stream, a short course outside of their core subject(s); pursue both major and minor subjects within an honours degree; or study a modern language alongside any degree. The revisions also include a greater emphasis on experiential learning, including expanded study abroad, work placement and volunteer opportunities.
The new curriculum, which will be phased in between 2015 and 2017, will be partially facilitated by a significantly reduced number of entry routes—from 50 to approximately 20. These broader entry routes will greatly simplify the CAO process for students, while giving them more time to make the best decisions for the future.
Commenting on the new curriculum, Minister for Education Jan O'Sullivan TD said: "Ireland has a very strong reputation internationally for the quality of our graduates and our third level education. However, the modern world requires constant innovation to ensure we continue to protect and enhance our global standing and Maynooth's is a bold move that addresses learning and development, student welfare and employer needs. In prioritising critical thought and analytical skills the academic team at Maynooth have rightly identified a major new focus for learning."
President of the Institute of Guidance Counsellors Betty McLaughlin welcomed the announcement and said the broader entry routes at Maynooth University would reduce some of the stress on Irish students and families. "A huge fallacy that has been allowed to perpetuate in Ireland is that higher points courses are in some way more prestigious. This is largely nonsense and has heaped unnecessary strain on young people for generations. At Maynooth students will now have access to a world of top-class degree opportunities with a fair, simplified entry route. All guidance counsellors nationwide enthusiastically support this and would urge all other universities to follow suit."
Components of the new curriculum include:
Breaking down barriers between disciplines, particularly the arts and sciences, to allow students the flexibility to combine different subjects in innovative ways
Greater flexibility and choice, offering student the ability to take major and minor options within most degrees
Innovative teaching methodologies and assessments that specifically challenge students to analyse, reflect, think critically, communicate clearly and work in teams
Ability to pursue a modern language alongside any degree
Elective options outside a student's core discipline to further broaden their perspective
A unique first year programme that combines lectures with small group learning to support students' transition to university
Fewer and simpler entry CAO entry routes, making choices easier and allowing students to specialise either immediately or over time
Extensive opportunities to learn outside the classroom through accredited co-curricular activities such as work placement, volunteering, or study abroad
Electronic portfolios to capture students' cumulative achievements over the course of their degree
Professor Philip Nolan continued, "It is hard to imagine what the world will be like towards the end of the present century, but we believe our role as a modern university is to prepare graduates for a future replete with unknown opportunities and challenges. By re-envisioning what the best university experience today should look like, we have focused on a comprehensive set of reforms designed to empower students to think clearly and critically, to adopt a broad perspective, to adapt to new situations, and ultimately to think about solutions to the world's most pressing problems in a different way."
Ben Finnegan, President of the Maynooth University Students' Union said: "There is no doubt the new University curriculum will be of huge benefit to current and future Maynooth students, whether it be the increased flexibility and language options or more opportunities for study abroad, work placement and other ways to stand out to employers after they graduate. The Maynooth experience is already an amazing one for students from all over Ireland and even the world. The new curriculum will simply allow students to take better advantage of all that Maynooth has to offer."
IBEC head of education policy, Tony Donohoe, also welcomed the new curriculum changes, saying industry would benefit from the approach to third level that Maynooth University is taking. "Quality graduates are important for Ireland's competitiveness, our ability to attract top class foreign investment and the development of strong indigenous companies. Business wants young people who can be leaders, self-starters, display flexibility of thought and the ability to work in teams. Maynooth's new curriculum will help deliver in these vital areas and is an important contribution to the national offering."
The University has been developing the new curriculum over the past two years, with input from staff and students across the University, external advisory groups representing employers and civic organizations, as well as guidance counsellors, teachers, parents and others.
For further information, visit www.maynoothuniversity.ie/MaynoothEducation
Curaclam nua fo-chéime á sheoladh ag an Aire Oideachais ag Ollscoil Mhá Nuad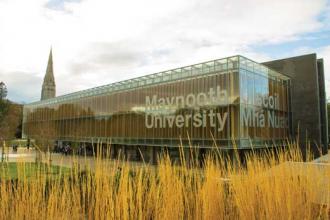 Tiocfaidh an tAire Oideachais agus Scileanna,
Jan O'Sullivan T.D.
, agus Uachtarán Ollscoil Mhá Nuad,
an tOllamh Philip Nolan
, le chéile inniu chun curaclam fo-chéime nua na hOllscoile a sheoladh, curaclam a imíonn go mór ó churaclaim eile in earnáil ollscoile na hÉireann
Sa tionscnamh ollscoile uile seo, bainfear leas as buntáistí Ollscoil Mhá Nuad mar institiúid a gheallann cúrsaí teagaisc den chéad scoth mar aon le deiseanna taighde agus scoláireachta ar an leibhéal is airde. An cuspóir atá leis an gcuraclam nua scileanna sa smaointeoireacht chriticiúil agus scileanna oibre a thabhairt don chéad ghlúin céimithe eile, scileanna a bheith riachtanach le go mbeidh siad in ann do na dúshláin agus do na deiseanna a bheidh rompu sa domhan seo atá ag athrú chomh gasta sin.
Díreofar, i gcuraclam nua Mhá Nuad, ar mhic léinn a ullmhú chun iad féin a chur in oiriúint do na hathruithe atá ag titim amach i gcónaí sa domhan seo:
trí na cláir chéime a dhéanamh níos solúbtha, níos éagsúla agus níos leithne
trí na deiseanna atá ann chun dul i mbun staidéir i ndisciplíní difriúla ag an am céanna a mhéadú
trí na chinntiú go ndírítear aird sa teagasc agus sa mheasúnú ar na scileanna intleachta agus cumarsáide is gá in ionad oibre an lae inniu
trí fhoghlaim san ionad oibre agus foghlaim ó thaithí a chur ar fáil chun céimithe a ullmhú don saol a bheidh rompu.
"Is athrú ó bhun ar oideachas ollscoile in Éirinn an t-athrú seo. Táimid tar éis taithí foghlama an fho-chéimí a athshamhlú ó bhun go barr chun samhail d'oideachas fo-chéime dúshlánach, nach mbeidh ar fáil in aon ollscoil eile, a chur ar fáil in Ollscoil Mhá Nuad. Beimid ag tógáil ar an méid atá bainte amach againn go dtí seo chun ábhair agus modhanna teagaisc a oiriúnú le cinntiú go mbeidh ag ár gcéimithe nuair a fhágann siad an ollscoil na scileanna agus na tréithe is gá chun dul chun cinn i ndomhan atá ag athrú i gcónaí agus mar a bhfuil béim mhór ar an inoiriúnaitheacht," a dúirt Uachtarán Ollscoil Mhá Nuad, an tOllamh Philip Nolan.
Is é an tsolúbthacht an tréith is suntasaí sa tsamhail nua curaclaim: beidh deis ag mic léinn speisialtacht a roghnú láithreach nó cúrsaí éagsúla a dhéanamh sa chéad bhliain agus speisialtacht a roghnú ina dhiaidh sin. Lena chois sin, beidh sé níos fusa ar mhic léinn ábhair ó na healaíona agus na heolaíochtaí a roghnú le chéile i gcúrsa staidéir; leathnófar an t-eolas atá acu trí shruth toghthach 10 gcreidmheas a dhéanamh, ar gearrchúrsa é sin lasmuigh dá bpríomhábhar/ábhair; mórábhair agus mionábhair a dhéanamh gcúrsaí céime onóracha; nó staidéar a dhéanamh ar nua-theanga le cois ábhair chéim ar bith. Cuirfear béim níos mó, sa tsamhail nua, ar fhoghlaim ó thaithí, agus beidh níos mó deiseanna ar fáil chun dul i mbun staidéir thar lear, agus chun socrúcháin oibre agus obair dheonach a dhéanamh.
Tabharfar an curaclam nua isteach de réir a chéile idir 2015 agus 2017, agus beidh níos lú slite iontrála i gceist – laghdú de 30 nó mar sin ar an 50 atá ann i láthair na huaire. Beidh próiseas iarratais CAO níos simplí do mhic léinn, dá bharr, agus beidh níos mó ama acu chun a gcuid cinntí a dhéanamh.
Seo é an méid a dúirt an tAire Oideachais, Jan O'Sullivan, T.D. faoin gcuraclam nua: "Tá cáil ar Éirinn i measc thíortha an domhain as caighdeán ár gcéimithe agus an oideachais tríú leibhéil atá ar fáil sa tír seo. Mar sin féin, sa domhan mar atá sé inniu, is gá modhanna nua a thabhairt isteach i gcónaí le cinntiú go gcoimeádfaimid an cháil dhomhanda atá orainn, agus go gcuirfimid, leis, fiú. Is beart misniúil é seo ag Ollscoil Mhá Nuad, ina ndírítear ar an bhfoghlaim agus ar an bhforbairt, ar leas na mac léinn agus ar riachtanais fostóirí. Trí thús áite a thabhairt don smaointeoireacht chriticiúil agus do scileanna anailíseacha, tá foireann acadúil Mhá Nuad tar éis díriú ar sprioc nua thábhachtach don fhoghlaim."
Chuir Betty McLaughlin, Uachtarán Institiúid na nGairmchomhairleoirí fáilte roimh an fhógra agus dúirt go laghdódh sé an strus ar mhic léinn na hÉireann agus ar a dteaghlaigh slite iontrála níos leithne a bheith ceaptha ag Ollscoil Mhá Nuad. "Tá an scéal amuigh in Éirinn le fada, cé nach é an fhírinne é, gur fearr go mór áit a fháil ar chúrsa a dteastaíonn líon mór pointí lena aghaidh. Ar ndóigh níl ciall ar bith leis sin ach tá an dearcadh sin ag cur brú neamhriachtanach le fada an lá ar dhaoine óga. In Ollscoil Mhá Nuad beidh teacht ag mic léinn ar raon leathan deiseanna chun céim den chéad scoth a ghnóthú, agus ar shlí iontrála chothrom shimplí. Tá gairmchomhairleoirí ar fud na tíre ag tacú leis an athrú seo agus molaimid do na hollscoileanna uile déanamh mar a rinneadh anseo."
Seo cuid den chur chuige a bheidh i gceist sa churaclam nua:
Deireadh le baic idir disciplíní, go háirithe idir na healaíona agus na heolaíochtaí, chun gur féidir le mic léinn ábhair dhifriúla a chur le chéile ar bhealaí nua
Méadú ar sholúbthacht agus ar roghanna, ionas go mbeidh mic léinn in ann mórábhair agus mionábhair a roghnú laistigh d'fhormhór na gcúrsaí céime
Modheolaíochtaí nua teagaisc agus measúnaithe a chothóidh sna mic léinn na cumais seo a leanas: dul i mbun anailíse, smaointeoireacht chriticiúil, chumarsáid shoiléir agus obair bhuíne
An cumas nua-theanga a fhoghlaim le cois ábhair chéim ar bith
Ábhair thoghthacha lasmuigh de phríomhdhisciplín an mhic léinn, chun dearcadh níos leithne a chothú
Clár uathúil chéad bhliana ina mbeidh léachtaí agus foghlaim i ngrúpaí beaga araon ar fáil chun tacú le haistriú na mac léinn ón scoil go dtí an ollscoil
Slite iontrála níos simplí sa chóras CAO agus laghdú ar an líon atá ann anois, ionas go mbeidh sé níos fusa ar mhic léinn speisialtacht a roghnú láithreach nó níos déanaí
Deiseanna iomadúla chun dul i mbun foghlama lasmuigh den seomra ranga trí ghníomhaíochtaí creidiúnaithe comhchuraclaim, m.sh. socrúcháin oibre, obair dheonach, staidéar thar lear
Punainn leictreonacha a ghabhfaidh gnóthachtáil iomlán an mhic léinn ó cheann ceann an chúrsa céime
Lean an tOllamh Philip Nolan air mar seo "Is deacair dúinn an domhan a bheidh ann ag deireadh an chéid seo a shamhlú, ach creidimid gurb é ár ndualgas mar ollscoil nua-aimseartha ár gcéimithe a ullmhú le dul i mbun oibre i ndomhan nach eol dúinn na deiseanna agus na dúshláin a bheidh ann. An rud a rinneamar ná taithí an mhic léinn a athshamhlú ag smaoineamh ar an gcineál taithí ab fhearr, agus díriú ar leasuithe cuimsitheacha a spreagfaidh mic léinn chun smaoineamh go soiléir agus go criticiúil, dearcadh leathan a bheith acu i leith an tsaoil, iad féin a oiriúnú do chásanna nua, agus ar deireadh bheith in ann smaoineamh ar réitigh nua ar fhadbhanna móra an tsaoil inniu."
Bhí an méid seo le rá ag Ben Finnegan, Uachtarán Aontas Mac Léinn Ollscoil Mhá Nuad: "Níl aon amhras ach go rachaidh an curaclam nua ollscoile seo chun tairbhe na mac léinn atá anois in Ollscoil Mhá Nuad, agus na mac léinn a thiocfaidh ina ndiaidh. Is buntáistí móra iad an tsolúbthacht mhéadaithe, na roghanna teanga, na deiseanna chun dul i mbun staidéir thar lear, na socrúcháin oibre agus na slite eile chun dul i bhfeidhm ar fhostóirí tar éis an chéim a bhaint amach. Cheana féin, is deacair Ollscoil Mhá Nuad a shárú, ó thaobh thaithí na mac léinn Éireannach agus na mac léinn a thagann chuici ó thíortha eile. Leis an gcuraclam nua, beidh sé níos fusa ar mhic léinn buntáiste a bhaint as an méid atá le tairiscint ag an ollscoil seo."
Chuir Ceann an Bheartais Oideachais in IBEC, Tony Donohoe, fáilte roimh an gcuraclam nua, leis, á rá go rachaidh cur chuige Ollscoil Mhá Nuad i leith an oideachais tríú leibhéal chun tairbhe do lucht tionscail. "Tá gá le céimithe ar ardchaighdeán chun go mbeidh Éire in ann dul in iomaíocht le tíortha eile chun infheistíocht dhíreach eachtrach a mhealladh go hÉirinn agus cuideachtaí dúchasacha láidre a fhorbairt. Tá gá ag an ngnó le daoine óga a bhfuil cumas ceannaireachta iontu, ar féidir leo dul i mbun oibre gan treoir, atá solúbtha go leor ó thaobh na smaointeoireachta de agus ar féidir leo dul i mbun oibre ina mbuíonta. Cabhróidh curaclam nua Mhá Nuad chun na tréithe sin a chothú sna réimsí riachtanacha seo agus is rannchuidiú mór é leis an tír ar fad."
Tá an curaclam seo á fhorbairt ag an Ollscoil le dhá bhliain anuas, le hionchur ón fhoireann agus ó mhic léinn ar fud na hOllscoile, ó ghrúpaí comhairleacha seachtracha ar son fostóirí, ó eagraíochtaí pobail, ó ghairmchomhairleoirí, múinteoirí, tuismitheoirí agus daoine eile nach iad.
Tuilleadh eolas le fáil ar www.maynoothuniversity.ie/maynootheducation