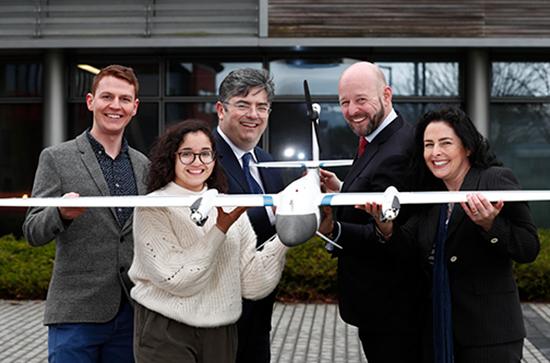 Tuesday, March 5, 2019 - 05:30
Maynooth University and Intel Ireland have signed a Memorandum of Understanding (MoU) to establish a strategic partnership for research and innovation, and to nurture future talent. Building on already strong relationships between Intel and Maynooth, the MoU will establish a more comprehensive and structured format for creative collaborations in key areas of research.
The agreement was signed today by Maynooth University President, Professor Philip Nolan and Eamonn Sinnott, General Manager of Intel Ireland and Vice President Technology Manufacturing Group, marking a new chapter in the relationship between Ireland's fastest growing university and the global leader in manufacturing and technology.
The two organisations will co-operate to identify, optimise and nurture research and innovation in areas of growth potential, such as MU SSI's U-Flyte project on Unmanned Aircraft Systems (co-funded by SFI and industry partners), artificial intelligence, design and innovation.
The partnership will also seek to explore ways to work together on topics such as emerging skills and talent needs, and extending diversity in education, including the representation of women in STEM- related education programmes and STEM careers.
Remarking on the potential of this new partnership, Eamonn Sinnott, General Manager of Intel Ireland and Vice President of Intel's Technology Manufacturing Group said; "Since officially becoming the modern University that we know today in 1997, Maynooth has adopted a strong focus on research, innovation and on creating learning environments that are considerate of a dynamic and ever changing society.
The university's multi-disciplinary approach to how it conduct's research and its emphasis on preparing student's to be future ready are just some of the reasons that we at Intel were so keen to formalise our relationship with the University and to look for further ways for our two organisations to work together.
This year as Intel celebrates 30 years of operations in Ireland we are delighted to sign this MoU to ensure that the long and rich partnership which we have enjoyed over many years with Maynooth University is put onto a sustainable and structured footing into what we hope will be a very exciting future".
U-Flyte is a strategic partnership coordinated by Maynooth University and funded by Science Foundation Ireland together with industry collaborators including, Airbus, Irelandia Aviation and Intel.