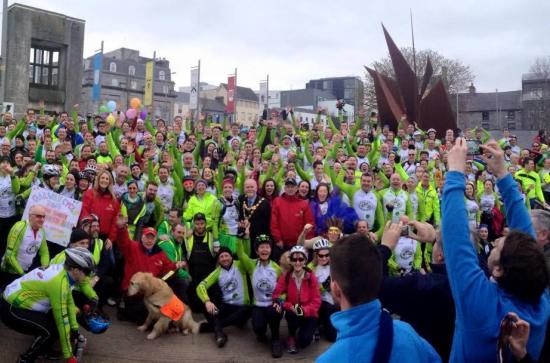 Friday, March 27, 2015 - 00:00
Starting at 6:30am on Friday, 27 March, 275 cyclists, 45 support crew and 30 donation collectors departed Maynooth University to cycle the return journey to Galway and raise funds for The Irish Guide Dogs for the Blind
Thousands of students, former and current, have cycled the 400km round trip journey from Maynooth to Galway every year since 1987. In that time they have raised in excess of €1,000,000 for a variety of Irish children's charities.

This year, the cyclists have raised over €115,000 for the charity Irish Guide Dogs, which helps families of children with autism achieve improved mobility and independence, in addition to helping blind and sight impaired individuals.

"This year marks the 28th year of the cycle and all fundraising is in aid of the Assistance Dog Programme with The Irish Guide Dogs for the Blind," Therese Lynn, President of Maynooth Students for Charity, commented.

"The programme is underfunded and oversubscribed in Ireland and the current waiting list stands at 3 years. We are thrilled to be able to help such a worthy and life-changing programme for Irish families. This year we were joined on the road by some members of the Galway Visually Impaired Activity Club. Tandem cyclists also joined us on our journey and completed the cycle alongside us."

Further information at www.galwaycycle.ie.

Glacann mic léinn na hOllscoile páirt i rothaíocht charthanacha go Gaillimh
Ag 6.30r.n
.ar an Aoine, 27 Márta, d'fhág 275 rothaí, 45 ball d'fhoireann tacaíochta agus 30 bailitheoir airgid Ollscoil Mhá Nuad le filleadh ar ais go Gaillimh agus airgead a bhailiú ar son an charthanais,
Madraí Treorach do na Daill in Éirinn
, le linn an turais.
Tá an turas seo ó Mhaigh Nuad go Gaillimh agus ar ais, turas atá 400km ar fad, curtha i gcrích ag na mílte mac léinn, iar-mhic léinn agus mic léinn reatha, gach bliain ó 1987. Sa tréimhse sin tá breis agus €1,000,000 bailithe ar son réimse leathan de charthanais Éireannacha a thacaíonn le páistí.
I mbliana, tá breis agus €115,000 bailithe le linn an turais ar son an charthanais Madraí Treorach do na Daill in Éirinn. Cabhraíonn an carthanas seo le páistí a bhfuil uathachas orthu breis soghluaisteachta agus neamhspleáchais a bhaint amach. Cabhraíonn an carthanas le daoine dalla agus le lucht lagamhairc chomh maith.
"Seo an t-ochtú bliain is fiche den rothaíocht. Caithfear an t-airgead go léir a bhailítear ar an gclár do mhadraí cuidithe a eagraíonn Madraí Treorach do na Daill in Éirinn," arsa Therese Lynn, Uachtarán ar Mhic Léinn ar son Carthanas, Ollscoil Mhá Nuad.
"Níl dóthain maoinithe ag an gclár seo agus tá an iomarca éilimh air in Éirinn. Le cúrsaí mar atá, tá liosta feithimh trí bliana ann. Tá ríméad orainn go rabhamar in ann cabhrú leis an gclár fiúntach seo a a chabhraíonn le teaghlaigh Éireannacha agus a athraíonn a saol go mór. Ghlac cuid de na baill de Chlub Gníomhaíochta na Gaillimhe don Lucht Lagamhairc páirt sa rothaíocht i mbliana mar aon le rothaithe ar rothar tandaim a chríochnaigh an rás linn."
Tá tuilleadh eolais ar fáil ag www.galwaycycle.ie.