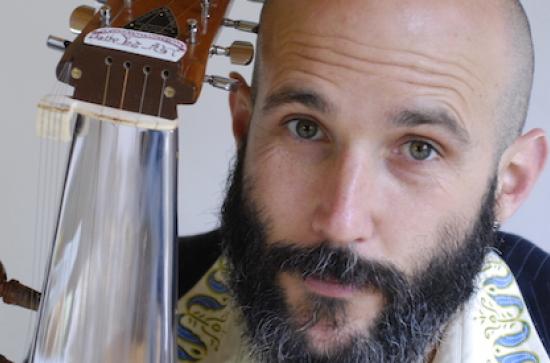 Thursday, April 11, 2019 -

13:00

to

14:00
Riverstown Hall
This concert is the premiere of several new compositions by sarode player and self-confessed 'musical mongrel' Matthew 'mattu' Noone. The performance is part of an ongoing Irish Research Council postdoctoral fellowship and in particular a current collaboration with composer Ryan Molloy. This concert will feature new work for the sarode and electronics as well as the first public showing of a piano piece devised specifically for this event.
MATTHEW NOONE
"unique and profound music" (Celtic Road Radio)
"nothing short of pure magic" (Hot Press Magazine)
Matthew Noone is an Australian-Irish ex-indie rocker, improviser, composer and performer of the 25 stringed lute called sarode. After beginning his musical career as a guitarist and drummer in Brisbane and Sydney in the mid 90s, Matthew fell in love with the sarode during a trip to India in 2003. He has studied North Indian Classical music for over a decade with Sougata Roy Chowdhury in Kolkata and more recently with UK based sarodiya, K. Sridhar. He has performed Indian classical music across the globe and composes in a diverse range of disciplines ranging from Irish traditional music, free improvisation and contemporary electroacoustic music.
He has collaborated with artists such as Martin Hayes and Dennis Cahill, Tommy Hayes, Sean Tyrell, K. Subramaniam, Liam Ó Maonlai, Seán Mac Erlaine, Catherine Sikora, Slavek Kwi and Steve Cooney. Matthew has released two albums of new arrangements of traditional music with percussionist Tommy Hayes (An Tara) and in 2017 released his debut solo album LET LUV B UR GURU featuring twenty-three original compositions using sarode, fiddle, ukulele, loops and drones.
He plays two unique custom made hybrid sarodes. The first was designed particularly for playing Irish traditional music and the second is an innovative electroacoustic sarode for exploring new composition. Matthew is also an Irish Research Council scholar and was awarded a PhD for his work exploring the performance of Irish music on the sarode. He is currently undertaking a postdoctoral research fellowship investigating the composition potential of the sarode in the University of Limerick and working on his second solo album due for release in 2019.