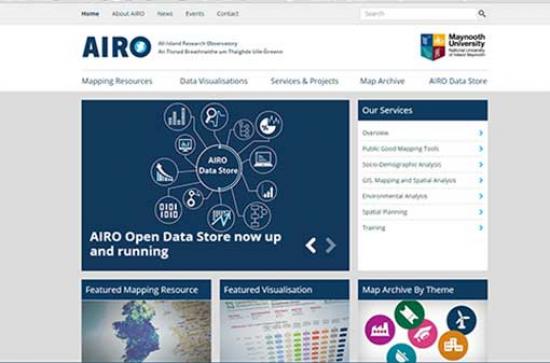 Monday, November 24, 2014 - 00:00
The new All-Island Research Observatory (AIRO) website, relaunched in September 2014, has picked up this year's Eircom Spider award for Digital Geography. Established in 1996 the Eircom Spiders, Ireland's oldest and most prestigious digital awards, recognise Irish businesses and community organisations for digital excellence.The Digital Geography award was sponsored by Esri Ireland.

Based at Maynooth University, AIRO provides a suite of free public mapping and data visualisation toolkits aimed at improving evidence-informed planning practices. AIRO also undertakes research and consultancy projects in socio-demographic and economic analysis, spatial planning and environmental analysis.

The website was re-designed earlier this year to further enhance the service offering of the research and consultancy unit.

Upon accepting the award Justin Gleeson, Director of AIRO, commented: "This award recognises the AIRO website as an excellent resource for planning and policy making."

Chick here to visit the AIRO website.