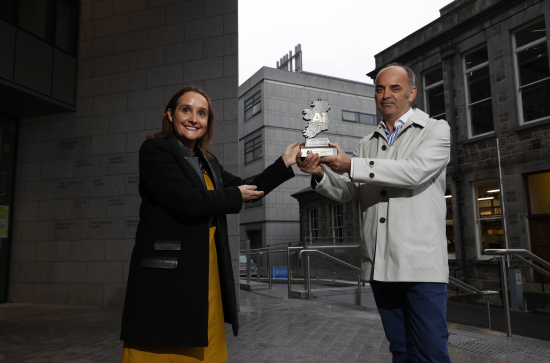 Friday, November 26, 2021 - 14:00
Terrain-AI, led by Dr Rowan Fealy and Professor Tim McCarthy, wins AI Award for Best Application of AI to Achieve Social Good at the AI Awards ceremony, held on Thursday 25 November. The AI Awards, which are held annually, seek to recognise how AI can be ethically used to help solve some of the biggest business, academic, environmental, and health challenges facing our society today.

In reaction to winning the Award, Dr Fealy said that, "This is a great achievement for Terrain-AI and recognises the scale and scope of the research being undertaken across the T-AI consortium."

Speaking about the win Prof McCarthy noted, "This award highlights the global importance of the research and the role of AI technologies in acquiring, processing and analysing multi-thematic datasets to support decision-making in tackling climate change."

Lead from Maynooth University, Terrain-AI is jointly funded (€5m) by Microsoft Ireland and Science Foundation Ireland (SFI) and is a collaboration with Teagasc, Trinity College Dublin, University College Dublin, Dublin City University, and University of Limerick.
The project aims to improve our understanding of the interactions between the land and human activities that lead to carbon emissions, and to share with other countries the insights and models developed to help reduce global carbon outputs
Leveraging the latest multimodal sensing technologies, Internet of Things (IOT) devices and the Microsoft Azure Cloud, the project will build artificial intelligence (AI) models using new and existing data from multiple sectors and land types. Data is captured from satellites, aerial and drone surveys, as well as in-field instruments from more than 20 benchmark sites across Ireland. The work reflects a broad representation of land usage, including grasslands, croplands, forestry, wetlands, peatlands, and urban areas.

For more information on the project, visit: https://terrainai.com/