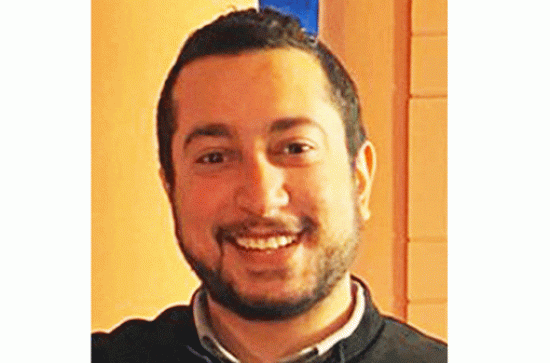 Mustafa Kishk received his Ph.D. degree in Electrical Engineering from the
Bradley department of Electrical and Computer Engineering
at
Virginia Tech
under the supervision of Prof.
Harpreet Dhillon
in 2018. He received his B.Sc. and M.S. degree in Electronics and Electrical Communications Engineering from Cairo University, Egypt, in 2013 and 2015 respectively. From April 2019 to Jan. 2022, he was a postdoctoral research fellow in Prof.
Slim Alouini
's group in
KAUST
. Since Jan. 2022, he has been an Assistant Professor at the Electronic Engineering Department at Maynooth University, Ireland. His research interests include stochastic geometry, global connectivity, UAV-enabled communication systems, and satellite communications.
Non-Terrestrial Networks, Global Connectivity, Energy Harvesting IoT, Percolation Theory, Stochastic Geometry
 
Year
Publication
2021
'Safeguarding the iot from malware epidemics: A percolation theory approach'
Zhaikhan A.;Kishk M.A.;Elsawy H.;Alouini M.S. (2021) 'Safeguarding the iot from malware epidemics: A percolation theory approach'. Ieee Internet Of Things Journal, 8 (7):6039-6052 [DOI] [Details]
2021
'On the Topological Aspects of UAV-Assisted Post-Disaster Wireless Communication Networks'
Matracia M.;Kishk M.A.;Alouini M.S. (2021) 'On the Topological Aspects of UAV-Assisted Post-Disaster Wireless Communication Networks'. IEEE Communications Magazine, 59 (11):59-64 [DOI] [Details]
2021
'On the influence of charging stations spatial distribution on aerial wireless networks'
Qin Y.;Kishk M.A.;Alouini M.S. (2021) 'On the influence of charging stations spatial distribution on aerial wireless networks'. Ieee Transactions On Green Communications And Networking, 5 (3):1395-1409 [DOI] [Details]
2021
'Coverage Analysis for UAV-Assisted Cellular Networks in Rural Areas'
Matracia M.;Kishk M.A.;Alouini M.S. (2021) 'Coverage Analysis for UAV-Assisted Cellular Networks in Rural Areas'. Ieee Open Journal Of Vehicular Technology, 2 :194-206 [DOI] [Details]
2021
'Artificial Intelligence for UAV-Enabled Wireless Networks: A Survey'
Lahmeri, MA;Kishk, MA;Alouini, MS (2021) 'Artificial Intelligence for UAV-Enabled Wireless Networks: A Survey'. Ieee Open Journal Of The Communications Society, 2 :1015-1040 [DOI] [Details]
2021
'Modeling and Analysis of Dynamic Charging for EVs: A Stochastic Geometry Approach'
Nguyen D.M.;Kishk M.A.;Alouini M.S. (2021) 'Modeling and Analysis of Dynamic Charging for EVs: A Stochastic Geometry Approach'. Ieee Open Journal Of Vehicular Technology, 2 :17-44 [DOI] [Details]
2021
'Stochastic Geometry-Based Analysis of LEO Satellite Communication Systems'
Talgat A.;Kishk M.A.;Alouini M.S. (2021) 'Stochastic Geometry-Based Analysis of LEO Satellite Communication Systems'. IEEE Communications Letters, 25 (8):2458-2462 [DOI] [Details]
2021
'Exploiting Randomly Located Blockages for Large-Scale Deployment of Intelligent Surfaces'
Kishk M.A.;Alouini M.S. (2021) 'Exploiting Randomly Located Blockages for Large-Scale Deployment of Intelligent Surfaces'. IEEE Journal on Selected Areas in Communications, 39 (4):1043-1056 [DOI] [Details]
2021
'Optimal Deployment of Tethered Drones for Maximum Cellular Coverage in User Clusters'
Bushnaq O.M.;Kishk M.A.;Celik A.;Alouini M.S.;Al-Naffouri T.Y. (2021) 'Optimal Deployment of Tethered Drones for Maximum Cellular Coverage in User Clusters'. IEEE Transactions on Wireless Communications, 20 (3):2092-2108 [DOI] [Details]
2021
'Exploiting Wind-Turbine-Mounted Base Stations to Enhance Rural Connectivity'
Matracia M.;Kishk M.A.;Alouini M.S. (2021) 'Exploiting Wind-Turbine-Mounted Base Stations to Enhance Rural Connectivity'. IEEE Communications Magazine, 59 (12):50-56 [DOI] [Details]
2020
'Spatial Firewalls: Quarantining Malware Epidemics in Large-Scale Massive Wireless Networks'
Elsawy H.;Kishk M.A.;Alouini M.S. (2020) 'Spatial Firewalls: Quarantining Malware Epidemics in Large-Scale Massive Wireless Networks'. IEEE Communications Magazine, 58 (9):32-38 [DOI] [Details]
2020
'Nearest neighbor and contact distance distribution for binomial point process on spherical surfaces'
Talgat A.;Kishk M.A.;Alouini M.S. (2020) 'Nearest neighbor and contact distance distribution for binomial point process on spherical surfaces'. IEEE Communications Letters, 24 (12):2659-2663 [DOI] [Details]
2020
'On the 3-D Placement of Airborne Base Stations Using Tethered UAVs'
Kishk M.A.;Bader A.;Alouini M.S. (2020) 'On the 3-D Placement of Airborne Base Stations Using Tethered UAVs'. IEEE Transactions on Communications, 68 (8):5202-5215 [DOI] [Details]
2020
'Stochastic Geometry-Based Analysis of Airborne Base Stations with Laser-Powered UAVs'
Lahmeri M.A.;Kishk M.A.;Alouini M.S. (2020) 'Stochastic Geometry-Based Analysis of Airborne Base Stations with Laser-Powered UAVs'. IEEE Communications Letters, 24 (1):173-177 [DOI] [Details]
2020
'Aerial Base Station Deployment in 6G Cellular Networks Using Tethered Drones: The Mobility and Endurance Tradeoff'
Kishk M.;Bader A.;Alouini M.S. (2020) 'Aerial Base Station Deployment in 6G Cellular Networks Using Tethered Drones: The Mobility and Endurance Tradeoff'. IEEE Vehicular Technology Magazine, 15 (4):103-111 [DOI] [Details]
2020
'Performance evaluation of uav-enabled cellular networks with battery-limited drones'
Qin Y.;Kishk M.A.;Alouini M.S. (2020) 'Performance evaluation of uav-enabled cellular networks with battery-limited drones'. IEEE Communications Letters, 24 (12):2664-2668 [DOI] [Details]
2019
'Joint Energy and SINR Coverage in Spatially Clustered RF-Powered IoT Network'
Abd-Elmagid M.;Kishk M.;Dhillon H. (2019) 'Joint Energy and SINR Coverage in Spatially Clustered RF-Powered IoT Network'. Ieee Transactions On Green Communications And Networking, 3 (1):132-146 [DOI] [Details]
2018
'Coexistence of RF-powered IoT and a Primary Wireless Network With Secrecy Guard Zones'
Kishk M.A.;Dhillon H.S. (2018) 'Coexistence of RF-powered IoT and a Primary Wireless Network With Secrecy Guard Zones'. IEEE Transactions on Wireless Communications, 17 (3):1460-1473 [DOI] [Details]
2018
'Joint Uplink and Downlink Coverage Analysis of Cellular-based RF-powered IoT Network'
Kishk M.;Dhillon H. (2018) 'Joint Uplink and Downlink Coverage Analysis of Cellular-based RF-powered IoT Network'. Ieee Transactions On Green Communications And Networking, 2 (2):446-459 [DOI] [Details]
2017
'Effect of Cell-Selection on the Effective Fading Distribution in a Downlink K-Tier HetNet'
Kishk M.;Dhillon H. (2017) 'Effect of Cell-Selection on the Effective Fading Distribution in a Downlink K-Tier HetNet'. IEEE Wireless Communications Letters, 6 (4):526-529 [DOI] [Details]
2017
'Stochastic Geometry-Based Comparison of Secrecy Enhancement Techniques in D2D Networks'
Kishk M.;Dhillon H. (2017) 'Stochastic Geometry-Based Comparison of Secrecy Enhancement Techniques in D2D Networks'. IEEE Wireless Communications Letters, 6 (3):394-397 [DOI] [Details]
2017
'Tight Lower Bounds on the Contact Distance Distribution in Poisson Hole Process'
Kishk M.A.;Dhillon H.S. (2017) 'Tight Lower Bounds on the Contact Distance Distribution in Poisson Hole Process'. IEEE Wireless Communications Letters, 6 (4):454-457 [DOI] [Details]
| | Year | Title | Awarding Body |
| --- | --- | --- | --- |
| | 2020 | Exemplary Reviewer | IEEE Communications Letters |
| | 2022 | Internet for All competition: Honorable Mention | IEEE Communication Sosciety |
| | Committee | Function | From / To |
| --- | --- | --- | --- |
| | Globecom'2022 Technical Program Committee | Member | / |
| | ICC'2022 Technical Program Committee | Member | / |
| | WCNC'2022 Technical Program Committee | Member | / |
| | Employer | Position | From / To |
| --- | --- | --- | --- |
| | Cairo University | Teaching/Research Assistant | 01-SEP-13 / 01-AUG-15 |
| | Virginia Tech | Teaching/Research Assistant | 10-AUG-15 / 30-JUN-18 |
| | King Abdullah University of Science and Technology | Postdoctoral Research Fellow | 01-APR-19 / 16-JAN-22 |
| | Maynooth University | Lecturer/Assistant Professor | 17-JAN-22 / |
| | Year | Institution | Qualification | Subject |
| --- | --- | --- | --- | --- |
| | 2013 | Cairo University | B.Sc. | Electrical Engineering |
| | 2015 | Cairo University | M.Sc. | Electrical Engineering |
| | 2018 | Virginia Tech | Ph.D. | Electrical Engineering |
|   | Name | Role / Description | Country |
| --- | --- | --- | --- |
| | Prof. Mohamed-Slim Alouini, King Abdullah University of Science and Technology | | SAUDI ARABIA |
| | Dr. Ahmed Elzanaty, university of Surrey | | UNITED KINGDOM |
| | Prof. Hajar Elhammouti, Mohammed VI Polytechnic University | | MOROCCO |
| | Prof. Harpreet Dhillon, Virginia Tech | | U.S.A. |
| | Prof. Hesham Elsawy, King Fahd University of Petroleum and Mining | | SAUDI ARABIA |