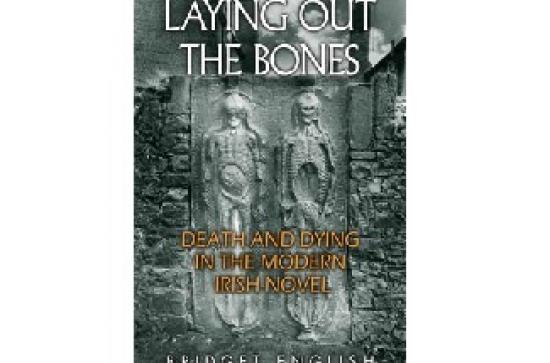 Friday, October 13, 2017 - 10:30
Congratulations to Dr Brigid English, Ph.D graduate of the Department, on the publication of her book, Laying out the Bones: Death and Dying in the Irish Novel, by Syracuse University Press.
Explores the ways in which death shapes the structure, form, and development of the Irish novel.
"An original study of a curiously neglected topic in Irish literary studies. With a display of impressive scholarly authority, English ranges from Joyce's Ulysses to Enright's The Gathering by way of Beckett, Kate O'Brien and McGahern. She argues that the Irish novel is a secularizing medium that disenchants traditional Catholic conceptions of death and dying but also registers the fear and trembling that all post-religious societies feel in the face of death stripped of sacred consolations or philosophical certainties. This thoughtful, compelling study will open up a whole new set of discussions and debates in Irish Studies."—Emer Nolan, Maynooth University
"A rich, provocative and lyrical meditation on the treatment of death and dying in the work of a wide range of modern Irish writers. English shows that novels provide a secularizing society with a form through which to confront the ultimate experience. Her prose is subtle and poised: and her insights are profound and original."—Declan Kiberd, author of The Irish Writer and the World.
Dr Bridget English holds a PhD in English from Maynooth University.

http://syracuseuniversitypress.syr.edu/fall-2017/laying-out-bones.html