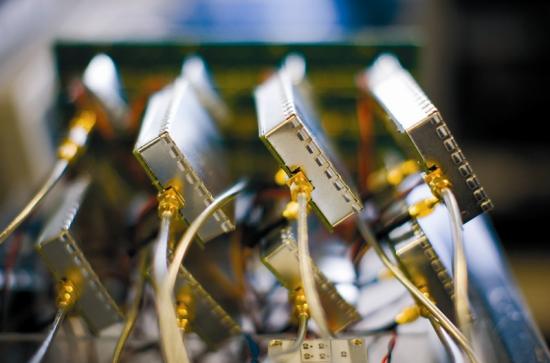 Tuesday, January 12, 2016 - 17:00
Investment by the Department of Jobs, Enterprise and Innovation through Science Foundation Ireland supports expanding collaboration and partnership with industry and academia internationally
RadioSpace, a new national radio test facility, located at Maynooth University, is among 21 exemplary research projects to be funded by the Department of Jobs, Enterprise and Innovation through Science Foundation Ireland, announced the Minister for Jobs, Enterprise and Innovation Richard Burton TD and the Minister for Research, Innovation and Skills Damien English TD today.
The announcement provides an award of €538,000 to Maynooth University for RadioSpace from Science Foundation Ireland as part of CONNECT, a national research centre for telecommunications. The total facility will cost in the region of €750,000 with the remainder coming from University resources.
The facility will provide a unique, large-scale, interference-free facility that allows scientists and engineers from industry and universities to develop new 5G communications devices. Currently, Ireland has no large facility to develop such new technologies, for academia or industry.
Dr Ronan Farrell, Head of the Department of Electronic Engineering at Maynooth University, said the facility will be instrumental in furthering the University's research in radio science and other technologies for infrastructure related to the Internet of Things. "The Internet of Things envisages a world of wireless communications connecting us in new ways with each other, enhancing our lives and the environment. It is an exciting time to be developing the new technologies, products and services for this new future."
Vice-President for Research at Maynooth University, Prof Bernard Mahon, said: "This is a real boost for Kildare and the Leinster region. Until now, telecommunications and Internet of Things companies have had to travel to Britain or Europe to use this sort of facility. By building RadioSpace in Maynooth, we will support established and emerging companies to test devices in Ireland. Indeed, we plan to use the facility to attract foreign direct investment (FDI) to Kildare, Meath and Wicklow. This facility will be a magnet for high-tech companies, making Ireland a stronger proposition as a location."
This infrastructure funding was awarded competitively following rigorous international review to research groups with the appropriate research equipment and facilities to address major research opportunities and challenges, including partnerships with industry and /or international funders. This new infrastructure will ensure that Irish researchers continue to be internationally competitive, with access to modern equipment and facilities which will enable them to be successful in securing future funding from leading companies and from European funding schemes, such as Horizon 2020.
Speaking at the announcement in Birr, Co Offaly, Minister Bruton said: "At the heart of our Action Plan for jobs is driving employment growth in every region of the country. By investing in world-class R&D infrastructure, both at a regional and national level, this will ensure that we can compete at the highest levels internationally and continue to turn more good ideas into good jobs."
Commenting on today's announcements, Minister English said: "Today's investment will advance the implementation of the government's new science strategy – Innovation 2020. The 21 projects will enable globally compelling research to be undertaken across the country, facilitating greater industry and international collaboration; supporting the training of researchers; and demonstrating to an international audience that Ireland on an all-island basis is business friendly and bullish in its pursuit of, and participation in, excellent research."
Prof. Mark Ferguson, Director General Science Foundation Ireland and Chief Scientific Adviser to the Government of Ireland, added, "Ireland is increasingly becoming the location of choice for multinational companies to develop and test tomorrow's technologies and this investment demonstrates our commitment and expanded ability to engage, discover and collaborate at all levels. Science Foundation Ireland is delighted to support and drive Ireland's science strategy, Innovation 2020, with the addition of key infrastructure to propel important research projects. Ultimately, this is about providing Irish researchers in strategic areas with the tools to be world leading."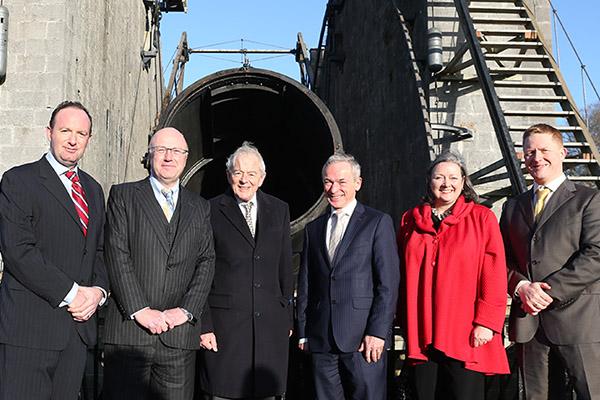 Pictured is Prof. Peter Gallagher TCD, Prof Mark Ferguson. Director General, Science Foundation Ireland and Chief Scientific Adviser to the Government of Ireland, Earl of Rosse William Brendan Parsons, 7th Earl of Rosse. Mr Richard Bruton TD Minister for Jobs, Enterprise & Innovation, Marcella Corcoran-Kennedy TD and Prof. Ronan Farrell