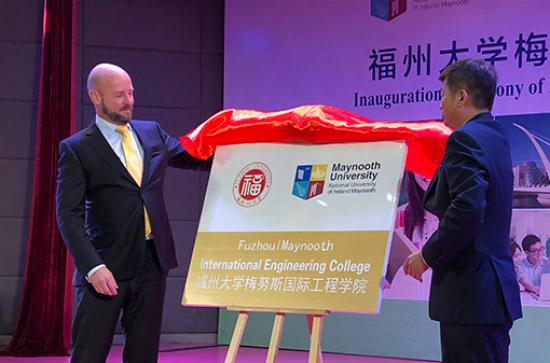 Wednesday, October 24, 2018 - 11:45
The new joint Maynooth International College of Engineering, Fuzhou University, will support academic and cultural exchange, and will pave the way for future research and innovation partnerships, particularly in the fields of computer science and artificial intelligence.
Speaking today at the inauguration ceremony held at Fuzhou University in the Fujian Province of China, Minister of State for Training, Skills, Innovation, Research and Development, John Halligan, TD, said: "This is an auspicious moment for both Ireland and China's collaboration in education. The launch of Maynooth International Engineering College, Fuzhou University, with a yearly intake of 300 students is a great achievement and augers well for the future relationship between both of our countries. I am delighted that this is the second Sino-Irish joint college at undergraduate level. Maynooth International Engineering College, Fuzhou University, is an excellent example of international cooperation providing quality Irish engineering and scientific education to the region."
The inauguration was also attended by representatives of the Fujian Provincial Government; the Irish Ambassador to China, Eoin O'Leary; the President of Maynooth University, Professor Philip Nolan; and Niall O'Donnellan, Head of ICT, International Services and Client Management Development at Enterprise Ireland.
Professor Philip Nolan said: "The bold initiative by Maynooth University, as well as being an important partnership in undergraduate education, will foster future research and postgraduate collaboration through scholarships, joint workshops and academic cooperation. We hope this partnership will prove to be a powerful model of third-level internationalisation, one in which we engage fully with and learn from the local culture and local academic environment, and strive together for world-class development by exchanging knowledge and collaborating on research in a deeper and more sustainable way.
"Fuzhou University is one of China's leading universities, and a long-term partnership is the appropriate and ambitious way forward to develop a flow of knowledge, research and students between our two institutions."
The joint College will offer four undergraduate programmes: BSc in Computer Science & Software Engineering, BE in Electronic Engineering, BSc in Robotics and Intelligent Devices and a BSc in Mobile Multimedia and Web Programming. Maynooth University is currently recruiting a team of 13 lecturers plus administrative support for the venture as part of a commitment to developing a world-class education partnership.
Located in the southeast of China, Fuzhou University has been identified as part of China's Project 211, which aims to bolster the standards of the top 100 Chinese universities and cultivate strategies for socio-economic development. Maynooth University's partnership with Fuzhou University will not only support this goal, but also encourage the exchange of knowledge, research and students. The initiative is assisted by Enterprise Ireland and is expected to enhance global research endeavours while also raising Maynooth University's profile in the world's fastest growing market.
Niall O'Donnellan, Head of ICT, International Services and Client Management Development at Enterprise Ireland, said: "Ireland's Higher Education Institutions are at the forefront of research and innovation. We are known for delivering 'employment-ready' skills so students can transition smoothly into the workplace. This has been an important driver in Ireland's transformation into a high-tech, knowledge-based economy. This new partnership exemplifies that innovation, as students here will gain expertise in the key disciplines that will drive the future for us all."
Professor Wang Jian, Vice-President of Fuzhou University, said: "The International Engineering College (IEC) represents a significant opportunity for both institutions to mutually benefit through the enhancement of education and research in key sectors that are critical for the new era in the Chinese and the world economy. We see the IEC as a win-win partnership that will serve as a foundation for the development of additional innovative programmes in the future."
Media Contact:
Niamh Connolly, Communications Office, Maynooth University, niamh.connolly@mu.ie Tel: 00353 17086160
Note to Editors
Maynooth University International College of Engineering is the second Sino-Irish joint college at undergraduate level, after Beijing-Dublin International College (BDIC) between UCD and Beijing University of Technology founded in 2012. Professor Ronan Reilly, who is Associate Vice-President for International Affairs (Asia) at Maynooth University, will be Executive Vice-Dean of the new College. Maynooth University's most significant project in China before the Fuzhou University project was with Changzhou University, Jiangsu Province. Two joint programmes were approved by the Chinese Ministry of Education in 2011. The first intake was in September 2011 to Electronic Engineering. Under these programmes, 100 students per intake study the first three years in China under a blended curriculum. The majority then transfer to Maynooth University earning a degree from both universities.
Maynooth University
Maynooth is one of the four constituent universities of the National University of Ireland. Formally established as an autonomous university in 1997, but tracing its origins to the foundation of the Royal College of St Patrick in 1795, Maynooth University draws on a heritage of over 200 years of commitment to education and scholarship. Maynooth University is an internationally recognised institution located 25 kilometres outside of Dublin, Ireland, and is the nation's fastest growing university. One of four constituent universities of the National University of Ireland, Maynooth University in 2018 placed in the global top 100 universities under 50 years old in the Times Higher Education World University Rankings. Maynooth University ranks in the top 400 universities globally, and enrols more 12,500 students. The University has major research institutes and centres in the areas of: humanities, social sciences, mathematics, computation and communication; human health; business and service innovation; climate change; and geo-computation.
Fuzhou University (FZU)
FZU was founded in 1958 and is one of the national key universities that formed part of Project 211, a Chinese government programme supporting 100 selected universities for rapid development in the 21st century. Since its establishment, FZU has developed into a key comprehensive university in Fujian Province, specialising in engineering and the sciences. At present, there are about 50,000 students in FZU, including about 5,200 doctoral and master's degree candidates. Leading international multinational firms have operations in Fujian Province, including Boeing, Dell, GE, Kodak, Nokia, Siemens, Swire, TDK and Panasonic.