Welcome to the Chemistry Department at Maynooth University.
All around you, chemistry is in action. It's in the food you eat, the air you breathe and even the mobile phone you use on a day-to-day basis. You are also a hive of chemical activity as around the clock, billions of biochemical reactions are keeping your body working healthily. And when your body is unwell it is chemistry that allows us to design and make new or better medicines to treat it.
The discipline of chemistry and the sphere of chemical research has grown at a dynamic rate within the last twenty years. This has resulted in many innovations and discoveries in a variety of disciplines including drug design, medical imaging systems and biosensors. The list continues to expand and grow and it truly is an exciting time to be a chemist!
Chemistry research at Maynooth University focuses on several exciting aspects of chemistry:
Organic, Pharmaceutical and Medicinal Chemistry: This work is concerned with the design and synthesis of potential new therapeutics with a focus on small molecules, carbohydrates and oligonucleotides..
Physical and Analytical Chemistry: Our research includes the development and use of sensors, biosensors and spectroscopy to measure the level and properties of chemicals. We use novel biosensors to measure chemical reactions that occur in the brain, in real time, and to explain how these chemical reactions change in a diseased state.
Biophysical Chemistry: Here our research has a strong crossover with biology and we are investigating protein stability and protein behaviour. This research is very relevant to the biopharmaceutical industry and protein based therapeutics.
Inorganic Chemistry: This research has a focus on metals; their chemical properties, their reactivity and their use in the search for new anti-cancer and anti-microbial drugs.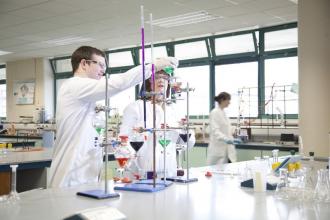 Chemistry at Maynooth University reflects the dynamic growth in chemistry research, and is distinctive in that the size of our institution is large enough to offer a range of degree options and up to date laboratory and research instrumentation typical of a larger university, but still small enough to maintain a highly student oriented environment.
The Department's staff collaborates internationally with academic partners, industrial partners and publishes in high-impact scientific journals.
Furthermore a campus company Cerebeo has spun out from the Department.
Our staff and students come not only from Ireland but are drawn from all around the world, and give the Department an exciting international flavour.
The Chemistry Department at Maynooth University is without doubt a vibrant Department that offers excellent facilities and high standards, in both teaching and research.