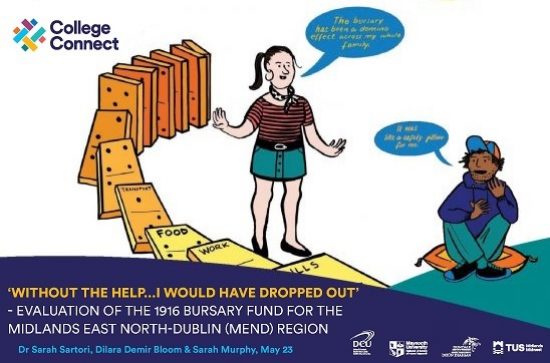 Wednesday, June 28, 2023 - 14:45
Minister Simon Harris, Minister for Further and Higher Education, Research, Innovation and Science is launching the College Connect MEND 1916 Bursary evaluation on Thursday 29th June 2023 in Dublin.
The evaluation entitled 'WITHOUT THE HELP…I WOULD HAVE DROPPED OUT' undertaken regionally by College Connect documents the impact of the 1916 Bursary funding on successful applicants in the Midlands East North Dublin (MEND) Cluster over the four years since its inception from 2018 to 2022. The research highlights the impact of COVID-19, the cost of living, and the housing crisis which have contributed to increased financial stress for students. The research also makes seven recommendations including increasing the number and value of 1916 Bursaries, simplifying the application process, streamlining payments, and making consistent the student support system, offering a clear and proactive appeals process, working to destigmatise the bursaries, and embedding them as a permanent source of funding support for students.
"Had I not been awarded the 1916 Bursary, I could not afford a sandwich at university for lunch to stay healthy, to buy a laptop for college, to pay heating and electricity bills, accommodation rent, travel costs, books and class materials and extra medical expenses. It would have been impossible for me to manage at college as my single mother receives disability. The help of the SUSI grant would not have been enough financial help in getting my higher education degree." – 1916 Bursary Recipient
In attendance at the Ministerial launch are two of the MEND Cluster HEI leads, Professor Eeva Leinonen, President of Maynooth University and Professor Daire Keogh, President of DCU, along with Dr Rose Ryan, Chair of the College Connect regional programme and interim Vice President for Equality and Diversity at Maynooth University.
In response to the evaluation, Professor Eeva Leinonen said that "Maynooth University is committed to developing evidence-based policy and practice to inform institutional and national policies on access to higher education. The evaluation of the PATH 2 1916 recommendations points to a need to take a strengths-based approach to access, for example, by destigmatising the funding needed by students to succeed in higher education, normalising the exceptional, supporting participation, engagement, and progression for all students."
In the evaluation foreword, Caitríona Ryan, Head of Access Policy in the Higher Education Authority (HEA) stated: "It is important that policy interventions are evaluated so that future interventions are informed by evidence of what works and what needs to be improved. It is evident from the student testimonials in this evaluation of the significant positive impact that the 1916 Bursary Fund has on the recipients' ability to fully participate in higher education, with many recipients noting that the bursary meant they could afford accommodation, transport, food, internet and childcare. This is a positive finding and demonstrated the importance of the PATH 2 1916 Bursaries to the achievement of the NAP vision."