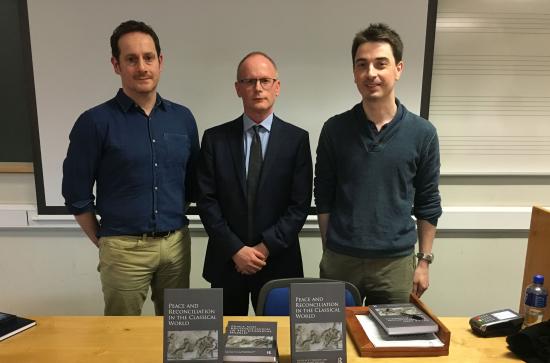 Wednesday, April 5, 2017 - 00:00
On Friday 24 March the Maynooth University Department of Ancient Classics marked the publication of Peace and Reconciliation in the Classical World (Routledge, 2017). The volume is edited by Dr Michael Williams, lecturer in the Department of Ancient Classics at Maynooth, and Dr Eoghan Moloney, formerly of the same department and now Senior Lecturer in Classical Studies at the University of Winchester (UK).

Contributors include Dr William Desmond, also of the Maynooth University Department of Ancient Classics, alongside numerous scholars of the classical world based in Ireland, the UK, continental Europe and the USA. Their common aim is to redirect attention away from the traditional focus on warfare in the ancient world and towards the pioneering efforts to imagine, establish and institute peace in societies ranging from archaic Greece to the later Roman empire, and in authors from Homer and Xenophon to Augustine of Hippo.
In understanding peace as a positive enterprise embracing diplomacy, conflict resolution and long-term reconciliation, the volume makes clear that ancient practices and principles continue to resonate in the modern world.

Full details of the volume may be found on the Routledge website.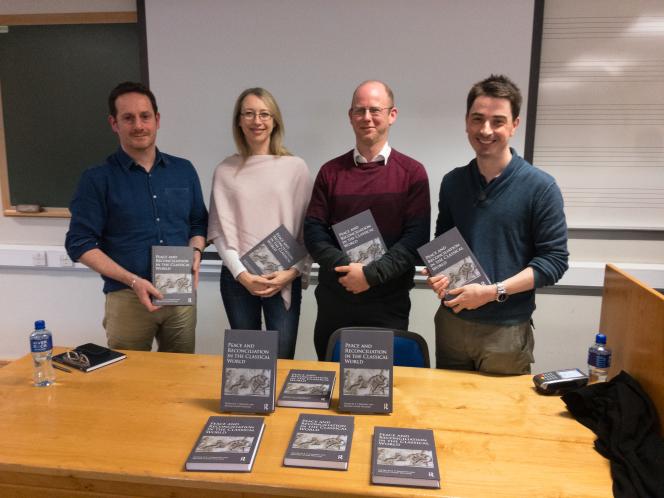 Dr Moloney and Dr Williams with contributors Dr Selga Medenieks (TCD) and Dr William Desmond (Maynooth).