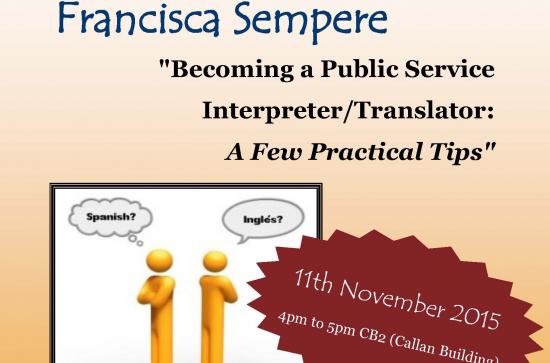 Tuesday, November 10, 2015 - 10:00
"Becoming a Public Service Interpreter/Translator: A Few Practical Tips"
Francisca Sempere
Wednesday 11th November @4pm in CB2
Brief biography of Francisca Sempere:

Francisca's education and professional life span over three decades and three countries: Spain, USA and UK.

After completing an MA in English Literature (University of Durham, UK) and another in Technical and Specialised Translation (University of Westminster, London, UK), she moved to USA where she trained as a Court interpreter at different universities in California and Arizona. She, then, returned to UK to do her PhD in Translation Studies (University of Salford) and get her professional qualification in Interpreting (Institute of Linguists, London).

For the last 14 years Ethics has been her main research interest. Her PhD thesis, "Gender Manipulation in the (Re)writing of The Thorn Birds", focused on ethics in translation, and since she became a Public Service Interpreter the focus has shifted to interpreting.
Concerned about how to bridge the gap between theory and practice, she has published some papers with a colleague from the University of Salford on how to make translation students more employable.

Francisca spent the last few years of her teaching career at the Universities of Salford and Manchester Metropolitan, before giving it up to become a full-time Public Service Interpreter. She has interpreted in a wide variety of context (Courts, hospitals, schools, film festivals…) and translated for several government agencies as well as private clients.

You are very welcome to attend.