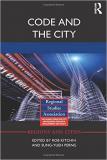 CODE AND THE CITY (Regions and Cities) by Rob Kitchin and Sung-Yueh Perng, Maynooth University (2016)
Software has become essential to the functioning of the cities. It is deeply embedded into the systems and infrastructure of the built environment and is entrenched in the management and governance of urban societies. Software-enabled technologies and services enhance the ways in which we understand and plan cities. It even has an effect on how we manage urban services and utilities. Code and City explores the extent and depth of the ways in which software mediates how people work, consume, communication, travel and play.
For further information please visit Code and the City
An Introduction to R for Spatial Analysis and Mapping by Chris Brunsdon, Maynooth University and Lex Comber, University of Leicester (2015)
This book provides an introduction to the use of R for spatial statistical analysis, geocomputation and the analysis of geographical information for researchers collecting and using data with location attached, largely through increased GPS functionality.
For more information please visit
Publishers Website
GEOCOMPUTATION a Practical Primer by Chris Brunsdon, Maynooth University and Alex Singleton, Liverpool University (2015)
This book provides a highly applied and practical discussion of visualisation and exploratory spatial data analysis, space time modelling, spatial algorithms, spatial regression and statistics and enabling interactions through the use of neogeography. For more information please visit
Publishers Website