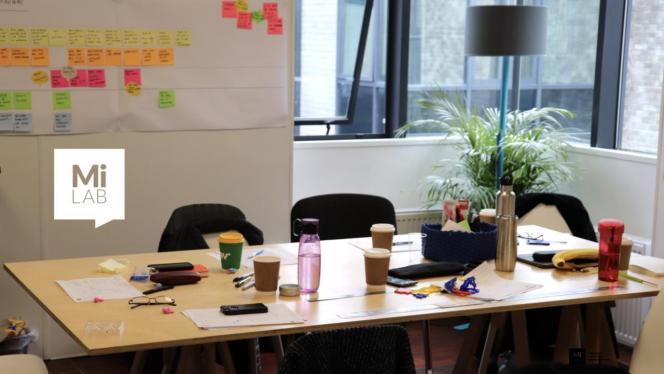 The Maynooth University Innovation Lab (Mi:Lab) takes a human-centred design approach to exploring and tackling challenges within the higher education system. Through a process of applied design research and co-creation, Mi:Lab builds on the knowledge, expertise and creativity of students, staff and partners. We strive to ensure that the right problems are being tackled, unmet and unarticulated needs are defined, and continuous experimentation becomes the norm in higher education.
Through design-thinking projects, interactive workshops and publications, the Mi:Lab team of design researchers, anthropologists and innovators seek to demonstrate the value of, and embed a Human-Centred design mindset, skillset and confidence across the Higher Education system. Mi:Lab is funded by the Higher Education Authority's Innovation and Transformation Fund 2018.
___________________________________________________________________________
Bíonn cur chuige dearaidh dírithe ar dhaoine ag Saotharlann Nuálaíochta Ollscoil Mhá Nuad (Mi:Lab) chun dul i mbun fiosruithe agus i ngleic leis na dúshláin taobh istigh den chóras ardoideachais. Trí phróiséas de thaighde dearaidh feidhmeach agus de chomhchruthú, bíonn Mi:Lab ag tarraingt ar thobar feasa, ar shaineolas agus ar chruthaitheacht na mac léinn, na foirne agus na bpáirtnéirí. Déanaimid ar ndícheall ionas go dtiocfaimid ar réiteach ar na fadhbanna cearta, go n-aithneoimid riachtanais nach bhfuil tagtha chun solais go fóill agus ​go leanfaimid orainn go dtí go nglacfar le turgnamhacht mar chuid lárnach den ardoideachas. Agus tionscadail faoin smaointeoireacht deartha, ceardlanna idirghníomhacha agus foilseacháin ar bun acu, tá sé i gceist ag foireann Mi:Lab de thaighdeoirí dearaidh, d'antraipeolaithe agus de nuálaithe an dearcadh, na scileanna agus an mhuinín a bhaineann le dearadh dírithe ar dhaoine a léiriú thar timpeall an chórais ardoideachais. Is maoinithe ag Ciste Nuálaíochta agus Claochlaithe 2018 an Udaráis Ardoideachais é Mi:Lab.