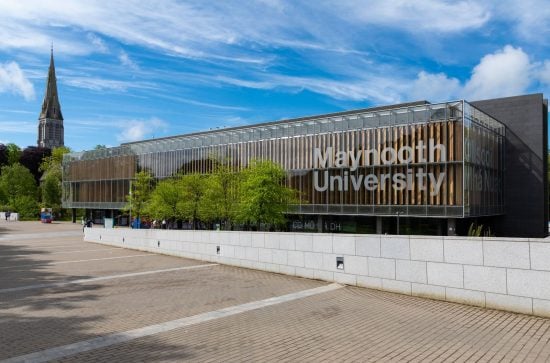 Wednesday, October 4, 2023 -

17:30

to

20:00
Renehan Hall, St Patricks College, South Campus, Maynooth University
The launch of the Maynooth Centre for European Law (MCEL) Doors will open at 5.30pm.
Judge Dean Spielmann, President of Chamber at the General Court of the EU and a former President of the European Court of Human Rights will deliver a lecture entitled "Protecting the Rule of Law in Europe: Deploying the full potential of European judicial mechanisms".
This event will be chaired by the Honourable Ms Justice Niamh Hyland, (Irish High Court) and will be followed by a drinks reception.
All are welcome to attend but registration is required Please register Here
About the speaker:
Born in 1962 in Luxembourg (Grand Duchy of Luxembourg), Mr Dean Spielmann graduated in law in 1988 from the Catholic University of Louvain (Belgium) before continuing his studies at the Fitzwilliam College, University of Cambridge (United Kingdom), where he obtained the title of Master of Laws in 1990. He practised as a lawyer at the Luxembourg Bar from 1989 to 2004 and also pursued an academic career in teaching criminal law, human rights law and procedural law before the European Court of Human Rights, amongst other subjects. From 1991 to 1997, he held the position of research assistant at the Catholic University of Louvain and of associate lecturer at the University of Luxembourg from 1996 to 2006. Between 1997 and 2009, he was also a lecturer at the Université Nancy II (France) and, in 2017 and 2018, he taught at the Institut d'études politiques, Paris (France). In addition, he is the author of numerous publications and articles and a member of scientific editorial committees of several legal journals. In 2000, he served as a member of the Advisory Commission on Human Rights in Luxembourg, within which he serveduntil 2004. In addition, between 2002 and 2004, he was a member of the committees for human rights and criminal law of the Council of Bars and Law Societies of Europe (CCBE), but also of the European Union Network of Independent Experts on Fundamental Rights. Appointed as a Judge at the European Court of Human Rights in Strasbourg (France) in 2004, he successively became Section President in 2011, Vice-President in 2012, then President between 2012 and 2015. Mr Spielmann was appointed as a Judge at the General Court on 13 April 2016 and has held the position of President of the Chamber since 30 September 2019.
About the chair:
Ms Justice Niamh Hyland Commissioner Ms. Justice Niamh Hyland is a graduate of Trinity College Dublin, Magdalen College Oxford and the King's Inns (Barrister-at law). Ms. Justice Hyland worked as a référendaire at the General Court of the Court of Justice in Luxembourg and was the Jean Monnet Professor in European Law at Trinity College. She was called to the Bar in 1994 and commenced practice in 1996. She was made a Senior Counsel in 2012. She practised in diverse areas of the law, including EU regulatory law (telecoms, aviation, energy), public procurement, competition law, constitutional law, administrative law, healthcare law and commercial law. She was a member of the Bar Council of Ireland. Ms. Justice Hyland was appointed as a judge of the High Court in December 2019. Ms Justice Hyland was appointed as a Commissioner of the Law Reform Commission in May 2021.
About the Centre for European Law:
The Centre for European Law serves as the institutional hub for the School's significant European Law expertise. The Centre creates an environment to facilitate formal and informal exchanges between researchers interested in European Law and aims to ensure greater internal and external visibility of this expertise by giving it an institutional home. The Centre contributes to achieving the University's strategic goals, notably concerning engaged and impactful research (which members of the Centre produce); postgraduate education (by including research students as members); and equality, diversity, inclusion (notably inclusive digitalisation) and interculturalism as well as sustainability, biodiversity and care of the environment (as research themes pursued under the banner of European Law). Thematically the Centre for European Law endorses a broad conception of European Law. This includes the Law of the European Union (public and private), the law originating in the Council of Europe, most notably the European Convention on Human Rights as well as their comparative law dimensions.
The Centre's activities range from the organisation of external-facing events, such as conferences, workshops, and lectures, to collaborations and exchanges between members, notably in the Centre's European law discussion group. Centre members are responsible for the delivery of European law teaching on the School's various law programmes. Centre members have been successful in securing significant external funding, including two ERC awards (Professor Delia Ferri and Professor Aisling McMahon and Horizon 2020/Horizon Europe awards (Professor Delia Ferri; Dr Mary Dobbs); and a Jean Monnet Chair (Professor Tobias Lock). Centre members successfully engage with policy makers and the wider public on a regular basis, e.g. by providing evidence to parliamentary committees, by drafting policy briefs, etc. Prof Michael Doherty has worked on a number of European Commission funded projects on cross-border working terms and conditions (including a current project for DG EMPL on industrial relations in the aviation sector). Dr Mary Dobbs was a legal expert for the Citizens' Assembly on biodiversity loss; Dr Mary Dobbs and Prof Tobias Lock act as advisers of two Scottish Parliament committees. Furthermore, Centre Members regularly provide CPD training to legal professionals.
The centre is currently led by Prof Tobias Lock and Dr Karen Lynch Shally.