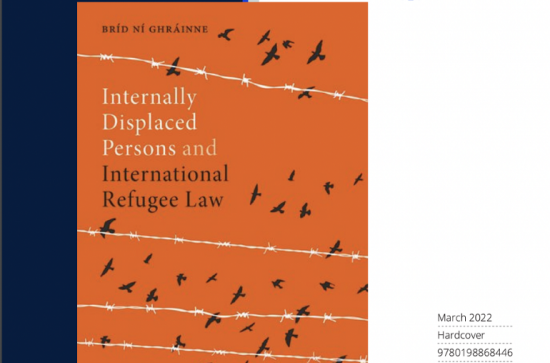 Thursday, February 2, 2023 -

16:30

to

19:00
St. Patrick's College, South Campus, Maynooth, Kildare
The School of Law & Criminology at Maynooth University invites you to attend the book launch of Dr. Bríd Ni Ghráinne's new publication Internally Displaced Persons and International Refugee Law which is taking place on Thursday 2 February at 4.30pm in St. Patrick's College, Maynooth. This launch of the book will be followed by a drinks reception. This is a free event however, you should register for it above.
About the Book:
Internally Displaced Persons (IDPs) are persons who have been forced to leave their places of residence for reasons such as armed conflict, violence, human rights violations, or natural or human made disasters, but who have not crossed an international border. There are about 55 million IDPs in the world today, outnumbering refugees by roughly 2:1. Although IDPs and refugees have similar wants, needs and fears, IDPs have traditionally been seen as a domestic issue, and the international legal and institutional framework of IDP protection is still in its relative infancy.
Internally Displaced Persons and International Refugee Law (OUP 2022) represents the first detailed legal analysis on the relationship between these two categories of forced migrants and examines to what extent the protection of IDPs complements or conflicts with international refugee law.
The book can be purchased online using the 30% discount code
ALAUTHC4 on the
OUP website
https://global.oup.com/academic/product/internally-displaced-persons-and-international-refugee-law-9780198868446?prevNumResPerPage=20&prevSortField=8&q=nature%20and%20law&resultsPerPage=20&sortField=8&start=180&lang=en&cc=gb
Author:
Dr Bríd Ní Ghráinne, Maynooth University
Chair:
Dr Fergus Ryan, Maynooth University
Commentators:
Dr Ciara Smyth, Irish Centre for Human Rights, University of Galway
Dr Beatriz Eugenia Sánchez-Mojica, IE University Madrid