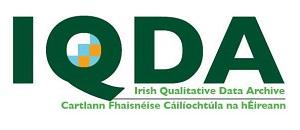 The Irish Qualitative Data Archive is a national archive for qualitative social science data created in or about Ireland. The IQDA is based at Maynooth University, Co. Kildare, Ireland.
Contact us:
Irish Qualitative Data Archive
c/o Maynooth University Library
Maynooth University,
Maynooth, Co. Kildare, Ireland
Email: [email protected]

History of the IQDA
Founded in 2008 at the National Institute for Regional and Spatial Analysis at Maynooth University ​with funding from the HEA under the fourth cycle of the Programme for Research in Third Level Institutions (PRTLI4), the IQDA is the national archive for qualitative data generated in or about Ireland. The IQDA provides access to collections of non-numerical data and advice for researchers on how to engage with this service. We have seen a substantial growth in the latter role in recent years, as the IQDA is increasingly called upon by members of the Irish research community to advise on best practice when depositing and re-using qualitative data. Our consultative role is a key element in promoting a culture of data sharing and re-use and is greatly strengthened by the publication of freely available resources, including our publication, Best Practice in Archiving Qualitative Data (2010). Download our Best Practice Guide in archiving qualitative research data.
Between 2009 and 2010 the IQDA consulted with social science researchers from leading academic institutions in Ireland and Northern Ireland for their opinions on archiving qualitative research and contextual data. This was an innovative study that explored the ethical and practical challenges of archiving qualitative data as the Irish research community saw them, and then implemented new processes to meet these challenges. Read about the findings of this consultation in an article published by Ruth Geraghty in Studia Socjologiczne in 2014, published on Maynooth University eprints here: Geraghty, Ruth (2014) Attitudes to Qualitative Archiving in Ireland: Findings from a Consultation with the Irish Social Science Community. Studia Socjologiczne, 3. ISSN 0039−3371
The IQDA is a founding member of the Digital Repository of Ireland which was officially launched in 2015. The DRI is a national trusted digital repository for Ireland's social and cultural data. The repository links together and preserves both historical and contemporary data held by Irish institutions, providing a central internet access point and interactive multimedia tools. As a national e-infrastructure for the future of education and research in the humanities and social sciences, DRI is available for use by the public, students and scholars. The Digital Repository of Ireland is built by a research consortium of six academic partners working together to deliver the repository, policies, guidelines and training. These research consortium partners are: Royal Irish Academy (RIA, lead institute), Maynooth University (MU), Trinity College Dublin (TCD), Dublin Institute of Technology (DIT), National University of Ireland, Galway (NUIG), and National College of Art and Design (NCAD). DRI is also supported by a network of academic, cultural, social, and industry partners, including the National Library of Ireland (NLI), the National Archives of Ireland (NAI) and RTÉ. Originally awarded €5.2M from the Higher Education Authority PRTLI Cycle 5 for the period of 2011-2015, DRI has also received awards from Enterprise Ireland, Science Foundation Ireland, The European Commission's Seventh Framework Programme (FP7) and the Ireland Funds, and Horizon 2020, the EU Framework Programme for Research and Innovation. Read more about the DRI here.
In 2012 researchers at the IQDA received funding from the Irish Research Council to carry out a project designed to demonstrate the potential for re-using archived qualitative data and to organize a series of knowledge-exchange events on sharing and re-using data. Read more about the Family Rhythms project here.
As a consortium member of the DRI, in 2014-2015 the IQDA also undertook a project entitled Irish Lifetimes to demonstrate the capacity of the DRI to provide innovative, value-added processing and delivery of qualitative social science data to researchers, educators and policy-makers; establish and maintain rigorous standards for research documentation and the preservation of informant confidentiality; and open up funded research outputs to new user communities. Read about the Irish Lifetimes demonstrator project here.