Informed by current theoretical developments in family sociology, Family Rhythms drew on qualitative data from two major national research projects (Life Histories and Social Change and Growing Up in Ireland) that are hosted by the Irish Qualitative Data Archive.
Together, these datasets allowed the researchers to track and compare the changing family experiences of people born before 1935, between 1945 and 1954, between 1965 and 1974, and those who were 9 years old when interviewed between 2007 and 2009.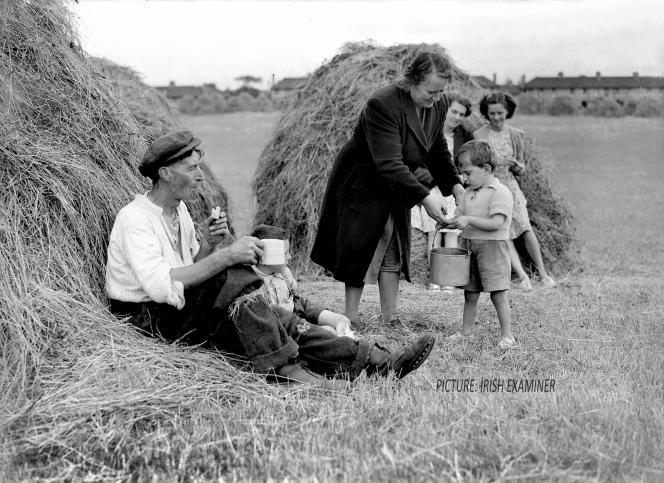 Findings from this research are reported in a state-of-the-art textbook, Family rhythms: the changing textures of family life in Ireland, published by Manchester University Press. Family Rhythms is a comprehensive user-friendly text that is oriented towards undergraduate and postgraduate students in a range of courses in Sociology, Applied Social Studies, Gender and Women's Studies and other subjects that include family studies as a core undergraduate and/or postgraduate module. Qualitative data from the aforementioned datasets is presented throughout, enabling the reader to assess continuities and changes in the practices and experiences that make up everyday family life, with an emphasis on Irish experience of family.
As well as the textbook, the Family Rhythms project has generated a number of additional outputs and resources, listed below. The list will grow over the coming months as further resources are added.
Resources and Outputs
Presentation on Family Rhythms, exhibited to coincide with the inaugural lecture of President Philip Nolan, National University of Ireland, Maynooth on the 16th of February 2012
Research Briefing Putting the Children's Referendum in the Context of Family Change
Open access resources on the Digital Repository of Ireland
Jane Gray and Ruth Geraghty (2012) 'Fertility and the transformation of parenthood in Ireland' presented at the European Sociological Association Conference, Torino , 28th – 31st August 2013, Session RN13: Sociology of families and intimate lives.
David Ralph (2013)'It was a bit like the passover': recollections of family mealtimes during twentieth century Irish childhoods. Children's Geographies, Volume 11, Issue 4, 201
Jane Gray, Ruth Geraghty and David Ralph (2013) 'Young grandchildren and their grandparents: a secondary analysis of continuity and change across four birth cohorts'. Families, Relationships and Societies 2, 2: 289-298. MU eprint
Ruth Geraghty, Jane Gray and David Ralph (2014) "One of the best members of the family": Continuity and Change in Young Children's Relationships with their Grandparents in L. Connolly, ed., The 'Irish' Family, Routledge.
The Family Rhythms project incorporated a parallel knowledge transfer initiative to disseminate learning from our experience of re-using qualitative data in family research, and to promote sharing and re-use of qualitative data.
Re-using Qualitative Data. A workshop funded by IRCHSS, Maynooth, 22nd June 2012.
New Perspectives on Family Change in Ireland conference funded by IRCHSS, Maynooth, December 2012.
Family Rhythms: Using Archived Qualitative Data to Examine the Changing Texture of Family Life in Ireland presented by Jane Gray, Irish Qualitative Data Archive, NUI Maynooth at Re-using Qualitative Data Workshop, Maynooth, 22nd June 2012
Secondary analysis: comparison, context and working across data sets presented by Sarah Irwin, University of Leeds at Re-using Qualitative Data Workshop, Maynooth, 22nd June 2012
Secondary analysis of qualitative data: why should post-graduates care? presented by Libby Bishop,
ESDS Qualidata, University of Essex and Timescapes, University of Leeds at Re-using Qualitative Data Workshop, Maynooth, 22nd June 2012
Sharing and re-using qualitative data in Ireland presented by Jane Gray, Irish Qualitative Data Archive, NUI Maynooth at CSTAR: Seminar on Secondary Data Analysis, University College, Dublin, 19th June 2012
Family Rhythms was funded in 2011/2102 by a Government of Ireland Senior Research Fellowship from the Irish Research Council for the Humanities and Social Sciences.
Enquiries about the forthcoming text book Family Rhythms: The Changing Textures of Family Life should be directed to Dr. Jane Gray at Maynooth University