Tuesday, February 12, 2019 - 16:00
SPUR Project opportunities now available in the Chemistry Dept. for summer 2019.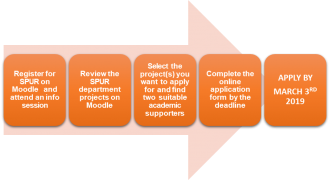 1. Dr. Diego Montagner and Dr. Eithne Dempsey, Synthesis and voltammetric evaluation of a series of Copper 1,10 phenanthroline modified ligands as potential chemotherapeutic agents.
2. Dr. Denise Rooney, Developing Novel Silver-Based Therapeutics to Combat Antimicrobial Resistance.
Deadline Sunday March 3rd 2019 How to apply – see links below
https://mailchi.mp/2612a786ceb2/mu-spur-2019-30-projects-are-available-and-applications-are-now-open