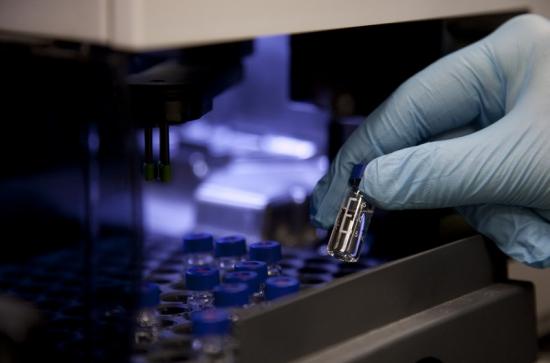 Tuesday, December 1, 2015 - 10:30
Scientists at Maynooth University, led by Dr John Stephens (Department of Chemistry) and in collaboration with Dr Kevin Kavanagh (Department of Biology), have discovered a new anti MRSA compound that paves the way for further research into developing a new class of antibiotic.
This work, recently accepted for publication in the internationally renowned journal Bioorganic and Medicinal Chemistry Letters, describes a study relating chemical structure to antibacterial activity. The report culminates in the discovery of an antibacterial agent that displays impressive levels of activity against E. Coli, S. Aureus and MRSA (comparable to the anti MRSA activity of vancomycin, an antibiotic used in the treatment of MRSA infection). Importantly, a toxicity study employing G. mellonella larvae showed the lead compound, and a number of derivatives, to be non-toxic. The work at Maynooth University is a significant first step and further research and development is needed to generate novel non-toxic anti MRSA therapeutics.
This work was recently reported on by Dick Ahlstrom in The Irish Times newspaper http://www.irishtimes.com/news/science/new-mrsa-antibiotic-may-in-future-replace-obsolete-drugs-1.2448922 and was also discussed on RTE Radio 1's show 'Morning Ireland' ​http://www.rte.ie/radio/utils/radioplayer/rteradioweb.html#!rii=9%3A20890659%3A48%3A02%2D12%2D2015%3A