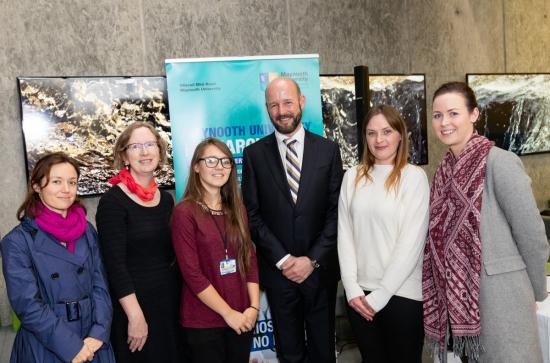 Wednesday, October 24, 2018 - 12:45
Final year chemistry students Ms Alicia Kevin, Double Honours Chemistry and Biology, and Ms Karolina Wojtczack, Single Honours Chemistry, have shared the Faculty of Science and Engineering Best Poster Prize at the Universities' Undergraduate Research Symposium.
Alicia and Karolina were amongst more than 30 students on this year's SPUR scheme (Summer Programme for Undergraduate Researchers). Alicia worked on the isolation and identification on antimicrobial agents from Armillaria mellea in Dr Rebecca Owens' laboratory in the Biology Department. Karolina's project, in the Chemistry Department, under the supervision of Prof Frances Heaney and Dr Trinidad Velasco-Torrijos, dealt with the green synthesis and characterization of multivalent inhibitors of fungal adhesion. Alicia and Karolina's prize is a trip to present their research at the British Conference of Undergraduate Research (BCUR) in Cardiff in spring 2019. We are delighted for the girls to have this exciting opportunity to look forward to, and we heartily congratulate them on their success. Well done girls!
See also:
https://www.maynoothuniversity.ie/faculty-science-engineering/news/spur-undergraduate-reserch-symposium-awards
Pictured above (Dr Trinidad Velasco-Torrijos, Prof Frances Heaney, Ms Alicia Kevin, Prof Philip Nolan, Ms Karolina Wojtczack and Dr Rebecca Owens.)