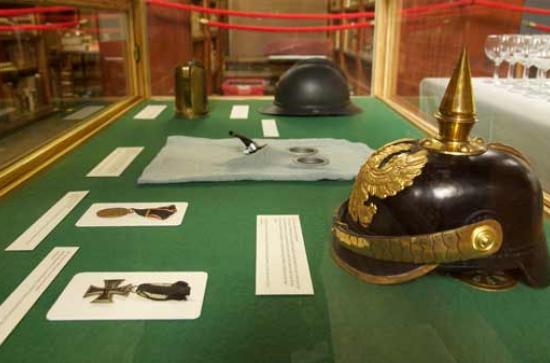 Wednesday, August 27, 2014 -

10:30

to

12:30
Russell Library, located on the South Campus of the University
Maynooth University will commemorate the role of Irish army chaplains in the First World War with a special event during National Heritage Week 2014.
The event will take place on Wednesday, 27th August in the historic Russell Library, located on the South Campus of the University, commencing with refreshments at 10.30 am in Pugin Hall and closing at 12.30 pm.

Military Historian Dr. David Murphy and Special Collections Librarian, Barbara McCormack will speak at the event, which is just one of several initiatives running at Maynooth University and St Patrick's College, Maynooth during National Heritage Week. For full programme see the library website.

The event is centred on the exhibition 'Maynooth College 1914-1918' which is running until early 2015 at the Russell Library. The exhibition explores the efforts of Maynooth College to address the need for Irish army chaplains during the First World War.

After the outbreak of war in August 1914, large numbers of Irish priests applied to work as army chaplains, in order to provide spiritual guidance and support to Catholic troops. Many of these priests were ordained at St Patrick's College, Maynooth.

Back at the College, the threat of conscription loomed over staff and students. The rising costs of food, fuel and other supplies led to financial difficulties. Student fees were increased and the number of free places awarded by the College was curtailed.

The exhibition tells this story through a number of unique items including: correspondence from Maynooth staff and students relating to the conflict, material relating to Irish army chaplains, anti-conscription pledges, and war memorabilia.

The event is open to the public but booking is essential.

For more information or to book a place please contact the Russell Library on (01) 708 3890 or email library.russell@mu.ie.