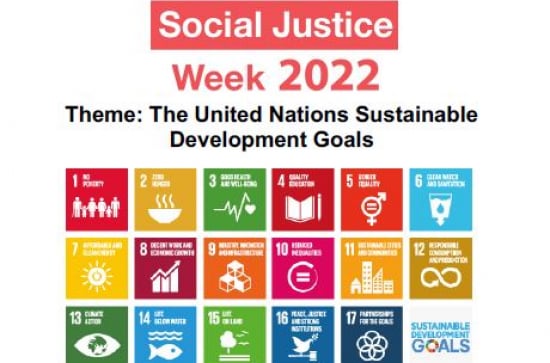 Monday, March 21, 2022 - 00:00
to
Friday, March 25, 2022 - 00:00
Events taking place on Campus and online
Social Justice Week in Maynooth University is an annual collaborative project
between students, staff, as well as other agencies aimed at raising awareness of
global and national challenges, promoting social justice and challenging individuals
to make a positive difference in the world around them.
The theme for this year is the United Nations Sustainable Development Goals (UN
SDGs), which encompass a wide array of global issues and inequalities, including
poverty, education, health, climate action and strong institutions.
The events this year address social justice issues that affect us
globally and locally, ranging from the War in Ukraine to the housing crisis. The global
pandemic has highlighted and amplified existing inequalities in society and as such,
the Social Justice Week Committee 2022 selected the UN SDGs as this year's
theme, given the broad range of issues that it addresses. The events throughout the
week reflect on both positive and negative aspects of implementing the UN SDGs,
including what they mean while emerging from a global pandemic.
This year, events take place on campus and online.
The Social Justice Week Committee would like to draw your attention to the keynote event, 'A
conversation with Dr Rosaleen McDonagh, author of Unsettled' (Skein Press,
2021), which is organised by the MU Sexualities and Genders Network and
DANCING Project, funded by the European Research Council. This event takes
place online at 7pm on Tuesday 22nd March (see registration details below).
This year's Social Justice Week overlaps with the International Day for the
Elimination of Racial Discrimination on 21st March and this is reflected in the Student
Race Equality Forum, which takes place at 6pm that day (see the details below).
The Social Justice Week Committee 2022 would like to thank the organisers of all
events in the programme. Thanks also to the event contributors and speakers, within
the University community and beyond. The Acting Chair of the Social Justice Week
Committee would like to thank all of the Committee members for their commitment
and work on Social Justice Week 2022.
With best wishes,
Social Justice Week Committee 2022:
Acting Chair: Dr Amina Adanan (School of Law and Criminology)
Secretary and Communications: Ian Russell (Office of Student Engagement)
Sam Blanckensee (Office of the Vice President for Equality & Diversity)
Dr Patrick Bresnihan (Department of Geography)
Dr Jamie Gorman (Department of Applied Social Studies)
Mireia Guardino-Ferran (Maynooth Green Campus)
Dr Rory Hearne (Department of Applied Social Studies)
Dr Catriona O'Toole (Department of Education)
Dr Thomas Strong (Department of Anthropology)
Aoife Titley (Froebel Department of Early Childhood and Primary Education)
Link to the Maynooth Social Justice Week 2022 Webpage