STEM Passport for Inclusion
If you are a school, an educator, a student, a mentor, or an industry partner and you want to get involved please fill in this form.
Young women from socially-economically disadvantaged (SED) are not accessing STEM careers. A myriad of factors explains this -including a lack of role models, reduced STEM capital, and limited availability of STEM subjects.
This year we worked with 500 incredible young women from Leinster and Munster. Over 100 mentoring sessions took place and we delivered more than 20 on-site lab days in 21
st
century digital skills. The students engaged with activities in Computational Thinking, AI and ethical responsibilities, Computer Science and Prototype Design. See an example of one student design here:

When the students have completed 3 lab days and independent learning activities they receive a special purpose micro-award in 21st century STEM skills which they can use on their CAO to access STEM courses in Maynooth University and Munster Technological University. This is the first award of it's kind in Ireland and we believe it will pave the way for future generations of Women in STEM!
Figure 1 is an example of what our amazing students have to say about the project:
Figure 1
We recruited 120 women in STEM careers from Microsoft and Accenture to become mentors. Mentoring allows for the opportunity to uncover new skills and confidence and exposes mentees to socially desirable or high-achieving peer groups with whom they can identify. In STEM PASSPORT mentoring provides the young person with an identifiable role model.
Our mentors all received training in Mentoring for Equality and many have continued on to receive a Digital Badge in Mentoring for Equality through the National Forum for Teaching and Learning. See Fig. 2 for what our Mentors have to say about the project.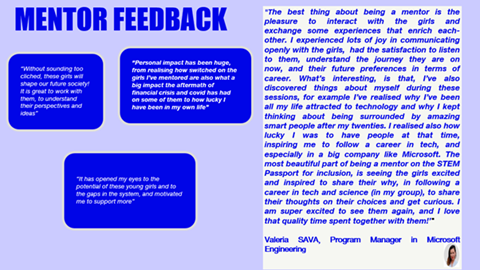 Figure 2
More information from our mentors is available here: STEM Passport STEM Careers Reflection Module 2 (office.com) videos available at bottom of page.
SOCIETAL IMPACT: By 2022 there will be 6.2 million new STEM jobs unfilled -only 2% of graduates will have the qualifications for these roles. This potential crisis is even more frightening, from a social and demographic perspective, as it not only adversely impacts the economy, but it threatens to widen the opportunity gap between those people who are affluent in society, and those who are not. With working class girls least likely to enter STEM careers there is a risk that they will be left out of the 21st-century job market- especially if trends are not reversed. This will mean that women from these communities will be more likely to end up in low paid, low potential jobs- remaining entrenched in poverty through a lack of STEM opportunities.
The STEM Passport.inc will reverse this drift, and support 1000 young working class women to see STEM as a future career. Dr Katriona O'Sullivan is leading the project with collaborators from Dr Kevin Marshall of Microsoft Education Ireland and adjunct ALL Institute, Teen-Turn, Liam Cronin in RDI HUB , Paula Neary in Accenture, Michelle O' Kelly Principal of Mercy Inchicore Secondary school and Helena McMahon of Munster Technological University.

STEM Passport Inc. is externally funded by Science Foundation Ireland Discover grant and funded by Microsoft Ireland, Accenture, the RDI Hub.
ALL Institute members involved in the project