We are building a community of PhD and Research Masters Students in areas related to Assisting Living and Learning.
Jamie Howell
MSc - Department of Psychology,
My research focuses on transgender individuals' expectations and experiences of transition-related healthcare. Transition related healthcare is defined as a medical intervention which aims to create an appearance congruent with one's gender identity and can include hormone replacement therapy and surgeries. This is an understudied area, with most existing research based in the USA. There are a number of differences between transition-related healthcare in the USA and in Ireland, such as the informed consent model (USA) vs. the psychiatric model (Ireland). My research aims to address the current gap in the literature by exploring expectations and experiences of transition-related healthcare in an Irish context.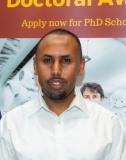 Mohamed Maalin
PhD - Department of Psychology
My research seeks to investigate the possibility of establishing an Assistive Technology (AT) Passport as a user focused tool for coordination of AT products and services in Ireland. Some studies suggest that Ireland has a ineffective and highly fragmented national AT system, compared to countries such as Norway, Denmark, the Netherlands, and Germany. The concept of an AT passport has the potential to facilitate a more effective interaction between the individual AT user, and the system required to effectively support that user.

AT is any assistive products and related systems and services, used to promote independent living across settings; at home, in education and work. Access to AT is recognized under the United Nation's Convention on the Rights of People with Disabilities (UNCRPD 2007) as a human right . As such the ratifying Countries, including Ireland, must ensure measures are taken to incorporate it into current policy and practice. My research aims to identify and establish the requirements for the AT Passport and suggest a framework for its further development, evaluation and potential scalability.

Publications:
Maalim, M. I., McVeigh, J., & Mannanm, H. (2014). Kenya's vision for an equitable, rights-based health system fails to address specific health needs and barriers to accessing health care of vulnerable populations. Africa policy journal,[Retrieved: Jul. 2015].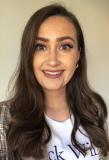 Aleksandra Szproch
MSc - Department of Psychology
My current research investigates decision making and decisional regret in cancer survivors. Decisional regret following an unsatisfactory treatment decision has been linked to a lower quality of life in cancer survivors. The research project hopes to establish: the factors which affect cancer treatment decision making, when and why decisional regret occurs, whether there is a link between the decision making process and the onset of decisional regret and ultimately how can the decision making process be improved in order to reduce the occurrence of decisional regret. This information will be collected through an online survey aimed at cancer survivors at least one year post-diagnosis. It is hoped that the findings of this project will expand current knowledge and that this information may be used to inform interventions aimed at: improving the decision making process for cancer patients, decreasing the possibility for the emergence of decisional regret and increasing quality of life post-treatment.