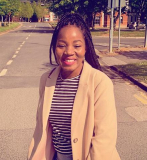 Domia Phiri
My name is Domia Phiri from Zambia, pursuing an MA in International Development at Maynooth University through the Ireland Fellows Programme for the year 2020 to 2021. After my undergraduate degree, I had always wanted to do my MA in Europe. Ireland had always been my first choice because of the type of education system it has, which is of high standard and I wanted a different academic experience from the one I have been exposed to in Africa. I choose to study an MA in International Development at Maynooth University because I wanted to enhance my knowledge and I felt the experience would give me a clear understanding of the work I do.

My work interest and experience has been around social and economic justice in the development sector. For the past three and half years, I have worked with the Civil Society for Poverty Reduction (CSPR Zambia) as a programmes assistant. My work has been around issues of social accountability which exposed me to children's rights, social protection issues and the impact of climate change on the agricultural sector. One thing that I have realised while being here is that Zambia has ratified so many treaties to protect and promote children's rights, but the country is far from meeting some of the mandate. This experience has helped me reflect on how best I can improve at advocating for the rights of children and young people.

In addition, the issue of climate change has always been of interest coming from Sub-Saharan Africa. I have witnessed how climate change has affected the agricultural sector especially where farming partner and food production is concerned. Being here has been an eye-opener and I have been exposed to so many concepts and theories that will help me improve my work in supporting Africa and the world to produce food in a more sustainable manner while protecting the environment. Now more than ever, human beings and the environment need each other to survive, and this can only happen if people understand why it is important to take care of the environment. Going forward, I can do this with a deeper understanding of the issue due to the experience I have gained while pursuing my MA programme.
Undoubtedly my study at Maynooth has been quite an experience; it has been knowledgeable and empowering. I have met beautiful people from different countries; my classmates who encouraged and supported me during assignments, my lecturers who have been a strong support system throughout the journey, and those that I interacted with socially made the whole process and experience amazing despite the challenges brought by COVID 19 restrictions.

The MA program has exposed me to so many theories and concepts that I had never come across before despite my education background being in Development Studies. The concepts I have been exposed to made me reflect on some of my work experience and things started to make so much sense. I now have a deeper understanding of the importance of critical consciousness, dialogue, and participation in development work. Previously, I knew the meaning of the words, but they did not carry the knowledge and weight as they do now in how to apply them in a development context. I have also been exposed to how to manage a third sector organisation, as well getting to know some of the challenges that come with running a third sector organisation, which is very important for anyone who works in areas of development.

Finally, my biggest growth academically has been getting to re-learn some of the things that I have taken for granted in my career and one of them was on the importance of gender inclusivity in the development sector. Before starting my MA program I had very little knowledge about gender and development. Through this experience I have gained so much knowledge and I have been empowered in understanding issues through a gender lens. For instance, a few weeks back one of my friends noted that my tone on how I speak about gender issues now has a radical tone. Since that day I knew that the knowledge I have gained through this experience has empowered me to develop the aspect of being diverse in my ideas that can contribute towards social and economic development going forward.
Ireland has a very rich culture and friendly people who believe in the power of inclusivity. Studying and staying in Maynooth will be an experience that you will forever cherish as you will be exposed to different cultures and people from different continents such as Asia, Africa and America and other parts of Europe and you will feel very much at home as you go about with your social and academic life. The Department of International Development has a team of very supportive lecturers who are there every step of the way throughout your studies, all the while keeping your mental health in check. I have enjoyed the experience and support I have received throughout my journey which will forever remain dear to my heart