Friday, September 21, 2018 - 12:45
MUSSI U-Flyte initiative today at Waterford Airport presents the results of five essential tests which will play a crucial role in integrating drone technology into existing emergency services and air traffic control regulations.
Drone technology has the potential to revolutionise search and rescues operations, making them safer and more efficient than ever. The Irish Coast Guard reported saving the lives of 335 people in distress at sea in 2017, while Mountain Rescue Ireland reported 272 search and rescue operations that year, 28% of which had to be undertaken at night.
With the goal of making these operations safer and faster for both first responders and people in distress firmly in mind, the U-Flyte initiative today presents the results of five essential tests which will prove critical in integrating drone technology into existing air traffic control regulations and emergency search and rescue operations U-Flyte is a strategic research partnership based at Maynooth University that involves collaboration with partners across the aviation industry, and includes input from Airbus, Irelandia Aviation, Intel and a number of other relevant companies and agencies with an active interest in the development and deployment of drone technology.
Led by Dr Tim McCarthy and his team, in partnership with Airbus and with support from Waterford Airport, U-Flyte has been running a series of tests from its primary flight testing base of operations at Waterford Airport this week exploring how drones can be used safely and efficiently for search and rescue applications. These tests include:
'Search and Rescue', in which a drone is programmed to identify and share the location of a swimmer in distress, differentiating the swimmer from flotsam and marine life.
'Mobile Phone Detect & Locate, which uses a drone to identify and locate a mobile phone signal – a use that could aid considerably in finding missing persons over very large spaces e.g. coastal, mountainous, wilderness regions.
'Manned / Unmanned Integrated Airspace', which involves flying a drone and a small airplane side-by-side, with the aim of understanding how a drone can operate safely in an integrated airspace together with other manned aviation activities.
'Beyond Line of Sight'; current regulations restrict drones to be flown within line of sight, and this test examines how this restriction could safely be lifted to allow drone operators search wider areas.
'Long distance Remote Control', which explores how remote control of a drone can be safely passed from out in the field to a non-expert back at headquarters over distances of hundreds of kilometers.
Commenting on the tests, Dr Tim McCarthy of Maynooth University Social Sciences Institute said: "Drone technology has the potential to completely overhaul existing search and rescue operations, giving first responders an essential new toolkit in locating people in distress and even offering immediate assistance. Our challenge this week was to both run the baseline tests to examine how exactly drones could operate in search and rescue situations and gather the invaluable data that will allow aviation authorities and emergency services to work them into existing search and rescue protocols."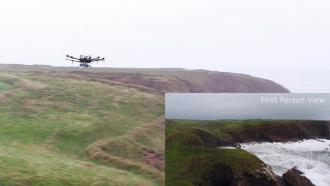 Ray O'Neill, Vice-President for Research and Innovation, at Maynooth University, said, "U-Flyte's unique and important research is something which Maynooth University is proud to support. This week's tests underline the ground-breaking results that can be achieved by bringing together academic and industry partners and taking the interdisciplinary approach to research that Maynooth University supports and encourages. The work done this week will have an important influence in planning for the future of air traffic control and emergency services."
Chris Alexander, Project Manager at Airbus, said, "Through the collaboration with U-Flyte and our own team, Airbus have successfully performed the first IAA-approved long range BVLOS flights with a drone in Irish airspace, over the countryside and coastal area. The demonstrations this week have shown how a long-endurance vertical take-off drone could be rapidly deployed and flown safely through normal airspace. This will enable drones to respond to a maritime emergency, helping rescuers to reduce the time in finding vessels or people in distress. We are proud to be part of a team where we could show the feasibility and importance of setting up future drone operational services to support governmental coastal and emergency teams performing their jobs reliable and safely and becoming an integral part in helping saving lives."
U-Flyte is kindly supported by Science Foundation Ireland (SFI).