Wednesday, February 22, 2023 - 16:30
Tánaiste and Minister for Defence Micheál Martin and Minister for Further and Higher Education, Research, Innovation and Science, Simon Harris have announced that Maynooth University is the winner of the first SFI-Defence Organisation Innovation Challenge.
The winning project, which receives €1 million to continue its work, was devised by a team at Maynooth University led by Professor Tim McCarthy, and uses machine learning and observation from satellites and drones to help aerial crews to fight wildfires.
Over a period of 18 months, 10 teams competed for funding to develop disruptive solutions to key Defence Organisation challenges for use across the Defence Forces.
Announcing the winning team, Tánaiste Micheál Martin said: "To witness the innovation, and creative problem-solving by so many of the teams involved in this challenge is really encouraging.
"The Defence Organisation RTI Unit is increasing the use of research, innovation and technology in support of our Defence Forces capabilities, and as a recent creation its progress is really impressive.
"Being able to engage directly with research allows everyone to understand the problems they are trying to solve. I congratulate the winning team, and I'm equally encouraged to see how other teams will contribute to missions, and capabilities aligned with national defence policy.
"I thank those members of the Defence Organisation who worked on these projects and really look forward to seeing how this work develops into the future."
Minister for Further and Higher Education, Research, Innovation and Science Simon Harris added:
"The researchers involved have broken the mould of innovation in Ireland and shown that we can be disruptive not just in our ideas but in how we deliver them and improve everyday life in Ireland.
"The winning team has shown the power of new technologies to help in the work of the Defence Forces, with applications that may reach far beyond the original challenge.
"This was a pioneering scheme and I look forward to seeing more and more benefits coming from the National Challenge Fund and the Sustainable Development Goal challenges showing that Ireland is ready to tackle the hardest problems and provide solutions."
Team leader Professor Tim McCarthy said this research funding will help prepare for the future when wildfires are expected to become more frequent and intense events, and autonomous sensor technologies and AI will play an increasing role in responding to these emergencies.
He added: "The reality is that wildfire events are now likely to affect us all either directly or indirectly because of climate change."
"Our CoPilot AI project brought together an interdisciplinary team including Co-Principal Investigator, Prof John McDonald, research strand leader Dr Charles Markham and additional researchers drawn from the Department of Computer Science, the National Centre for Geocomputation in Maynooth University Social Sciences Institute, working closely with Commandant Jay O'Reilly's aerial firefighting team and key stakeholders from the Fire Service, National Parks and Wildlife Service and Coillte.
"Over 18 months, we designed, built and tested an intuitive Common Operational Picture platform to improve how digital data from satellites, aircraft and drones sensors can be captured, pooled and shared in real time between various responder agencies."
Maynooth University team members include Dr Stephanie Keogh, Prof John McDonald, Dr Charles Markham, Dáire Walsh, Sean Patrick O'Kane, Conor Patrick Hackett, Pramit Dutta, Paul Mooney, Dr John Dooley, Michael Whitmore, Liam O'Sullivan, Mohsen Nurisa, Dr Paul Lewis and Dr Gourav Misra.
Professor Philip Nolan, Director General SFI said: "At SFI, we are guiding people into challenge‐based research because we know it can transform the work being undertaken. Every team involved in this challenge has had a chance to gain not only funding, but unique experience in engaging with those whose problems they want to solve.
"I hope this is just the beginning for these teams, and for the teamwork between researchers and the Defence Organisation."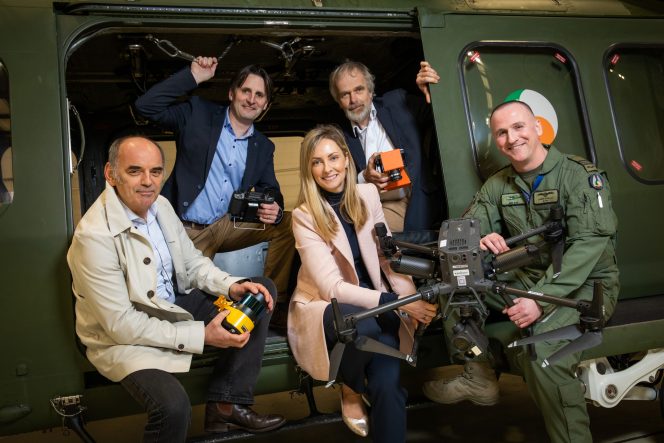 Pictured (left to right): Prof Tim McCarthy, Prof John McDonald, Dr Stephanie Keogh, Prof Charles Markham and Comdt Jay O'Reilly