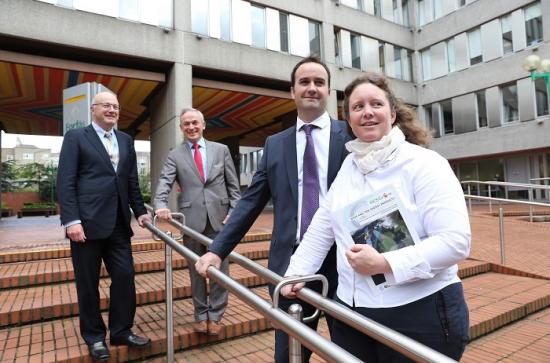 Tuesday, June 17, 2014 - 00:00
Dr. Conor Cahalane, Dr. Paul Lewis, Dr. Gavin McArdle and Dr. Timothy McCarthy are now each working with industry partners under the Industry Research Fellowship programme, funded by the Department of Jobs, Enterprise and Innovation. Ireland through Science Foundation Ireland. For researchers, the Fellowships provide an opportunity to gain important first-hand experience in a commercial research environment, while also providing industry with access to highly specialised expertise. The current projects involve:
Dr. Conor Cahalane, working with Tech Works Marine Ltd on the 'Development of automated coastal bathymetric methodology using applied Remote Sensing techniques'.
Dr. Paul Lewis, working with Pavement Management Services Ltd on 'Novel LiDAR Web services for mapping & monitoring Road Network Infrastructure'
Dr. Gavin McArdle, working with IBM's Smarter Cities Technology Centre on 'Simulating Human Mobility in Dublin'
Dr. Tim McCarthy, working with Treemetrics Ltd. on 'Delivering innovative geospatial information services for forestry applications based on unmanned aerial vehicle (UAV) sensor data fusion'.