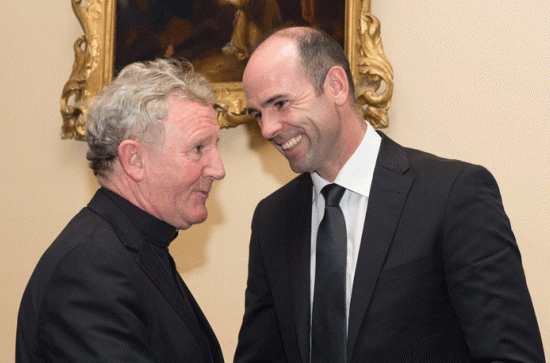 Monday, November 27, 2017 - 10:45
In African conflict environments where people are killed, maimed and displaced persistently, values such as peace, truth, justice and mercy cannot take deep root, nor can people live normal lives or experience true peace, according to Fr. Patrick Devine SMA, delivering the fourth Lt. Gen. Dermot Earley Memorial Lecture in Maynooth University today. Fr. Devine is the founder and International Chairman of the Shalom Centre for Conflict Resolution and Reconciliation, based in Kenya.
"Communities cannot experience sustained development because periodically schools, hospitals, industrial and formation institutions become inoperable or totally destroyed. We will be forever rebuilding and rehabilitating institutions if we do not address the root causes of conflict," he told a large audience assembled by the Edward M. Kennedy Institute for Conflict Resolution in association with the Irish Defence Forces of which the late Dermot Earley was Chief of Staff.
Describing the tasks that Shalom carry out, he explained how: "We train and empower local community leaders in conflict transformation because we want local leaders and communities to be able to analyse and transform conflict in their own areas, without persistently relying on external intervention.
He continued: "We conduct empirical research, to the highest academic rigor, into the underlying causes of a conflict because we are adamant to fully understand the causes and the driver dynamics of the conflict which are too often ignored when 'quick-fixes' are applied. This informs local conflict transformation interventions and policy direction for advocacy and implementation.
Read more https://www.maynoothuniversity.ie/news-events/there-can-be-no-meaningful-development-africa-without-peace