Trauma is a fact of life. It affects human beings at some point in our lifetime.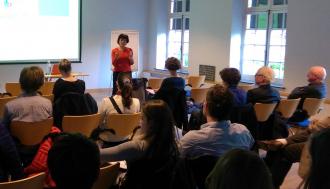 In contexts of conflict and violence, trauma can affect entire communities or nations leaving deep scars. However the impact of trauma is not always acknowledged in peacebuilding or development processes and these can seriously jeopardise the sustainability of peace and reconciliation processes.
The Edward Kennedy Institute for Conflict Intervention, is committed to highlighting the relevance of addressing the impact of trauma in peacebuilding and development interventions by:
1. Mapping efforts to address trauma in Ireland and internationally
2. Creating interdisciplinary platforms where professionals and practitioners fully understand trauma and its impact at personal and collective levels.
3. Developing research to highlight the impact of trauma in communities affected by violent conflict and finding creative and innovative approaches to deal with traumatic effects of it.
Next meeting will be on Wednesday 31 August 2016
If you are interested in participating in this group contact:
Patty Abozaglo- Adjunct Faculty at Patricia.Abozaglo@mu.ie
The Trauma Working Group is an interdisciplinary platform for practitioners and professionals working closing with individuals or communities affected by trauma.
The Trauma working Group aims at sharing and learning from each other, exploring the impact of trauma and approaches to deal with it at individual and collective levels. The Trauma Working aims at providing its members information, reflection and a hands-on experience to become knowledgeable about the effects of trauma and methodologies to deal with it.

The Trauma Working Group meets several times a year.
Dates for future meetings:
Next Meeting: Wednesday 31 August 2016
Previous Meetings
The Kennedy Institute has already sponsored a number of meetings of the Group.
First Meeting (18 November 2015) :
Participants introduced themselves and expressed their interests and expectations as well as proposing a format for subsequent meetings. It was agreed that meeting will always include interactive and participatory methodologies.
Second Meeting (Wednesday 20th January 2016):
Presenter: Sarah Bird CEO & Founder of the Sarah Bird Foundation (http://sarahbirdfoundation.org/)
Participants: Mary Montague ( TIDES- on Skype from Belfast), Catherine O' Connell- Programmes Coordinator @ Kennedy Institute, Clare Cowley Intern-Traveller Training Programme of the Kennedy Institute, Barbara Wood- Experienced Mediator and Vera McEvoy- Community Artist.
Chair: Patty Abozaglo- Adjunct Faculty - Edward Kennedy Institute
Third Meeting ( Wed 9 March 2016)
Presenter: Vera McEvoy- Community Artist based in Kildare facilitated a reflection on trauma using visual arts as a methodology.
Participants: William Devas( Glencree Centre for Peace and Reconciliation), Catherine O' Connell- Programmes Coordinator @ Kennedy Institute, Barbara Wood- Experienced Mediator, Sarah Bird ( Sarah Bird Foundation) and Rose Longmore with a background in psychology and conflict resolution.
Chair: Patty Abozaglo- Adjunct Faculty - Edward Kennedy Institute
Dermot Earley Memorial Lecture

Tomi Reichental

'The Importance of Reconciliation'

11 December 2014 @ 5.00p.m.
Renehan Hall Maynooth University;
If you wish to attend the Lecture please register with Sharon Comerford at Sharon.Comerford@nuim.ie
Dermot Earley was a close associate of the Edward M Kennedy Institute and a member of the Institute's International Council of Expert Advisers.
The Dermot Earley Memorial Lecture was initiated by the Institute with the support of the Defence Forces and the Earley family to foster Lieutenant General Earley's spirit by highlighting lessons of public leadership within contemporary society.
Oliver McTernan visited the Kennedy Institute and spoke on the theme 'Religion, Politics and Conflict'.
Oliver is an experienced mediator and the founder and co-director of Forward Thinking, a charitable organisation addressing issues related to the Middle East peace process and religious/secular dialogue.
He was a visiting fellow of the Weatherhead Centre for International Affairs at Harvard University in 2000-2003. Oliver is a senior associate fellow of the Defence Academy of the United Kingdom . He was responsible for initiating the first post-conflict talks between NATO and the former Yugoslav government.
His book Violence in God's Name explores the role of religion in an age of conflict. It explores the complex roots of religious-inspired violence, the historic ambivalence of religious traditions toward violence, and the urgent steps that must be taken next. Religious leaders of all faiths must begin to defend proactively and vigorously the rights of others to believe and to act differently. At stake is not simply the credibility of religion but the welfare of humanity.
Oliver Mc Terrnan is not only an experienced mediator, he is also a very well respected commentator on Middle East affairs. His organisation Forward Thinking has worked with the Muslim brotherhood over many years. In this video clip he is in discussion with Jonathan Steele, Guardian columnist, roving foreign correspondent and author, together with Ahmed Kadry, Arab Studies Lecturer at Imperial College London, and Mohamed Ghneem, UK Spokesperson for the Muslim Brotherhood.
UN Guidance for Effective Mediation
The Kennedy Institute took part in a meeting on 'The UN Guidance for Effective Mediation: Translating the Fundamentals into EU Practice' at the Permanent Representation of Finland to the EU, Brussels on the 14 November. This Meeting was organised by CMI and the European Peacebuilding Liaison Office (EPLO), in co-operation with the United Nations, the European External Action Service (EEAS) and the European Commission. The meeting took place under the Civil Society Dialogue Network with additional financial support from the governments of Ireland and Finland.
The United Nations has drawn on its extensive experience as well as the expertise of partners to develop practical guidance material to support mediation actors. The Guidance identifies a number of key fundamentals that should be considered in any mediation education programme. These key fundamentals include: preparedness; consent; impartiality; inclusivity; national ownership; international law and normative frameworks; coherence; coordination and complementarity of the mediation effort; and quality peace agreements. The Guidance is a valuable resource as it provides extensive advice for mediators. It explains each fundamental in detail and explores potential challenges and dilemmas that may be faced during the mediation process.
The objective of the Meeting on the 14th was to provide a forum for taking stock of the experience of the EU in supporting mediation efforts and to reflect on how the implementation of the UN fundamentals in EU mediation practice can best be achieved. By looking at concrete challenges, the Meeting generated ideas within the EU on how to enhance its in-house mediation capacity and the design of support to mediation processes.
The Kennedy Institute contributes to EU mediation capacity building through its membership of the ESDC network of academic Institutions
The EU has an extensive track record in building peace inside its borders and in contributing to the peaceful settlement of violent conflicts around the world. These efforts have been recognized by the Norwegian Nobel Committee who has awarded the Nobel peace prize for the EU in 2012.
Speakers
Pre Conference Institutes
Registration
Social and Personal Activities
Accommodation
A Celebration in Creativity in Mediation at the beautiful Campus of Maynooth College.
The Conference was opened by Mary Robinson, Former President of Ireland and Special UN Envoy on Climate Change.
It included renowned Mediatiors and other professionals from around the world: Jennifer Beer USA, Michael Lang USA, Dale Bagshaw Australia, Michelle Le Baron Canada, Jane Gunn UK, Thomas Dorg Norway, Janine Geske USA and more.

Pre-Conference Institutes with International Experts
On Thursday 4th September from 10 a.m to 5 p.m expert practitioners and academics will conduct a series of preconference institutes (workshops) in NUI Maynooth. #
Each specially designed workshop will involve a full day session which offers you to chance to meet with these experts, and work in depth through the most important issues for you as a practitioner, trainer or academic today.
As the number of participants in each Institute is limited , these sessions will allow attendees to enhance their conference with a personalised experience with an international expert. Minimum registration numbers will apply.
# Janine Geske will conduct her workshop on Saturday.
Themes of Pre Conference Institutes

Professor Dale Bagshaw


Learn how elder mediation differs from other forms of mediation; about the special knowledge and skills required in this field; explore the range of situations and contexts which may require the expertise of a mediator who understands this form of mediation , and address the challenges and opportunities for people interested in developing the knowledge and skills to work in this field, in particular where older people may be at risk of abuse. Please review this website before the workshop.
Learn from the Best-book here

Dr Jennifer Beer

This workshop will involve the participants in exercises, worksheets, and partial roleplays. Participants will look at the fine-grained choices mediators make, touching on the tone and style of your mediator presence; when to direct and when to consult; what kind of information to elicit and how; different ways to reword and reframe; softening adversarial mindsets; framing interests and topics; using visuals and adapting to context. Come and practice the new approaches laid out in the 2012 edition of Jenny Beer and Caroline Packard's Mediator's Handbook. The goal is to increase the range and flexibility of workshop participants mediation practice.
Learn from the Best-book here

Thomas Dorg

Learn how social innovation and social entrepreneurship could help us find new creative ways to meet the challanges and understanding the complexity of conflict in a rapidly changing social structure. Find out how practitioners who can actually make a difference on a grassroots society level at an interactive workshop that facilitates participants in exploring and developing this peace building work. Learn how peace education in our cities that is anchored in a functioning interdisciplinary cooperation between the police, child welfare authorities, youth workers, humanitarian organisations and other key societal actors, can be a strong preventive tool in modern society.

Jane Gunn

The Magic of Conflict and the Secrets of Collaboration

Learn how to transform conflict into an opportunity to create new outcomes that add value rather than create loss. Capture the energy and dynamism that different personalities and approaches bring as opposed to the clashes that often cost time, productivity and money. By gaining a deeper understanding of the dynamics of conflict and collaboration you will be better equipped to help your clients and to strengthen your own relationships with your partners and colleagues

Michael Lang

Learn to be more aware of their own methods and why they are using them.

Learn from the Best-book here


Professor Jim Sheehan
and Anne O 'Kelly

Learn the implications for children of a range of different parental 'positionings' around the question of child participation in mediation processes. Workshop participants will be invited to dialogue about the challenges for mediators in achieving a reasonable balance in the process between the goals of task achievement, meaningful child participation and protection and constructive familial transformation. Listen to Prof Sheehan

here

Learn from the Best-book here

Tim Chapman and
Hugh Campbell

Practice telling and listening to stories;engage in learning exercises: explore documentary film footage containing restorative themes: examine a classic story,using old Hollywood and British movies, to illustrate a value model.

Learn from the Best-book here

Paddy O Connor
Margaret McGarrigle

Learn from circles, stories, questions and processes inspired by the restorative way of being Join a critical discussion on the progress so far in Ireland, the impact of Irish and International developments and the potential for mediators and others in related fields to connect effectively to this emerging field of Restorative Schools as Creative Communities of well-being.

Learn from the Best-book here


Alan Ruddock and
Sean O Baoill

Learn the roles of the mediator and the different forms of mediation used in inter-community peacebuilding in N. Ireland. Through the use of visual media and experiential activates we will explore the current context in N. Ireland, the theoretical methodologies of the work and the practical outworking's of the mediation processes through lived examples of the successes and challenges to our practice.
Learn from the Best-book here
Speakers
Please see a comprehensive resume on all who will read Papers, conduct Workshops, make Presentations or otherwise contribute at the Conference -
Plenary Sessions and Preconference Institutes will include Dale Bagshaw Australia, Michael Lang USA, Jennifer Beer USA, Michelle Le Baron Canada, Janine Geske, USA and Mary Robinson, UN Special Envoy.
There will also be Preconference Institutes by Jane Gunn UK, Thomas Dorg Norway, Alan Ruddock and Sean O Baoill, Professor Jim Sheehan, Anne O Kelly, Paddy O Connor, Margaret McGarrigle Ireland.
Speakers
Profile

Mary Robinson

President of the Mary Robinson Foundation – Climate Justice,
Special Envoy of the UN Secretary General to the Great Lakes
region of Africa

Mary Robinson, the first woman President of Ireland (1990-1997), former United Nations High Commissioner for Human Rights (1997-2002), and founder and President of Realizing Rights: The Ethical Globalization Initiative (2002-2010), has spent most of her life as a human rights advocate. As an academic (Trinity College Law Faculty 1968-90), legislator (Member of the Irish Senate 1969-89) and barrister (Irish Bar 1967-90, Senior Counsel 1980; called to the English Bar 1973) she sought to use law as an instrument for social change, arguing landmark cases before the European Court of Human Rights and the European Court in Luxembourg as well as in the Irish courts. A committed European, she also served on expert European Community and Irish parliamentary committees. In 1988 she founded the Irish Centre for European Law at Trinity College and in 2008 was elected Chancellor of the University. The recipient of numerous honours and awards throughout the world including the Presidential Medal of Freedom from President Obama, Mary Robinson is a member of the Elders, former Chair of the Council of Women World Leaders and a member of the Club of Madrid. She serves on several boards including the European Climate Foundation, the Mo Ibrahim Foundation, and is a member of the Royal Irish Academy and the American Philosophical Society. Mary Robinson returned to live in Ireland, following the planned end of Realizing Rights: The Ethical Globalization Initiative, in December 2010. She now serves as President of the Mary Robinson Foundation – Climate Justice. In March 2013, she also took up the role of Special Envoy of the UN Secretary General to the Great Lakes region of Africa.

Professor Dale Bagshaw

University of Melbourne, Australia

Dale Bagshaw is Adjunct Associate Professor with the School of Psychology, Social Work & Social Policy, University of South Australia; previously a Head of the School of Social Work & Social Policy and Coordinator of the Centre for Peace, Conflict and Mediation at the Hawke Research Institute. She has held the position of President of the World Mediation Forum and is currently President of the Asia Pacific Mediation Forum. She is an international mediation trainer, author of many book chapters and journal articles

Dr Jennifer Beer

Wharton,
University of Pennsylvania, USA

Dr. Jennifer Beer runs her own consulting business in Philadelphia, USA. She has mediated conflicts and facilitated meetings in communities and non-profit organizations for 3 decades. Today, Jenny combines her mediation experience and her Ph.D. in cultural anthropology to teach negotiation at Wharton (University of Pennsylvania) and at ALBA business school in Athens, Greece. She offers workshops in mediation, conflict assessment, training design, and cross-cultural communication. The newest edition of her well-used Mediator's Handbook, published with her co-author two years ago, has been in print since 1982. She also authored Peacemaking in Your Neighborhood, a study of the early years of community mediation in the Philadelphia area.

Tim Chapman, University of Ulster

Tim Chapman, Lecturer in Restorative Practices at University of Ulster and a Member at European Forum for Restorative Justice, spent 25 years in the probation service.

Hugh Campbell
University of Ulster

Hugh Campbell, lecturer in Restorative Practices at University of Ulster; was Course Director for a Youth Work degree and worked for a number of years in a charity dedicated to helping disadvantaged youth.

Thomas Dorg

Diakonhjemmets University College,
Oslo

Thomas Dorg is an Assistant Professor at Diakonhjemmet University College (Oslo, Norway), responsible for the Conflict Resolution and Mediation Studies. He has many years experience as a broker and facilitator of reconciliation processes locally and internationally, including in the Middle East. Thomas has worked for many years with conflict in reception centers. He has duties of a conflict ombudsmen in different contexts and is often used as a lecturer at seminars, conferences and colleges at home and abroad. Thomas has in recent years been working with gang problems by focusing on conflict resolution and dialogue arena and tools for change

Jane Gunn

Commercial Mediator,
UK

Jane Gunn the Corporate Peacemaker is a highly sought after mediator and professional speaker. She specializes in collaboration, dynamic dialogue and transforming business relationships and has helped numerous companies to move from deadlock situations to opening new streams of revenue, a vibrant corporate culture and saving her clients thousands of pounds, tiresome lawsuits, devastating disputes and ruined relationships on the way. As one of the leading Mediators in the UK, she has over 16 years experience, and has mediated a wide variety of disputes including, business, partnership, employment, property and construction, personal injury and clinical negligence, trusts and family disputes. Accredited by CEDR in 1996 she is a Mediator Fellow of the Chartered Institute of Arbitrators and an International Mediation Institute (IMI) Certified International Mediator Jane is also the author of the recently published book on conflict management "How to Beat Bedlam in the Boardroom and Boredom in the Bedroom"

Michael Lang

Mediator, Author and Teacher, USA

Michael Lang: Editor-in-Chief of Mediation Quarterly from 1995-2001, and a member of its editorial board from 1988-2007. He has authored numerous articles on mediation practice and is co-author of the book The Making of a Mediator: Developing Artistry in Practice. In academic positions, Michael was Director of the Master of Arts Program in Conflict

Resolution at Antioch University and was Professor in the Master of Science in Dispute Resolution Program at Royal Roads University. He is a practicing mediator and has delivered mediation training courses throughout the U.S., Canada and internationally.

Professor Michelle

Le Baron

University of British Columbia, Canada

Michelle Le Baron is Professor of Law and Director of the Program on Dispute Resolution at the University of British Columbia in Canada.

Previously Professor LeBaron taught conflict resolution and women's studies at George Mason University in Virginia. She has written extensively on creative approaches to intercultural conflict. Her current research focuses on using expressive arts practices.

Paddy O'Connor

Mediation and Restorative Practitioners

Paddy O Connor Having worked in education, Paddy O'Connor is convinced of the benefits of managing conflicts by supporting people in their journey towards devising their own resolutions. He believes in the potential of a restorative approach to build strong connections between

people, and to contribute to the growth of supportive communities be they schools, neighbourhoods, workplaces or families. Paddy's experiences rang across the practitioner (Northwest Mediation Services) and academia, through his experiences as a school principal and lecturer in NUIM.

Margaret McGarrigle

Mediation and
Restorative Practitioner

Margaret McGarrigle is a former school principal who is passionate about Restorative Practices, working as both practitioner and trainer. In recent years, Margaret has worked throughout Ireland in Schools, Education Organisations, Youth Groups and communities – training in either Restorative Practices /Conflict Management /Mediation. She is involved in delivery of modules on Restorative Practice in Schools and on NUIM Masters programmes in Mediation and Conflict Intervention. Margaret is passionate about the potential for a transformation in School/Youth Communities using a Restorative Approach.

Alan Ruddock

Mediation Training,
Belfast

Alan Ruddock is the Manager of Mediation Services for TIDES Training. He previously worked for twenty three years as a Scientific Officer for the Department of Agriculture and more recently for six years as an Associate with Tides training and ten years as an Associate with Mediation Northern Ireland. He has ten years' experience practising mediation and delivering training in Conflict Management. He has vast mediation experience in neighbour/ neighbour disputes, work place disputes and has particular experience and expertise working with statutory agencies and communities and mediating in inter and intra community conflicts within NI.

Sean O'Baoill

Mediation Training,
Belfast

Sean O'Baoill is a full time Mediator and Trainer for TIDES. Sean studied Youth & Community Work at UUJ, graduating in 1992 and has been working in the field of conflict resolution ever since. He has been involved in Community Relations work for over twenty five years, working with Corrymeela, Peace People, Kilcranny House, Mediation Northern Ireland and various other peace and reconciliation groups.

Professor Jim Sheehan
Diakonhjemmet University College, Oslo

Professor Jim Sheehan is Professor of Family Therapy in Diakonhjemmet University College, Oslo and a family, couple and individual therapist in private practice in Dublin.

He is formerly Director of Family Therapy at the Mater Misericordiae University Hospital, Dublin.

Anne O'Kelly
Family Mediation Service,
Legal Aid Board

Anne O' Kelly is a mediator with the Family Mediation Service, Legal Aid Board and is currently a Doctoral Fellow in the UNESCO Child & Family Research Centre, NUI Galway
Accommodation
A range of accommodation options are on offer on Campus from Standard College rooms, Classic Ensuite rooms, Superior Ensuite and Suites and Apartments. Front Desk staff from Conference & Accommodation are on hand each day from 08.30-23.00 to answer any queries that you may have or to assist in any way at all in ensuring you have an enjoyable stay on campus.
The classic rooms are located on the first floor of Long Corridor and the second floor of St Patrick's building. These recently refurbished rooms are available in double bedded and double and single bedded some with splendid views of Silken Thomas's yew tree, the Geraldine castle and the Church of Ireland Paris church, others with views of the garden in St Joseph's Square.
Superior rooms are located in Stoyte House and St Patrick's House. These spacious and exquisitely appointed en suite rooms retain the elegant contours of their origin in Georgian and Neo-Gothic buildings.
The Individually appointed Suites on the south campus comprise spacious sitting-rooms and ensuite bedrooms.
All Ensuite rooms have multi-channel television, tea making service and free wifi.
The College Rooms are traditional twin and single rooms located in neo-Gothic St Patrick's and St Mary's Houses. Simply but tastefully appointed, each of these comfortable rooms has a wash-hand basin with toilet and shower facilities available along each section of corridor.
Dining
Breakfast is available each morning in Pugin Hall, which is regarded as A.W. Pugin's finest refectory and was completely restored in 1992. Lunch will be available in the Phoenix Restaurant and a Conference Dinner will take place on the evening of Friday 5th Sept.
There is also a large range of restaurants both on campus and in the village of Maynooth where lunch and dinner can be catered for each day.
Tourist and Travel Information
Should you have any questions at all in regard to travel and the available accommodation or if you want to extend your stay outside of the 4th – 06th of Sept dates, please contact the Campus Event Manager Fiona Smith at events@nuim.ie.
Language
The Conference will be delivered entirely through English, the official language of the conference.
International Peace Mediation Exercise
The Defence Forces with commendable foresight, recently incorporated aspects of the new UN Guidelines on Mediation into a major exercise conducted as part of its International Civil-Military Cooperation Course (CIMIC) at its training area in the Glen of Imaal. The CIMIC course is designed to prepare military personnel, while operating in complex strife torn environments, to engage effectively with a multi-faceted range of civil actors, in conflict and post-conflict peace support operational theatres.
The Defence Forces invited Masters' students from the Kennedy Institute to participate in the Exercise as mediators and invited students from the Masters in Development Practice (MDP) to play parts as NGO and humanitarian actors in the exercise scenario. The MDP programme is conducted jointly by Trinity College Dublin (TCD), School of Natural Sciences and University College Dublin (UCD), School of Politics and International Relations in collaboration with the National University of Rwanda.
The Exercise scenario involved an ethnic conflict in the area where an UN Mandated EU Peacekeeping Mission is to be deployed. A Peace Agreement had been negotiated and a Zone of Separation established. The exercise entails a situation of increased tension before the main deployment of the peacekeepers, with CIMIC teams on the ground. Both parties to the conflict breach the Agreement. Then both sides capture prisoners, deny freedom of movement and refuse access to Humanitarian Aid.
The situation plays out with local, national and international pressure and persuasion to seek a resolution. There is considerable back channel facilitation and leverage. Eventually a request is made for a High Level Mediation intervention. The high level mediator is reinforced with a team of specialists (Kennedy institute students), including experts in the design of mediation processes and country/regional specialists. The humanitarians, the military and the mediation team, eventually achieve a resolution of immediate issues and a restoration of calm.
There were many lessons learned from the collaboration by each agency involved in the Exercise, the Defence Forces, the TCD/UCD Masters in Development Practice students and the Kennedy Institute mediators. These lessons will ensure an even better learning experience for future students.
Dermot Earley Memorial Lecture​ 2015
27 November 2015 @ 2.30p.m.
Room C 9 Callan Building
North Campus ,Maynooth University;
Getting here
This year's lecture will be delivered by John Ging the Director of the Operational Division at OCHA.​ John oversees the day-to-day management of all OCHA field operations worldwide and is the day-to-day focal point for the UN Emergency Relief Coordinator. Mr. Ging is also the lead adviser at the UN on operational decision-making for Humanitarian Affairs. John was formerly Head of UNRWA (United Nations Relief and Works Agency) in Gaza.
The Dermot Earley Memorial Lecture was initiated by the Institute with the support of the Defence Forces and the Earley family to foster Lieutenant General Earley's spirit by highlighting lessons of public leadership within contemporary society.
Dermot Earley was a close associate of the Edward M Kennedy Institute and a member of the Institute's International Council of Expert Advisers.
If you wish to attend the Lecture please register by Email to - kennedyinstitute@nuim.ie